Aga Khan Board SSC Part 1, 2 Results 2018 will be announce in the month of July, 2018. This happens just due to the efficiency and integrity of AKU-EB e-marking system which allows declaring results within six weeks of the exams. As the annual examination taken under the supervision of the Aga Khan University is taken in the month of May 2018 so this is the afford of the Management that you can see your accurate and official SSC Part 1 , 2 result 2018 so easy and quick. Students if you have appear in the matric class annual Examination whether in the 9th class or 10th class you can come to this page and easily get your online result as the complete Aga Khan Board Results 2018 gazette will be available on this page so there is no more need to search the result anymore here and there as this is just a wastage of time and nothing else.
Aga Khan Board SSC Part 1, 2 Results 2018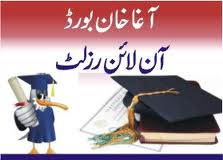 According to the Aga Khan Board SSC last year annual result which is in the year 2017 the board position holders are below:
Syed Wahaj Ahmed of Shahwilayat Public School got first position with 90.27 marks; Sadaf Batool Rizvi of Al-Murtaza School achieved second position with 90.18 marks, Shehryar Farooq of Sultan Mohammad Shah Aga Khan School and Zahra Hussaini of Habib Girls School, secured third position with 90.09 marks.
The Associate Director of AKU-EB, Karima Kara said, "Secondary School Certificate proved a limestone in a student's life. She further explained, "Our SSC Syllabus and study scheme is specifically designed to improve the broad based vital learning. Its basic aim is to see students learning without dependent on the books.
If we go for the Overall result percentage then it will be something like, The overall passing ratio this year is 84.4 percent with 11.35 percent of the students who achieved A-1 Grade, while 26 percent got A Grade.
Aga Khan Board SSC Part 1, 2 Results 2018 Will be available on website so all candidates can get their result here as on the day of declaration of the result you can see a block here. This block will show you your accurate result as what you have to do is just put your roll number into the block and then click on the get result then you result will be in front of your eyes within no time so when you get all of the result from one page then why go for other as you know that the ilm.com.pk is the fastest growing educational website of the Pakistan so it is our duty to provide you timely, accurate and official Aga Khan Board SSC Part 1, 2 Results 2018.