Eid ul Adha 2017 in Pakistan is coming as Eid ul Azha, is the second biggest religious festival of the Muslims and will be celebrated on Saturday 2nd September, 2017. Muslims wake up early in the morning and move towards their local mosque to say Eid Ul Azha Prayers and than  Prayers will be offered for world peace as well as prosperity of mankind. Eid ul Azha revives the memory of Prophet Ibrahim's (SAW) faith in Allah and his complete readiness to sacrifice his dearest son as a token of surrendering himself to the divine wishes. There are three days for celebrations of Eid Ul Azha that is why in Pakistan some people also named this Eid as "Bari Eid". These Four days is a full holiday in all the Muslims countries.
Eid ul Adha 2017 in Pakistan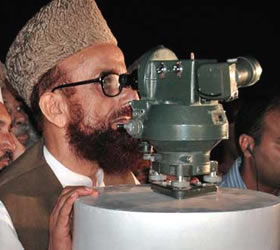 The meeting of the Ruet-i-Hilal Committee was held under the chairmanship of Mufti Muneeb-ur-Rehman where it was announced that the Zil-Hajj moon had been sighted.
With the sighting of the moon Eid ul Adha 2017 in Pakistan will be celebrate on Saturday 02nd September, 2017

Saudi Arabia hand announced on Friday that the moon had been sighted and Eid-ul-Azha would be celebrated on  Friday 01st September, 2017 in Gulf countries. Apart from Islamabad the Zil-Hajj moon was also sighted in Lahore, Multan and Faisalabad.
Eid Ul Azha a day of sacrifice people bought animals like Goat, Sheep, Camel, Cow etc according to their own will and pocket and slaughter these animals in the way of ALLAH when they came back home after saying the EID Prayers. People are given permission by the Last Prophet of God Hazrat Muhammad S.A.W that they can slaughter animals among these three days. total beef of one animal is divided into three parts one part is for home, Second one is for relatives and third one is for Poor those who cannot afford beef whole year. Through his way there is a lesson of equality is taught to the people on the world.