If you looking for a job as a Teachers, Coordinator, Receptionist then Allied School Rawalpindi Jobs 2013 is the best career opportunity for you to capture as the chances like this never come on daily basis As Punjab Group of Colleges is a well known brand name in the educational world of Punjab Pakistan as it is has the biggest school networks all over the Punjab with more than 450 school in Lahore, Faisalabad, Gujranwala, Sialkot, Sargodha, Rawalpindi, Islamabad, Multan, Rahim Yar Khan and in many other cities of Punjab.
In the very short time frame Allied Schools has made its name in the heart of every Pakistani as now the forst preferance of every parent regarding admission of thier son or daughter is the Allied School and the reason is the only standard of education. Allied School never compromises on education and now it get the honor of the fastest growing educational netwrok in Pakistan that covers almost 112 cities across the Pakistan. In one year there are more than 60,000 students who enrolled in the Allied School System.
A caring environment with a strong academic foundation
An exclusive focus on the individual child
A balance between local and global standards with modern approaches
Service to children, parents and the nation
Allied School Rawalpindi Jobs 2013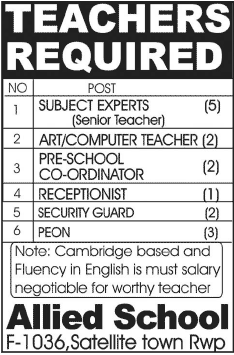 If you are a Cambridge based education or have really good fluency in English then this will be you bonus point in the interview and selection So all those who are interested to be a part of  the fastest growing educational network across Pakistan then contact here and apply before its too late.
For More Information Contact:
F-1036, Satellite Town RWP