Capital Development Authority CDA Islamabad Jobs 2013 for different vacant posts along with the application form and submission detail is available on this page but first of all let me explain to you the CDA that what is CDA and for what purpose this organization came into being. After the independence of Pakistan the first capital city of Pakistan was Karachi then government decide to change the capital and then government need an organization that will take the responsibility of the development of the Islamabad including the planning and executing so that is the on June 14, 1960 the Capital Development Authority came into existence. CDA got the ordinance which is laid down by the president of that time General Muhammad Ayub Khan and give all the responsibility to the CDA organization head that to make the capital city of the Pakistan. at present the chairmen of the CDA is Syed Tahir Shahbaz, Finance Member is Azher Ali Chaudry, Administration member is Munir Ahmad Chaudry and here down are the complete information of the vacant post for which candidates are require to be a part of the CDA.
Capital Development Authority CDA Islamabad Jobs 2013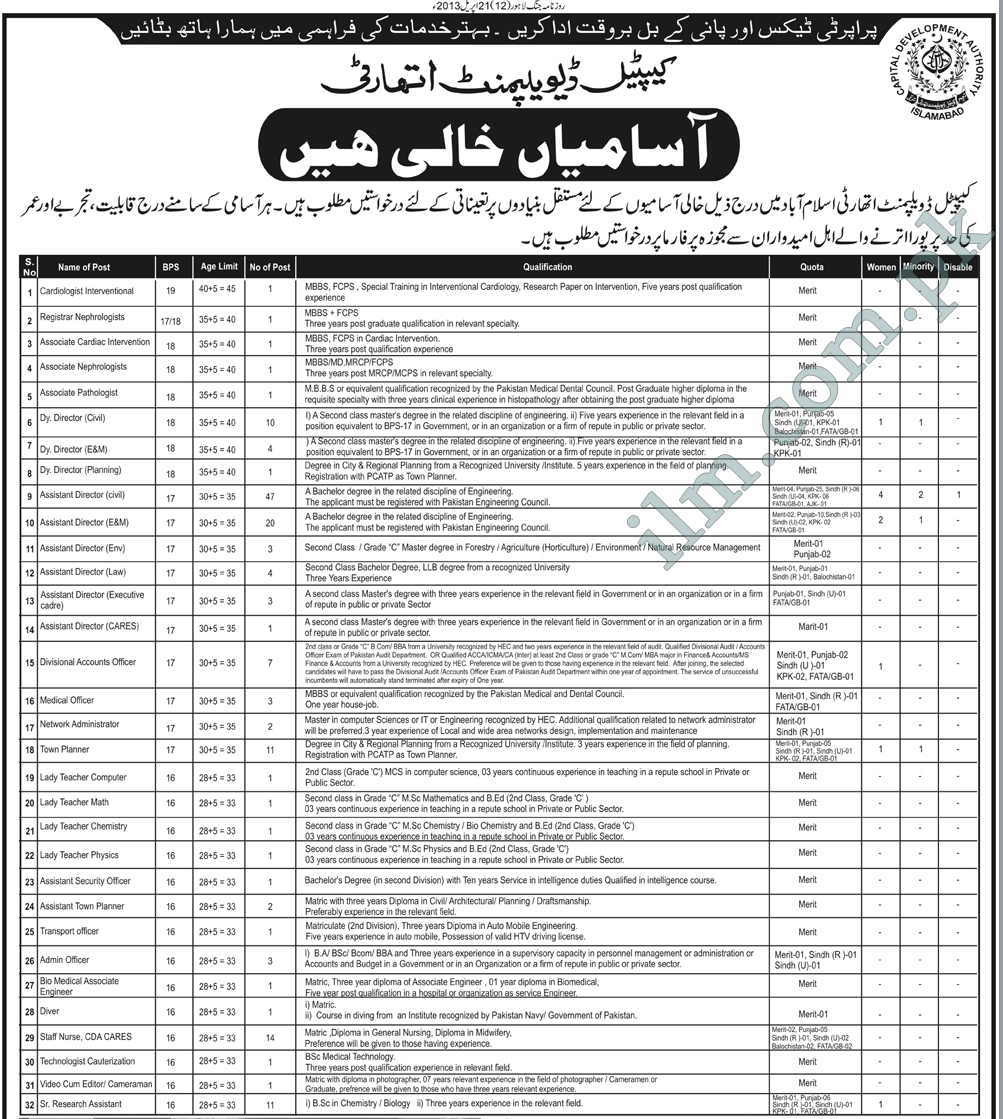 Here down are some rules and regulations for all those candidates who want to be a part of the Capital Development Authority CDA Islamabad So read these instructions carefully before filling the application form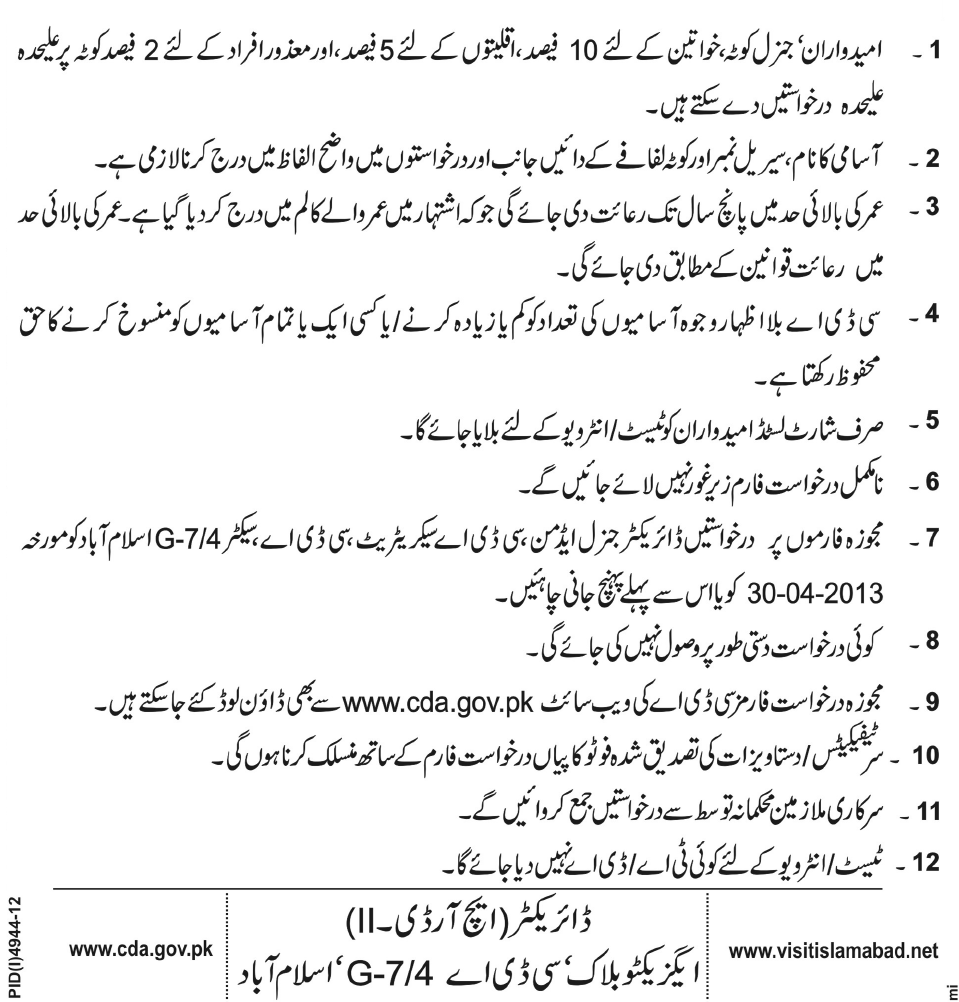 Application Form:
Here is the application form just right click on the image below then click on view image as to see the clear view of the Application form. This application form is for all those who are applying for these vacant posts including Cardiologist interventional, Registrar Nephrologists, Associate Cardiac Intervention. Associate Nephrologists, Associate Pathologists, Director (Civil), Director (E&M), Director Planning, Assistant Director (Civil), Assistant Director (E&M), Assistant Dorector (Env), Assistant Dorector (Law), Assistant Director (Executive Cadre), Assistant Dorector (CARIES), Divisional Accounts Officer, Network Administrator, Town Planner, Lady Teacher Computer, Lady Teacher Maths, Lady teacher, Chemistry, Lady Teacher Physics, Assistant Security Officer, Assistant Town Planner, transport Officer, Admin Officer, Bio Medical Associate Engineer, Driver, Staff Nurse, technologists Cauterization, Video Cum Editor, senior Research Assistant. After this is visible to the you just save it to your computer and then print this out. After filling the application form attach all the documents required and send this to the above given address.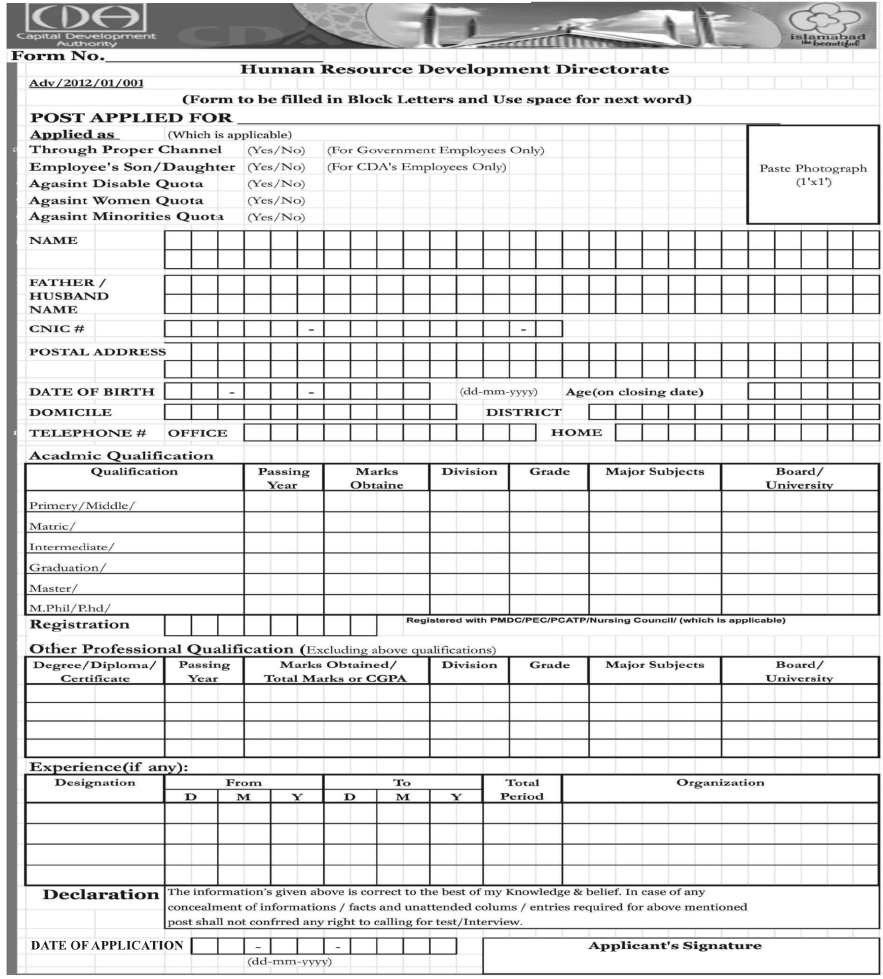 For More information Contact:
CHAIRMAN'S SECRETARIAT
Khayaban-e-Suharwardi, Sector G-7/4, Islamabad
Sundays and Public Holidays: Closed