Pakistan Army is ground base armed force which was established in 1947. It allows both male and female individuals to get opportunity to serve their country. Female citizen of Pakistan who want to join Pak army and looking for How To Join Pak Army After Intermediate For Female 2018 have good news that they can join Pak Army. Any female individual who has spirit to serve his country can join Pak army. After doing intermediate, a female applicant can become Captain, AFN nursing through doing different short and long courses like Short Service Commission, Lady Cadet Course and many others. There are some requirements that a female must have to fulfill if she wants to join Pak Army. There is also required age that is not negotiable at any case. After intermediate minimum 50% to 60% marks are required. Before you apply for the Pakistan Army, please make sure that you are eligible to join through this page. In this article you will learn about the How To Join Pak Army For Females After ICS, ICOM, FA, FSc
How To Join Pak Army After Intermediate For Female 2018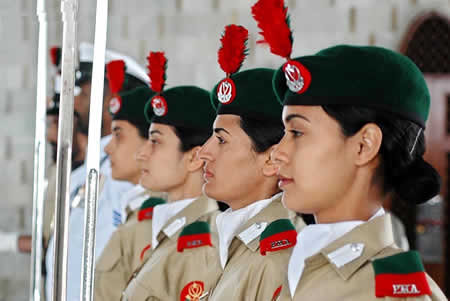 Pak Army Position for Female After Intermediate:
Join Pak Army After Intermediate For Female Requirements:
Only females with Pakistani Nationality are eligible to apply
Unmarried females, Widow and Separated females can join Pak Army after intermediate
A candidate must have passed Intermediate with FSC pre medical with at least 50% marks
Only females between 17 years to 25 years are eligible
Those female candidates, who have passed their 1st year and appeared in 2nd year exam but result is not announced, they have to bring Hope certificate from their institute
An intelligence test is required, which must pass an applicant to join Pak Army
After test, an interview will be held by GHQ, which is compulsory to clear
Pak Army Physical Requirements:
A girl should not less than 5 feet or 152 cm
Weight should be as per the body Mass Index
A medical test is required which is mandatory to pass
Join Pak Army After Intermediate For Female Registration Procedure:
If you are a women and wanted to join Pakistan Army then you must be curious in knowing How To Join Pak Army After Intermediate For Female 2018 so the complete registration process is as follow. Pak Army announces jobs for female students two times in a year through advertisement in newspaper. A female applicant can register through three different ways. Applicants are allowed to register on www.joinpakarmy.gov.pk. After registration, students will have to report at test center on the date. On test date, it is mandatory to bring required documents. An Applicant also registers through nearest Army selection and recruitment center. At the time of registration a roll number slip will be issued which is mandatory to bring on test date along with documents. It is also mandatory for candidates to sign a bond of minimum 10 years.