According to some reliable resources it is hear that Education department of Punjab Govt. has decided to announce Punjab Arts Educators jobs. It may be in the end of August or may be when schools will open.
The arts educators jobs will be announced District wise as same as was Science Educators jobs.  The Government of Punjab (GOP) has been announced the 34000 Science Educator vacancies for all district of Punjab and now they are going to announce 16000 (16 thousand) Arts vacancies. Enrollment will be start in the end of August 2012. Minimum BA qualified can apply but in the rural areas F.Sc qualified candidates can also apply.
As soon as Punjab Govt. will Announce Arts Educators Jobs, will be Updated here…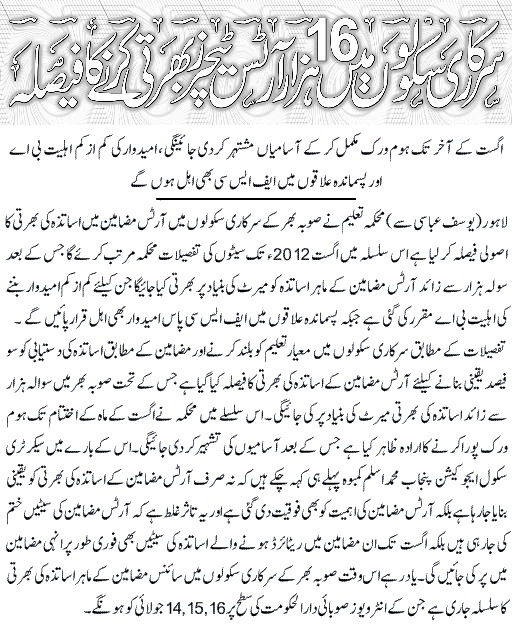 Eligibility Criteria:
Candidates with minimum qualification F.Sc can also apply for BPS – 9 and BA, MA qualified candidates can apply for BPS – 14 & 16. Additional courses such as PTC, CT, DE, B.Ed and M.Ed can increase your chances of selection.
To apply for job candidates should have to prepare their documents and also prepare for interview. Because this is a great opportunity for art's students they should have to get jobs and prove their skills and worth. Bucket of wishes for arts candidates!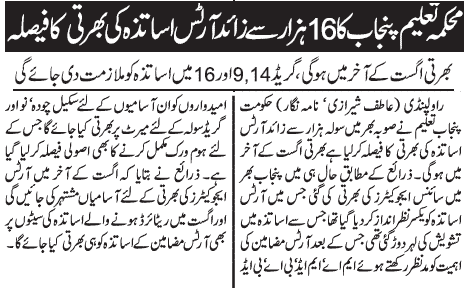 Stay with us to get latest and instant information…