Punjab Government has announced Educators jobs 2016 for district Gujrat. According to the Punjab government there are 1966 total seats for district Gujrat, so the residential can apply for Govt. teaching after fulfilling the Educators criteria, details are below. Punjab educators announced vacancies of Science, Mathematics and Computer Science for district Gujrat, and the sets includes SSE for computer Science, SESE for Science and Mathematics, and ESE for Science and Mathematics as well. The last date for application submission is 12th April, 2016, so it notify that all eligible candidates should have to submit applications before due date.
Interview Date:
Interview dates for the Punjab Educators Jobs 2016 for District Gujrat is also announced by the officials as according to the given schedule from March to April the interview is going to be held in the different venue and timings as the detail is issued by the officials in the advertisement that you can view on this page. Here down is the image of the advertisement is small size as you can view it is bigger size by right click on the image and then left click on the view image as. If you have still any antiquity in your mind then it will be cleared when you view the official advertisment below on this page.
Punjab Educators Jobs 2016 for District Gujrat Interview Dates
Details of Subject Wise Posts at District Gujrat

ESE

840

ESE (Science-Maths)

386

SESE (English)

51

SESE (M.A urdu)

60

SESE (Maths)

180

SESE (Science)

195

SESE (Arabic)

19

SESE (Comp. Science)

22

SESE (PET)

91

SESE (DM)

23

SSE (M.A Urdu)

25

SSE (English)

27

SSE (Maths)

07

SSE (Physics)

21

SSE (Biology)

12

SSE (Chemistry)

07

SSE (Comp. Science)

82

Total

1966
For more information about Punjab educators, such as Educators Criteria etc and in order to download Punjab educators form click here.
Application Form:
If you want to download the application form of the Punjab Educators Jobs 2016 for District Gujrat then this page will provide you the online application form as by clicking on the given below link the application form will be appeared in front of your eyes and you just have to print it out.
Download Punjab Educators Form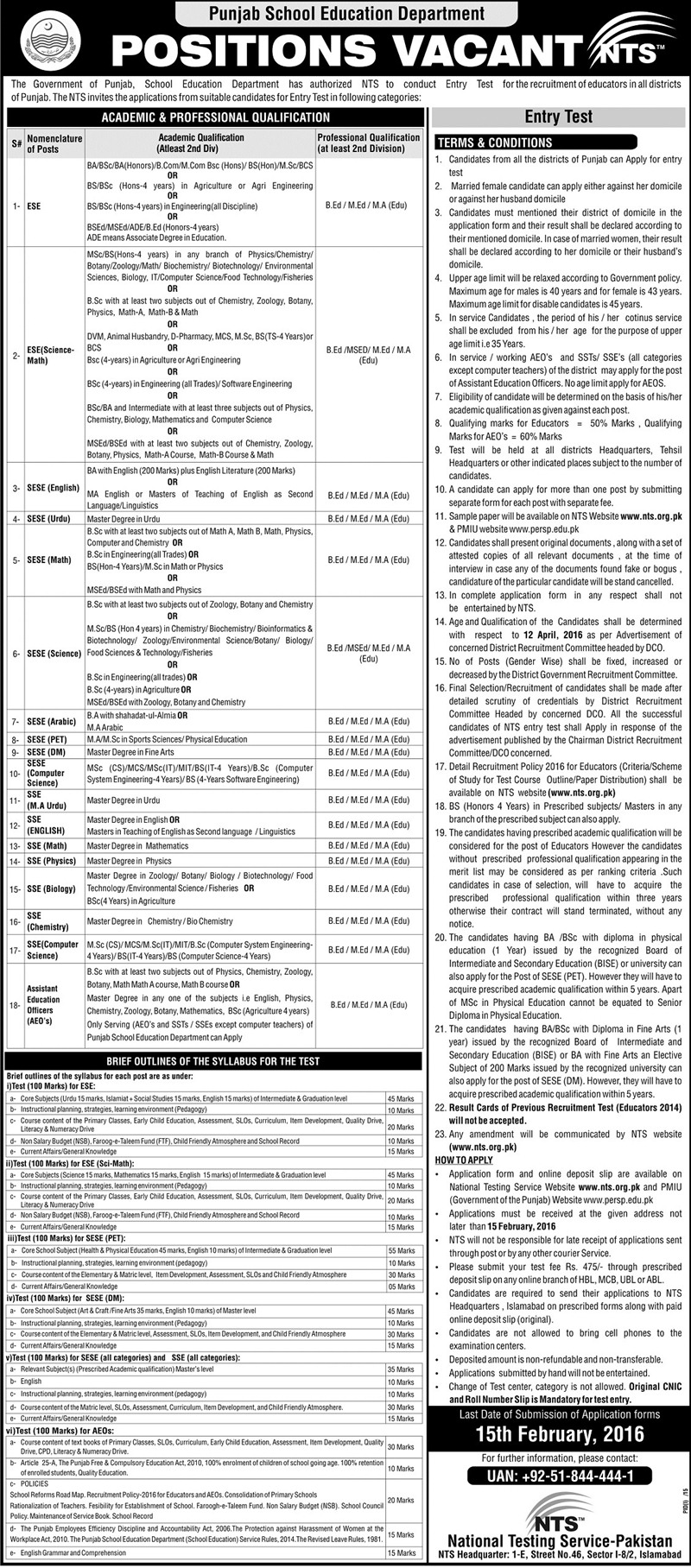 Last Date to Submit Application Form:
Last date to submit the application form for the Punjab Educators Jobs 2016 for District Gujrat is Tuesday 12th April, 2016 so all those candidates who are willing to be a part of the Teachers Educator Jobs 2016 could submit their form till that date as all those forms that will received after that date will not be entertain in any case and that candidates would consider as the ineligible candidates so that is why it is very necessary to submit the form within the due date. Candidates if you are eligible enough and laid down on the eligibility criteria of the Educators Jobs 2016 then this is the best opportunity in front of you to capture so don't be late to submit the forms now.
To get more information stay with us, you can also discuss with us any question which you wanna via comments.