American Lyceum School Jobs teacher required for the English, Physics, Chemistry, Biology, Urdu, History and Geography. Well this is the best career opportunity because the American Lyceum is one of the largest education institutes Network of Pakistan. First Building of this school system is build in year 1984 and since then this school is providing a caring environment to your child so that you child love to get education as this school policy explains that the environment is the best factor through which a students can be self converted to the education. So that is why in every campus of the American Lyceum you can find happy and caring environment. With the caring environment quality education is also take under consideration. Qualities of enthusiasm, initiative, high standards of morality, considerate behaviour and discipline are considered prime.
American Lyceum School Jobs
Apply Online by just simply clicking here
CLICK HERE
All those candidates who have at least Master's Degree in the English, Physics, Chemistry, Biology, Urdu, History and Geography can apply for the post but with educational certificate candidate must hold and experience letter of at least 3 year in teaching at some good school. Those candidates who have O-Level and A-Level education will definitely get preference from the selection committee.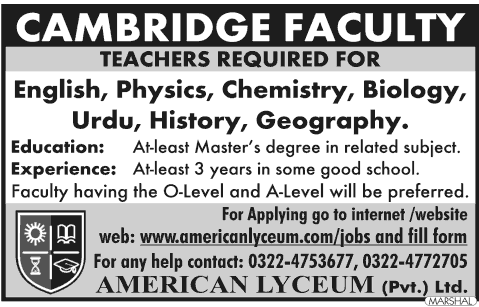 There are total 10 branches of American Lyceum School is providing quality education to the students of Lahore with two upcoming building in the Johar town and Sabzazar Colony.
For More Information Contact:
Franchise Operation Manager
0322-4772705 or 0322- 4753677