Borjan Shoes Human resource (Hr) department has announced Jobs In Pakistan as we all know that Borjan (PVT) Limited is a leading fashionable footwear retailer, Operating 77 shops country wide in a network spanning 48 cities across the landscape of Pakistan. Borjan goal is to increase the number of shops to 98 by the year 2015. Having a team of more than 700 dedicated employees and with the sights set on the goal, Borjan seek to induct the professionals on the following position
Borjan is serving Pakistan in footwear industry from last 16 years and now one of the best footwear brand and become a first choice of purchasing in the mind of every women.
Borjan Shoes Jobs In Pakistan
More details for the posts are as follow..
Dot Net Developer:
A candidate who is applying for this post must have completed his BSC Computer Sciences with from a Higher Education Commission recognized University and at least have 2 years of working experience of Data Base Management and Software Development and the candidate will be expected to do
Data base development.
Data base Administration.
Dot Net development.
Data base Server Performance (Tuning / Maintenance)
Reports Development
Application Development
To apply for the this post CLICK HERE
Deputy Manager Purchase:
The candidate who is applying fro the post must have completed his/her Master degree or 4 years Bachelor degree from HEC recognized University and along with that must have at least 5 years experience in Purchase/Sourcing in shoe or textile industry. Age is also set limited by the HR department of Borjan and that is 35 years and The successful candidate should Possesses ideal communication interpersonal and leadership skills and in depth understanding of purchase mechanism. At the end the selected candidate must perform
Exploring new vendors & Build and Develop relationship with the existing vendors.
Ensure the quality of product and in time deliveries of orders.
Price negotiations with vendors.
To apply for the post CLICK HERE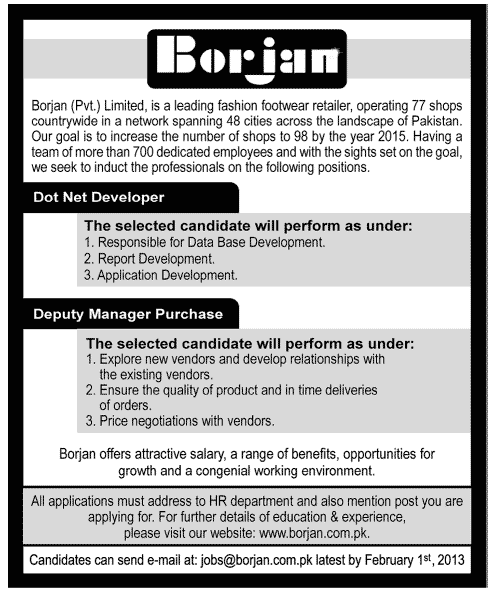 Last date to apply for these posts is 1st February 2013 so send your CV's to [email protected]