Lahore Mcdonalds Job 2014 are looking for eligible and competent person for Guest Relations Officer so all the candidates who wants to apply for the Guest Relations Officer could apply for the vacant post but before or till 13th August, 2014 as this is the last date which is mentioned by the officially and it is also clearly said that all the candidates who are late from submitting the application form till that date will not be entertain in any case. Mcdonalds is now all over the world in more than 30,000 locations in more than 120 countries and this is not the only reason that wht Mcdonalds has become the best knows quick service restaurants around the world as the another reason is it taste as the logo of the Mcdonalds is i'm Lovin it so it gives that a person fell in love with and desire to come back to them. If we go back to the 50 year ago then at that time Mcdonalds used to say that "Take good care of those who work for you, and you will float to greatness on their achievements".
In the McDonald's customers is treated with the quality of the great taste of food and friendly service environment with the clean restaurant and other value added service that makes a customer feel like more comfortable and ease. People are waiting for this opportunity so that the jobs in McDonald's are open and they submit their application form so now you all have a chance to get a job at McDonald's Lahore branches as a Guest Relations Officer so the complete other information of the job is given below have a look down.
Lahore Mcdonalds Job 2014 Guest Relations Officer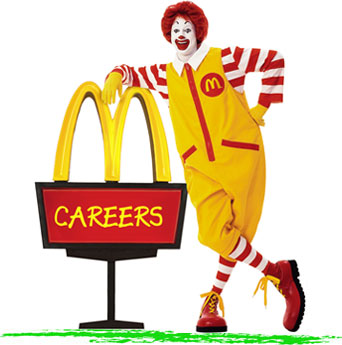 Job Description:
Industry:
Fast Moving Consumer Goods (FMCG)
Category:
Hotel/Restaurant Management
Job Type:
Full Time/Permanent
Minimum Education:
Bachelors
Required Experience:
Fresh – 1 Year
Salary Range:
PKR. 20,000 to 20,000/Month
Posted On:
May 13, 2014
CLICK HERE TO APPLY ONLINE
Person qualities:
A person with the strong customer orientation with the very positive attitute towards it
Creative Individual that should also be Vigilant
Person should have good communication skills with the pleasing personality.