Lahore Electric Supply Company LESCO Lahore Security Guard Jobs 2016 are vacant now. Here we have assembled LESCO Security guard jobs NTS application Form, along with Last Date, Advertisement and eligibility criteria. So never wait for the last date if you are eligible then get ready to complete the applying procedure. LESCO is Electricity Company that provides electricity to the whole town and surroundings of Lahore.  According to this vacancy LESCO need some of men power for its security section. For that purpose LESCO has chosen National Testing Service (NTS). This is why NTS is conducting a test for the post of security guards on the behalf of LESCO.  So, here we are announcing the vacancy for the latest jobs in LESCO for the job of security guards. All those candidates who are willing to apply for this job must submit their documents, according to NTS requirements, to the described address in the prescribed mode of delivering the documents as described below.  Keep reading about LESCO Lahore Security Guard Jobs 2016…
LESCO Lahore Security Guard Jobs 2016 NTS Form Last Date, Advertisement
Name and Numbers of Positions
Security Guard 101 Posts 
Security Sergeant 22 Posts 
How to Apply/ Application Procedure
Well candidates if you are eligible according to the eligibility criteria written in the advertisement, then you should have to perform the following procedure within the due date and time.
Download NTS applicatoin form from the link below or visit the NTS's officals website for it
After this nts test fee chalan form could be deposited in UBL, ABL, MCB and HBL Bank Branches and attach the deposit slip with your application form along with all the requrioed documents
After receiving application form officials will analyze it and prepare a list of selected candidates and issue roll number slips at home or mailing address of each eligible and selected candidate.
then the NTS test and further procedure will be happen by the officials
Last date of submission of forms: Friday 22nd July, 2016 
Download Application Form
Eligibility Criteria/ Requirements
As i have wrote above that the eligibility criteria is written in the advertisement, so you must click on it to determine if you are going to apply or not.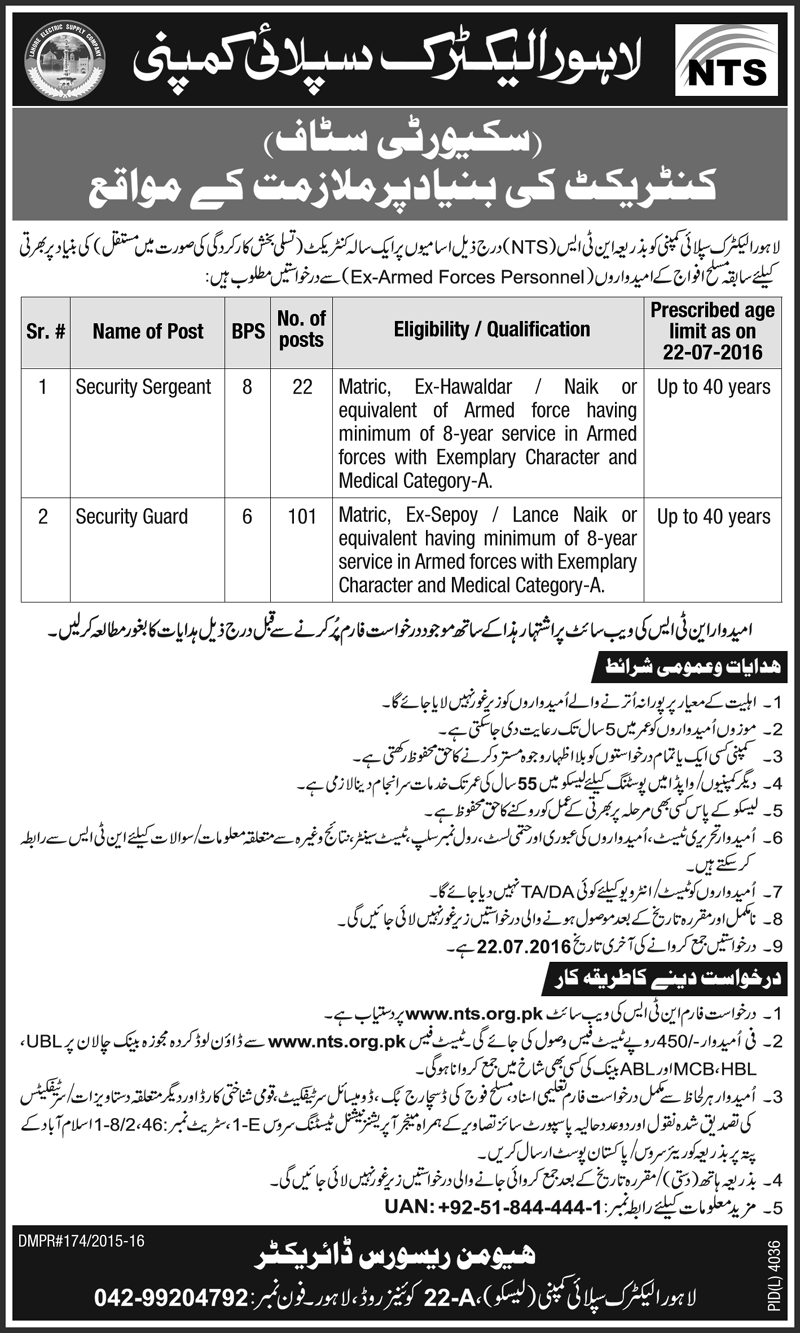 With all this, now we will discuss the general characters of the job:
Job is for the militants only having service more than 8 years. It means that no civilian can apply for the job.
Qualification of the job is metric.
Age of militant should not be more than 40 years. It means that the maximum age limit is 40 years for the job.
No TA/DA will be provided for the candidates who will walk in for the test or the interview.
Incomplete forms or forms after due date will not be entertained.
Terms and Conditions
Before applying let me tell you the description of the job you are applying for. The job is based on a contract of one year. Basically it is the job on the bases of performance. It means that the person who will perform well will be recruited as a permanent employee. All those who will not perform well will be ejected from the job and new vacancies will be recruited on those places. So the applicant should have the confirmation about being on the job or not.
For further information contact:
+92-51-844-444-1, 042-99204792
Human Resources Director: Lahore electric supply company (LESCO) 22-A Queen's Road Lahore.