Pak Air Force PAF registration for 113 Non GD Course Officers Commission 2014 has now started in which candidates induction will be ta taken place as Special Purpose Short Service Commission (SPSSC) in Engineering, Education and Medical Branches and Short Service Commission (SSC) in IT, Logistics, Accounts, A&SD (Civil Engineering), A&SD. So all those candidates who wants to join the Pakistan Air Force PAF the armed force of Pakistan after the Bachelor and Master degree could join the force as the opportunity is now open in front of all. So candidates do not think so much if you are eligible enough according to the eligibility criteria given below then do submit you form today and become a part of the Pak Air Force. To join the PAF is like a dream of every youngster in Pakistan but due to some criteria not every students are able to join this force but now the golden chance is waiting for you if you clear your bachelor degree the more details of the Pak Air Force 113 Non GD Course Officers Commission is given below on this page so do not leave this page till reading end as this will clear your all ambiguities regarding joining PAF .
Join Pakistan Air Force is also good in a sense as the highly competitive salary package will be provide to the candidates along with the free medical treatment for self and family, Training and posting in different cities of Pakistan and Abroad, Free accommodation and 50% waiver in fare by train and air travel. The advertisement that is issued by the official of the Pak Air Force is also uploaded to this page as you can view it from this page easily within no time and after all the information if you still have any question which is unanswered on this page you can write us the question and then our response team will act on that question and will provide you the accurate solution.
Pak Air Force 113 Non GD Course Officers Commission 2014
You can join Pakistan Air Force under these inductions
Engineering Branch (SPSSC)
Medical Branch (GDMOs) (SPSSC)
Account Branch (SSC)
A&SD (Civil Engg) Course (SSC)
Education Branch (SPSSC)
Medical Branch (Specialists) (SPSSC)
Information Technology (SSC)
A&SD Course (SSC)
Selection Procedure:
First of all those candidates who want to be a part of the Pakistan Air Force have to submit and fill the application form or registration form that is available online as you can click on the link below so that the registration form will be in front of you
CLICK HERE TO REGISTER
AS once you register then you have to appear in the intelligence test which is consist of the academic test in relevant subject and then all those candidates who will clear the academic test will be moved forward to the next selection process that is Initial Medical and Interview. Then the series will continue for the test and those who clear their recent test will be automatically moved forward towards the next test as after the interview there will be a psychological test and the the candidates move to the ISSB Selection center where the further final test and interviews has been made and the shortlisted candidates will be selected to join the Pakistan Air Force.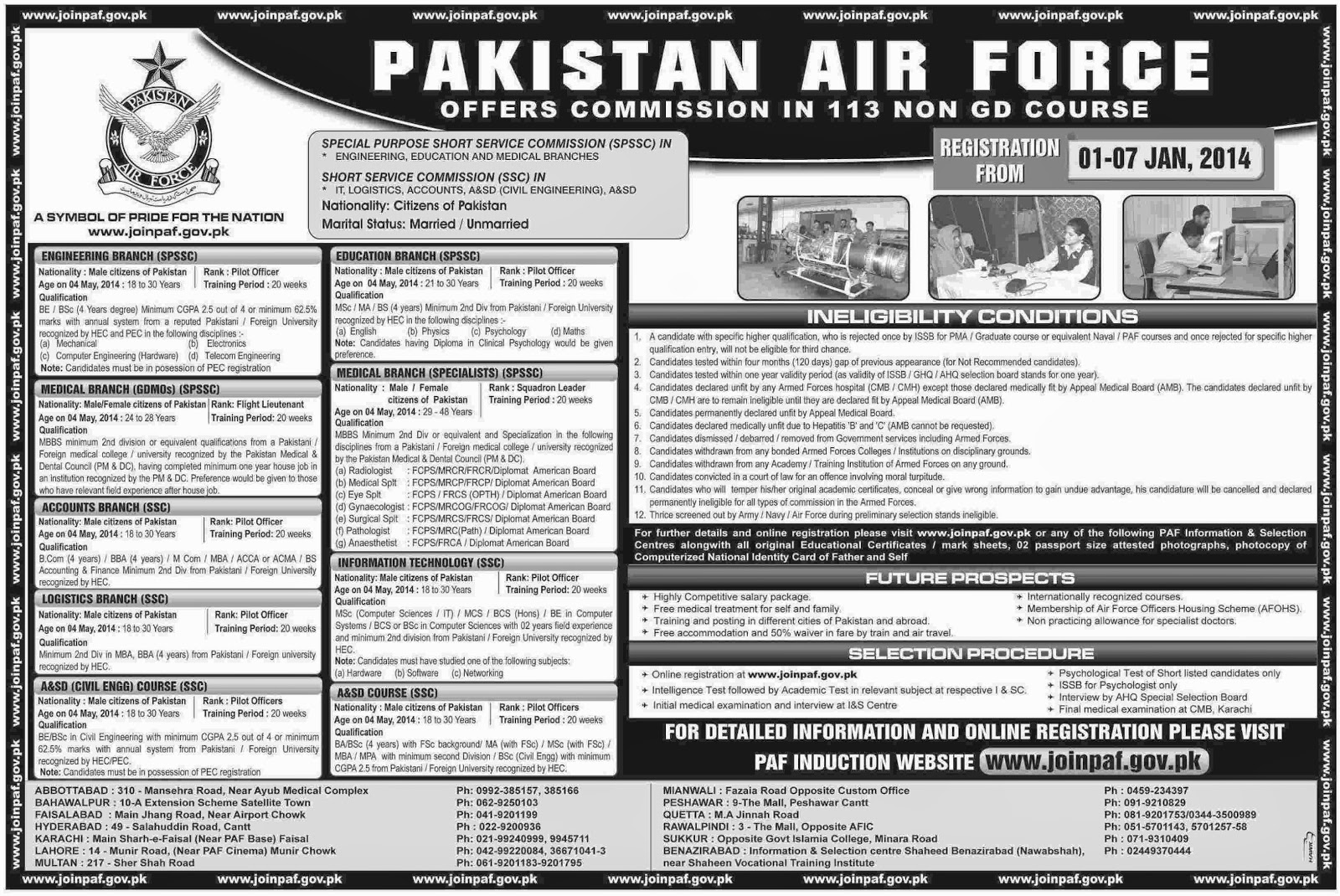 For Further Information or Question Contact:
to your cities PAF Selection Center that is in the cities of Abbottabad, Bahawalpur, Faisalabad, Hyderabad, Karachi, Lahore, Multan, Mianwali, Peshawar, Quetta, Rawalpindi, Sukkur, Benazirabad.