Punjab Public Service Commission PPSC Jobs April 2013 is announced and all those candidates who want to be a part of the Government departments must have to submit their application to the PPSC official before the 20th May, 2o13 as the last date of submit the application form is the 20th may an it is clearly mentioned in the advertisement that all those applications which received after the last date of the application submission will not be taken under consideration and also should not be entertained. So this is better to submit application before the last date and one more important thing about the submission of application form is that only online application will be taken under consideration and will be forwarded towards the next procedure so do not send the application form by post or the courier service just click on the link below and fill the application form with the reliable and correct information.
Application Form:
CLICK HERE TO FILL APPLICATION FORM
Punjab Public Service Commission PPSC Jobs April 2013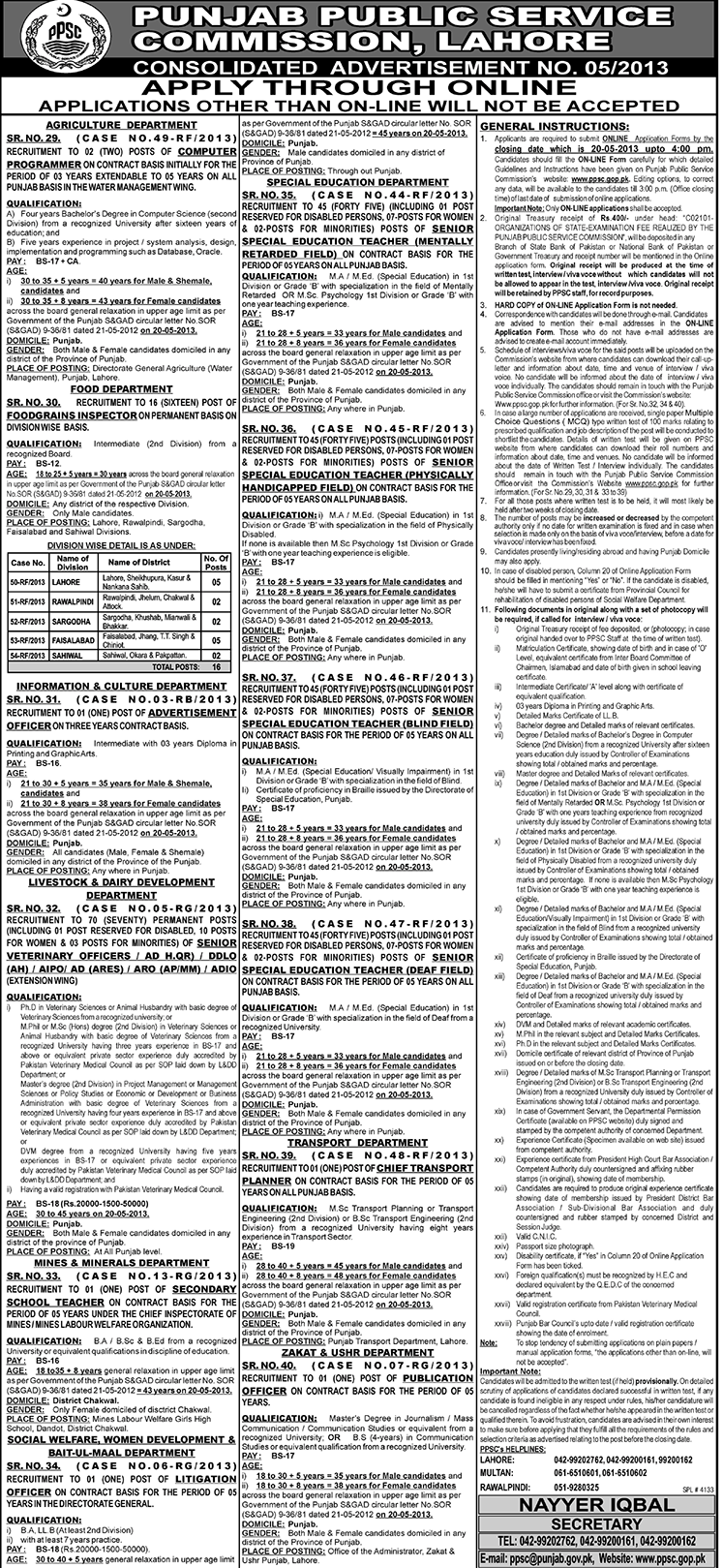 Important Information:
Applicants are required to submit online application forms by the closing date which is 20th May, 2013 up to 4:00 pm. Candidates should fill the online form carefully for which detailed guideline and instructions have been given on the top of the application form. Editing option, to correct any data, will be available to the candidates till 03/;00 pm of last date of submission of online application.
Original treasury receipt of Rs.400/- under head: "C02101-Organization of state examination fee realized by the Punjab Public Service Commission", will be deposited in any branch of State Bank of Pakistan or National Bank of Pakistan or Government treasury and Receipt number will be mentioned in the online application form. Original receipt will be produced at the time of written test, Interview / Viva voce without which candidates will not be allowed to appear in the test, Interview. original receipt will be retained by  PPSC staff for record purpose.
Hard copy of online application form is not needed
Correspondence with candidates will be done through E-mail. Candidates are advised to mention their E-mail addresses in online application form. Those who do not have e-mail addresses are advised to create e-mail account immediately.
Schedule of interview for the said posts will be uploaded on the commission's website from where candidates can download their call up letters and information about date, time and venue of interview. No candidate will be informed about the date of Interview individually. The candidates should remain in touch with the Punjab Public Service Commission office or the official website.
In case of large number of application are received single paper Multiple Choice Questions type written test of 100 marks relating to prescribed qualification and job description of the post will cw conducted to shortlist the candidates. Details of written test will be given on PPSC website from where candidates can download their roll number and information about date, Time, Venues. No candidates will be informed about the date of written test individually.
For all those posts where written test is to be held, it will most likely be held after two weeks of closing date.
The number of posts may be increased or decreased by the competent authority only if no date for written examination is fixed and in case when selection is made only on the basis of viva, before the date for viva interview has been fixed.
Candidates presently living abroad and Having Punjab Domicile may also apply.
In case of disabled person, Column 20 of online application form should be filled in mentioning Yes or No. If candidate is disabled he or she will have to submit a certificate from provincial council for rehabilitation of disabled person of Social Welfare Department.
For More Information PPSC's Helpline.
Lahore: 042-99202762, 042-99200161, 99200162
Multan: 061-6510601, 061- 6510602
Rawalpindi: 051- 9280325