Khud Kafalat Scheme is now launched by the bank of Kyber which is an Interest Free Loan  on easy Installments Scheme. This Scheme will provide Rs. 2 Billions rupees under this project to the low income, Unemployed and Skilled poor people so that they can also start their own business and become an entrepreneur. This revolutionary step is taken by the Government of Khyber Pakhtunkhwa for the deprived and Unemployed persons and all the loans will be Disbursement through the Bank of Khyber. The complete eligibility Criteria for the Khud Kafalat Scheme is given below at this page so stay in touch with this page. Each person can get the credit from the limit of Rs. 50,000 to Rs. 200,000. Micro finance is the best way to facilitate the citizen of the nation so that is why The Bank of Khyber is providing an interest free loan to the eligible candidate so that it can increase the Socio-Economic Development in the country.
Khud Kafalat Interest Free Loan Scheme
Eligibility Criteria for Scheme:
All those candidates who are educated and skilled but having a low income job are eligible to take the interest free loan from the bank but he or she has to show a feasible business. For this scheme all the educated and skilled persons will get priority.
Candidate who are applying for Khud Kafalat Scheme must be the permanent resident of the Khyber Pakhtunkhwa
Age of the applicant is not less than 18 years old and not more than of 50 years old
All the applicants who are applying must not be the defaulter of a bank or any other institutions
Applicant should not have received an amount by BISP's waseela-e-Haq or any other government Scheme
Application Form:
If you want to apply for the Khud Kafalat Scheme then here is the application form . You have to fill this application form completely with all the correct information and then submit it to the bank of Khyber.
CLICK HERE TO DOWNLOAD
Guarantee or Security:
Two personal guarantors will be required
bank of Khyber Reserves the right to reject any guarantor
Recovery of Loan:
Maximum loan repayment period is 03 Years (The bank will determine credit amount on the basis of business kind)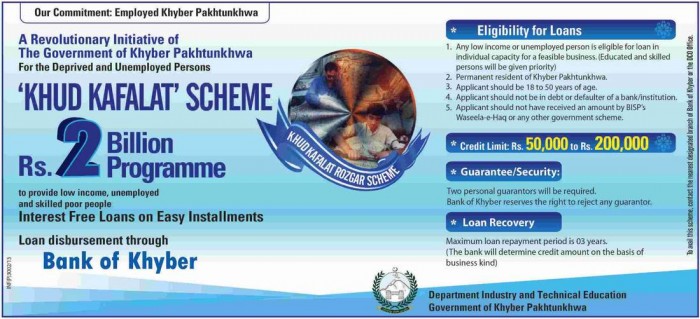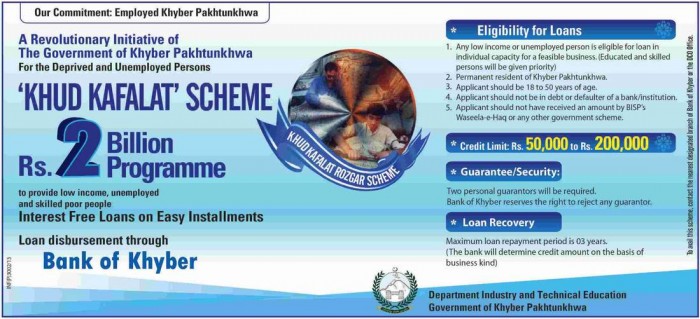 All those candidates who are willing to take Khud Kafalat scheme must have to return the loan within 3 years as the maximum limit to return the loan is 3 years and after that date the candidate is put into the defaulter list and bank have all the rights to bring back its investment in any case. This scheme is totally interest free so that no matters that you go for amount of Rs. 50,000 or amount of Rs. 200,000 you do not have to pay any kind of interest of the loan you get.