Prime Minister of Pakistan Mian Muhamamd Nawaz Sharif has introduced Small Business Loans Scheme 2013 for the youth of the Pakistan so that is why the online registration process, Complete Introduction, eligibility Criteria, loans size and all other information which you need to know before applying for the Small Business Loans Scheme is available here on this page. These Nawaz Sharif PM Announce Six Schemes for Youth were announced in the second addressing when he talks to the nation. This scheme will provide a better opportunity for all the eligible candidates so that they become a entrepreneur.
Introduction:
Unemployment reaches at the top in our country so to decrease the level of Unemployment Prime Minister of Pakistan declare a scheme that is called Small Business Loan Scheme the idea of this scheme is to provide a better opportunity to the educated youth of Pakistan who cannot find a job or want to start their own business but due to lack of financial resources they could not able to start. So this scheme will provide financial aid so that they can establish a new business and become their own boss and Entrepreneur. Each person will get an amount of Rs. 0.5 Million to 2.0 Million.
Small Business Loans Scheme 2013 PM Online Registration
Eligibility Criteria:
All the women and men who are not more than 35 years old in age are eligible to get the Small Business Loan from the PM Nawaz Sharif. Both men and women will get equal opportunity as the 50% loans will be given to just women and remaining 50 % are for men.
Online Registration:
Online registration of the Small Business Loans Scheme 2013 is not started yet as it is announced by the Nawaz Sharif but he just introduced this scheme but the final executive date is not announced. According to media news the application forms to apply for this scheme will be available to all the youth of Pakistan from 6th October, 2013 and that will be uploaded here ont his page too so stay in touch with this page to get the online registration form of the scheme.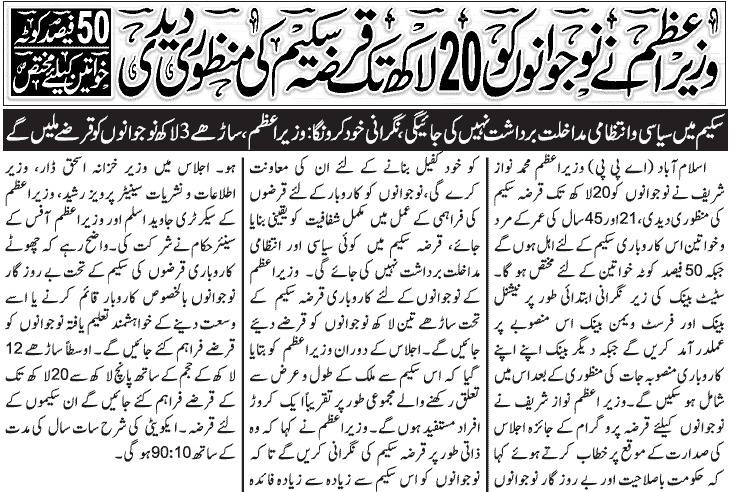 If you laid down on the eligibility criteria of the Prime Minister Scheme then this is the best chance in front of you to get a business loan so that you can start your own business easily. The payback period of this Loan is upto 7 years so it will be not a burden on you so apply and get loan for your business.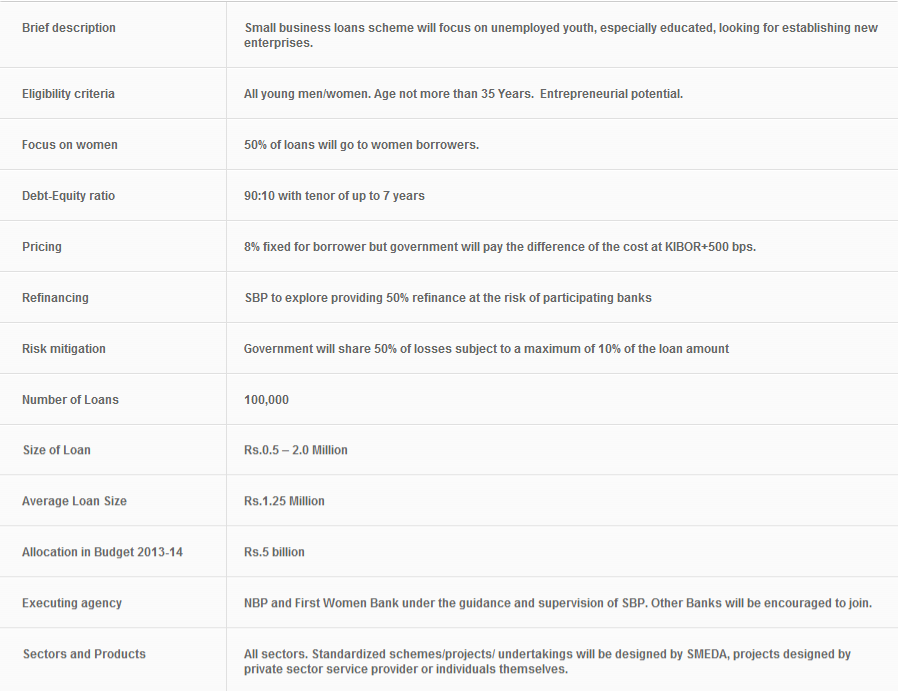 Loan Details:
Loan will be given to all youth that are not more than 35 years old and want to become an entrepreneur by starting its own business. The size of the loan will be from 0.5 Millions to 2.0 Million which will be given to 100,000 one Lakh candidates of the Pakistan. The basic executive agencies of this scheme are National Bank of Pakistan and Women Bank. One thing that is the loan will be given to all sector no matter what you want to start but it will be registered in the SMEDA. Now its upon you you go for an individual business and a partnership.