If you want to download PU B.Com Economics Part 1 Past Papers 2013 of Punjab University then right now you are on the best source that will provide you for what you are looking for as this is the fastest growing educational website of Pakistan that will keep you up to dated from all the latest updates of the educational world of Pakistan. B.Com is the abbreviation of the Bachelor in Commerce which is a bachelor 14 year and 16 years of degree that depends on students that what he or she go for either it is B.Com IT which is of 2 years or B.Com Hons that is of 4 years. Well no matter what program you choose but the fact is that all those students who wants to see their future in the commerce field cannot neglect the subject of Economics as it could be taken as the most basic starts of the commerce field.
Economics put as a compulsory subject when a students join B.Com in the part 1 that is why here on this page we have provided you the PU B.Com Economics Part 1 Past Papers 2013 Punjab University in the image format so that is will be easy for you to download and save the past papers. As these past papers are very important  in knowing the exact paper pattern and the questions distributions of the economics. These things are very important in a sense that when a candidates is unaware of these thing and a new paper pattern will come in front of him then he or she will be confused what to do but if they have prepared them self according to this pattern then there will be no issue to the students to solve it easily. So down here you can get PU B.Com Economics Part 1 Past Papers 2013 that is why view this page till end.
PU B.Com Economics Part 1 Past Papers 2013 Punjab University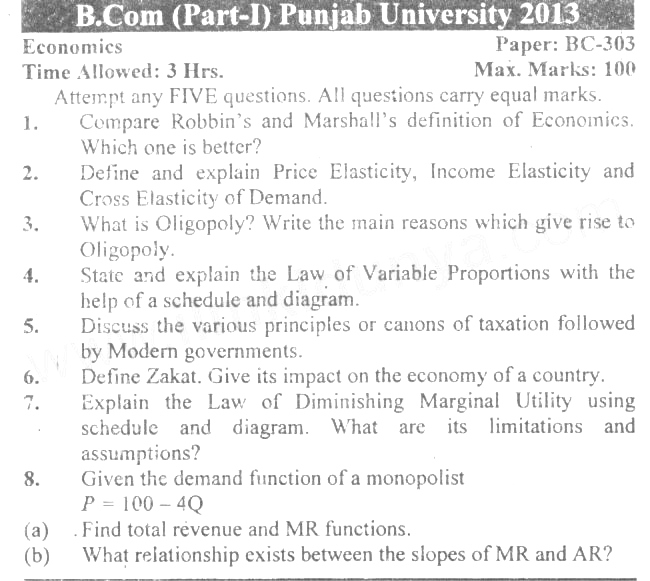 Economics is the compulsory subject for every single candidates who choose Bachelor of Commerce after doing intermediate as without clearing this subject a students is not able to get the passing degree from the University. Punjab University is the biggest University of the Pakistan that is the reason that every year there are thousands of students who appear in the annual examination of B.Com Held under the supervision of the Punjab University so stay in touch with this page and download the Punjab University Economics B.Com Part 1 Past papers 2013 from this page easily without any effort or searching it any more here and there. If you want to know anything more about this topic then you can write us in the comment section given below at the end of this page.