If you are looking for BISE Lahore Board 10th Class English Past Papers, Up to Dates Papers, Guess Papers or last 5 years papers then you are at the right place because this page is of the Pakistan fastest growing educational website of Pakistan. Lahore board students who are going to appear in the 10th class exams and looking for the English past papers can check the past papers of last five years from this website. Past papers are the best source to know the exact paper patterns of that relevant subject but with the same time candidates should have to keep one thing in their mind that the rules and regulations of the Board of Intermediate and Secondary education Lahore also changes little bit so it is also very necessary for the students to keep themselves up to dated from all the latest updates and for this you should be in touch with this Page.
Lahore Board 10th Class English Past Papers
10th class is like the most important class in a students life as he or she already has decided that for what subjects and for which profession they wanted to go for that is why if they wanted to remain in that profession or field then they have to get the good passing marks in this class as on behalf of the 10th class number any students will be able to get admission in the college for further studies. This is the first wish of every student in the 10th class that they should get admission in top-ranked colleges of their cities but that totally depends on your result as if you got really good marks in the 10th class only then you are able to get admission in the top colleges of Pakistan.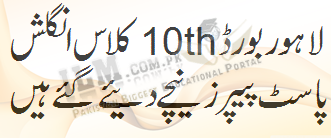 Just click on the link below of the year of which you need English Past papers
At this stage of life candidates has already chosen the fields or subjects for which they want to continue their further studies so at the Secondary Level no matter what field or subject you have chosen English is Compulsory. AS English is compulsory subjects so you cannot pass out your Matric level examination without clearing the English Subject. In the examination hall there will be two papers of English that will be hand out to you first of all an objective paper  which you have to solve and return it back within 30 minutes of the exam start time and then comes the subjective papers and rest 2:30 hours will be given to the candidates to solve the Subjective part of the English so there is no need to go anywhere else if you want to download the Lahore Board 10th Class English Past Papers as just stay in touch with this page.