LUMS National Outreach Programme NOP applications are open. All talented students of Pakistan, who are looking for the NOP scholarship program to take admission in this university can apply for the scholarship before last date. LUMS NOP Form Download 2018 nop.lums.edu.pk Application Form and other detail is listed here. Lahore University of Management Sciences LUMS is a private university which was established in 1984. This university started NOP (National Outreach Program) for students in 2011 so that they can extend the best education to students of all over Pakistan. Students, who will apply for this scholarship will get this scholarship on the basis of Matric and Intermediate marks. To get this scholarship, students have to pass LUMS Common Admission Test LCAT in order to get full financial assistance, free different accommodations. LUMS Lahore Undergraduate Programs admission 2018 is also open. In this article you will get LUMS NOP Form Download 2018.
LUMS NOP Form Download 2018 nop.lums.edu.pk Application Form
LUMS NOP Eligibility Criteria:
A candidate, must obtain at least 80% marks in Matriculation exams, in order to get this scholarship
It is compulsory for students to clear Intermediate with 70% marks and A level with at least 2bs and 1C in order to be selected under LUMS NOP
LUMS Common Admission Test will be organized, which is compulsory to pass in order to get this scholarship
A candidate who will successfully pass the test, will be selected on the basis of quizzes and test taken during the course of coaching session
A candidate must apply after completing matriculation because it takes usually two years to take admission in any undergraduate program
A student, who will selected on the basis of Preliminary Evaluation Test also will be able to receive three weeks coaching session during summer vacation which will be arranged by the LUMS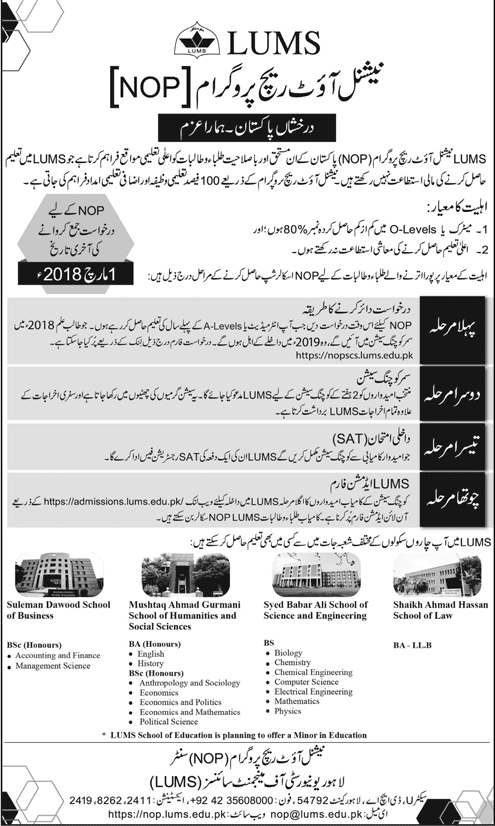 LUMS NOP Form Download 2018 Last Date:
Last date to apply for LUMS NOP is 1st March 2018.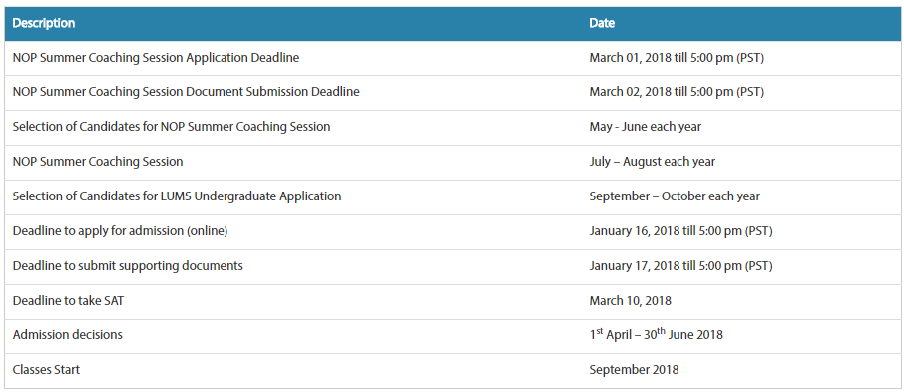 LUMS NOP Application Procedure:
There are four stages or phases in LUMS NOP Application Procedure. In first phase, students have to apply for the LUMS NOP program during the 1st year of Intermediate. LUMS NOP Form Download 2018 from httpss://nopscs.lums.edu.pk. After downloading this LUMS NOP Form, you have to apply online. In 2nd phase, candidates have to receive summer coaching which will be consisted upon two weeks. LUMS will afford all the expenses of summer coaching session. In 3rd Phase, candidates have to pass the SAT test which will be organized after coaching session. In 4th phase, candidate who will pass in coaching classes, will do online registration at httpss://admissions.lums.edu.pk/. LUMS Admission Forms are only available online.