MIPC(Ministry of Inter Provincial Coordination) Cultural Exchange Scholarship Program 2014 is now ready to give students a chance to learn in the China, Turkey, South Korea, Greece and many other countries. The duty of this task was assigned to NTS (National Testing Service) to conduct GRE (Local) subject wise test. This scholarship program offers students to study masters and Ph.D level courses in different subjects.
The donor countries that are China, Turkey, Romania, Czech Republic, Slovak Republic, Mexico, Greece, Russia, South Korea and Italy will provide the candidates tuition fee, free accommodations and reasonable monthly stipend. Those students who have complete their sixteen year education that have hold 4 years B.Sc (Hons) Agriculture, B.Sc (Engg), BCS (Hons), MBBS or Master degree in the relevant field are eligible for the scholarship program.
MIPC Cultural Exchange Scholarship Program 2014
Candidate age limit is not more than 35 years on the closing date of the applications this is in the rules of this scholarship and also those students who have more than one second division is also not eligible to apply for this. What you have to submit with the application form is that attested copies of each supporting documents (Matric to Onward) including domicile and those who have B.Sc degree should submit detailed marks certificate of each year. This scholarship will be provided totally on the basis of NAT GRE test score, observing provincial and regional quota as per govt. rules. Those countries where language courses is applicable candidate must have to attend those classes of the donor countries.One of the important thing those students who are result waiting cannot apply for the MIPC Cultural Exchange Scholarship Program 2014.
Apply Online Here
Test Schedule

 Last Date for Submission of Applications :

Monday 28th October, 2013

 Test Date :

Sunday 17th November, 2013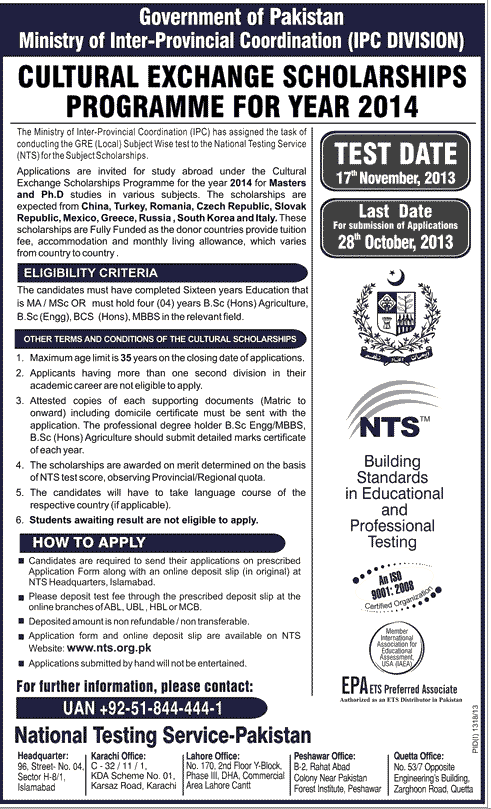 HOW TO APPLY:
Application forms and online deposit slips are available on our website down on this page.
Applications must be received by NTS not later than 28th October, 2013.
NTS will not be responsible for late receipt of applications sent through post.
Please deposit online through the prescribed deposit slip in the online branches of ABL, UBL, MCB or HBL. Application form and online deposit slip are available on NTS website.
Candidates are required to send their applications to NTS Headquarters, Islamabad on prescribed forms along with online deposit slip (original).
Candidates are not allowed to bring cell phone to the examination center.
Deposited amount is non-refundable and non-transferrable.
Applications submitted in person will not be entertained.
Please send your applications on the address given below :
National Testing Service (NTS) Pakistan
96, Street No. 04, Sector H-8/1, Islamabad
UAN: 111 687 000