It is to inform you that the NHA has recently opened the applications for the Internship Program 2020. The National Highway Authority Internship Program 2020 Application Form is available on this page. National Highway Authority is the biggest highway authority in Pakistan. It started working in 1978 as National Highway Board but later in 1991, the National Highway Authority (NHA) came into existence. Its main aim is to plan, construct, develop and repair the highways around the Country. The goal of NHA is to provide a safe journey to the citizens. Working on this aim, the authority has progressed well in recent decades. NHA is playing a key role in minimizing the distance of one province to another and one city to another city. Here we're going to talk about the internship program recently offered by the authority. It is offering internship programs to those students of the country, who are studying in different universities and have completed their undergraduate. The main reason for this program is to improve the skills of the students. So, if you want to apply for this internship program, then read the entire post.
National Highway Authority Internship Program 2020
The benefit of the Program
NHA is offering an internship program to those students who have completed their Intermediate or are studying Graduation. The main objective of this internship program is that those students who have very little or no experience in this field can get some training under this internship program. So, whenever in the future they will try for NHA, they may have some experience so that they can be selected for any post in NHA.
Applying Procedure for the NHA Internship Program
Open the Application form given below.
Fill the form completely by giving correct information.
After filling the form, submit it at the given address before the last date.
Incomplete or Late applications will not be processed.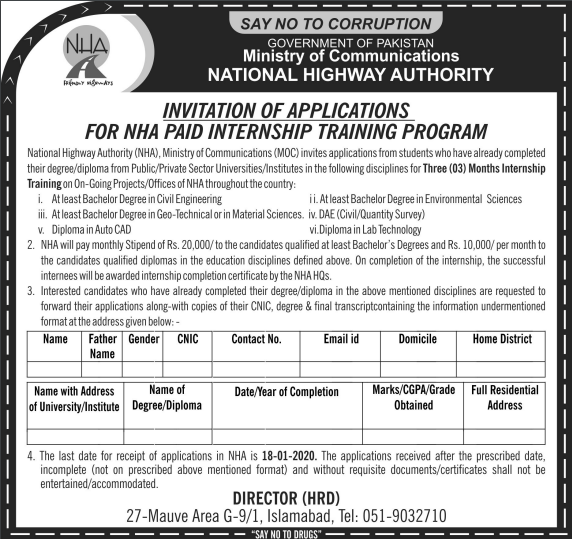 Important Dates for the Program
Internship Program online applications are Open Now
Last Date to Submit Online Application Form is 18th January 2020
Requirements for the Program
Those students studying in the following programs in Public or Private Institutions or Universities are eligible to apply for the program:
Sc/BE (Civil Engineering)
Sc (Geo-Technical)
Sc (Environmental Science)
DAE (Civil Engineering)
Diploma in Auto CAD
Diploma in Lab Technology
Important Points about the Program
The duration of the Internship Program will be 1 month.
The selected candidates will be called for the 1-month Internship Program.
The objective of this program is to polish the skills of Public and Private sector students and also to train them for the jobs.
NHA Official Address
Director (HRD), National Highway Authority
27-Mauve Area, G-9/1, Islamabad
Ph: 051-9032710