NTS EDCON Asia Scholarship Program 2014 announced for the Schools and Colleges Students so NTS Application Form, Test Date and other complete form submission procedure is given on this page. All the students of the 6th, 7th, 8th, 9th, 10th, FSC, ICS, ICom and DBA are eligible to get this Scholarship so that they could get the education from the top educational Institutes of the capital city of Pakistan Islamabad. The Scholarship depends on the number of the candidates in the test Result that means if a candidates is able to get 100% marks then there are 10 scholarship for these students etc the detail is listed below on this page.
Edcon Aisa is the internationally recognized organization and the purpose of this organization is to promote education in Pakistan. So this organization is trying to provide the education to the talent students of the Pakistan so that they could make a better nation in future so that is why there will be two thousands scholarships that could provide free education to the students of the Pakistan. All the selection would be totally made on merit basis as all those candidates who will be able to clear their NTS Test will get the Scholarship so the other complete details of the admission form, Procedure and the Documents require of NTS EDCON Asia Scholarship Program 2014 is listed down on this page.
NTS EDCON Asia Scholarship Program 2014 Application Form, Test
Eligibility Criteria of the scholarship:
All the Male and Female students of the Pakistan as well as the Azad Jammu and Kashmir
Those candidates who wants to take admissio in the Schools for the classes of 6th, 7th, 8th and 9th
All those candidates who wants to take admission in the Colleges for the first Year in programs of Pre Engineering, Pre Medical, ICS, ICOm and DBA
EDCON ASIA SCHOLARSHIP NTS TEST ANSWER KEY
Admission Form Submission procedure:
Admission form along with the online deposit slip is available to this page so simply click on the link below and download the Online application form to your computer
CLICK HERE TO DOWNLOAD FORM
Deposit Fee in any online branch of the ABL, UBL, MCb or HBL
Attach all the required Doduments that are listed below and send the application for to the National Testing Service NTS Headquarter Islamabad
No mobile phone will be allowed in the examination hall
The fee that is deposited is non refundable and non transferable
All those forms that will submitted by hand will not entertain that is why only submit application through a courier service.
Documents Required With the Application Form:
All those candidates who have done from the annual examiantion would have to attach thier Result.
All those who are waiting for thier result should attach a hope certificate from the last attended Institutes
Those candidates who are from the Balochistan, FATA, KPK and Gilgit Baltistan have to attach Residence Certificate
Last Date to Submit the Form:
31st March, 2014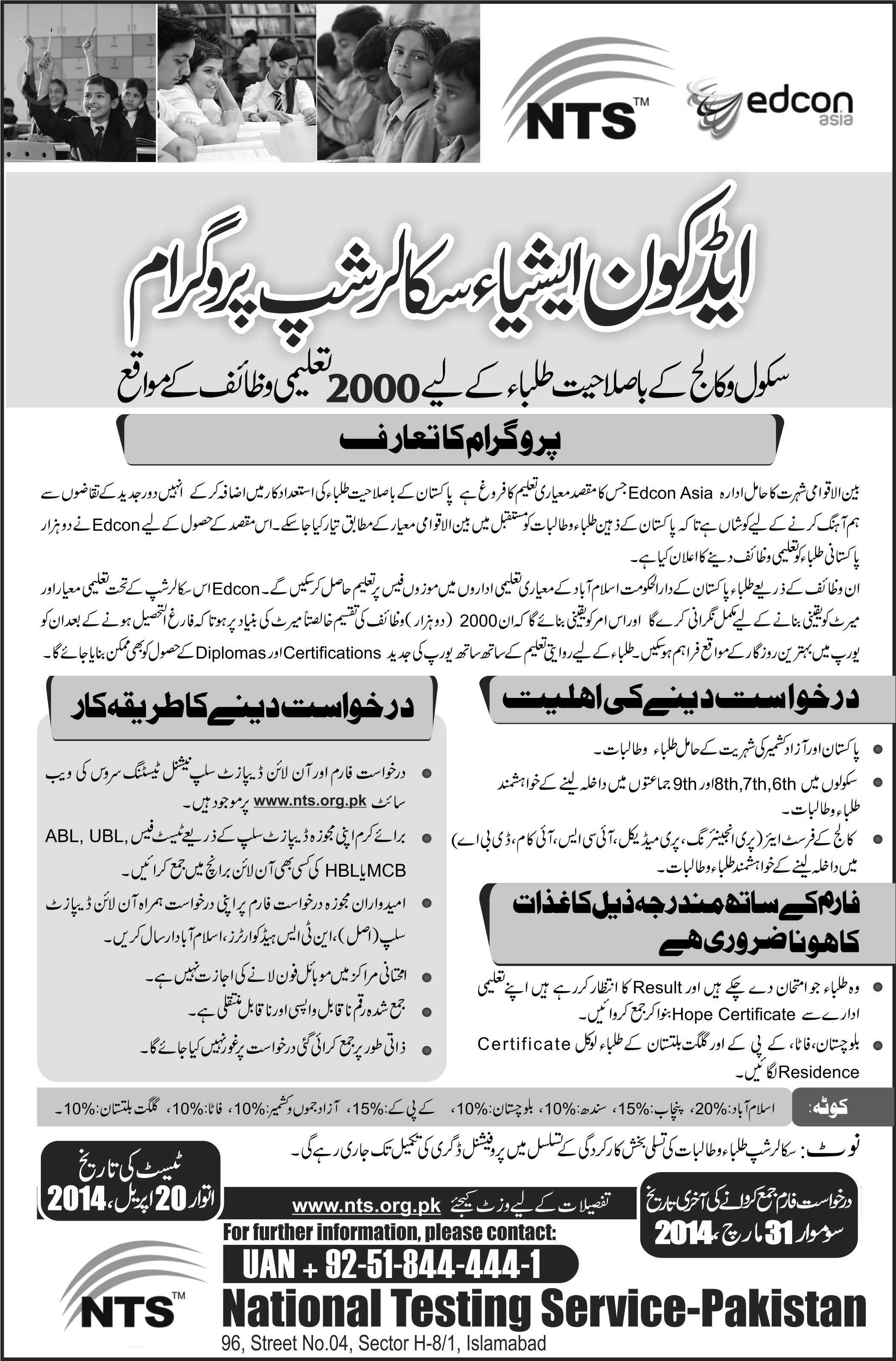 Summery of Scholarships:
Class

No of Scholarships

Total Scholarships

100 %

90 %

80 %

70 %

60 %

50 %

1

6th

10

15

20

25

30

100

200

2

7th

10

15

20

25

30

100

200

3

8th

10

15

20

25

30

100

200

4

9th

10

15

20

25

30

100

200

5

1st Year (Pre-Engineering)

25

38

50

62

75

250

500

6

1st Year (Pre-Medical)

15

22

30

38

45

150

300

7

1st Year (ICSl)

10

15

20

25

30

100

200

8

1st Year (I.Com/D.B.A)

10

15

20

25

30

100

200

Total Scholarships

100

150

200

250

300

1000

2000
Test Date and Result:
NTS EDCON Asia Scholarship Program 2014 Test will be held on Sunday 20th April, 2014 so all those candidates who should apply for the Scholarship must have to attend this test because this is the only way to get this scholarship. NTS EDCON Asia Scholarship Program will declare the result that will decide that which candidates are eligible for the Scholarship so stay in touch with this page so that as soon as the NTS Result is being declared you will be able to see it.