what is Shahbaz Sharif Scholarships 2013 that are also called "PEEF(Punjab Educational Endowment Fund) Special Quota Scholarship"? PEEF Special Quota Forms are also available here on this page so that those student who want to apply for this Scholarship can download the registration form from here and after completion submit to the authorities and than if they are eligible for the Scholarship program than they can get it and will go for further studies. This PEEF is also initiative step of the Government of Punjab as the chief Minister of Punjab Mian Shahbaz Shareef are very keen about the future of the students of Pakistan and for this he always ready to took some positive step. Shahbaz Shareef PEEF scholarship program started in year 2009 and up till now this program has awarded more than 30,000 scholarships of worth Rs. 1.4 Billions.
Shahbaz Shareef PEEF Special Quota Scholarships 2013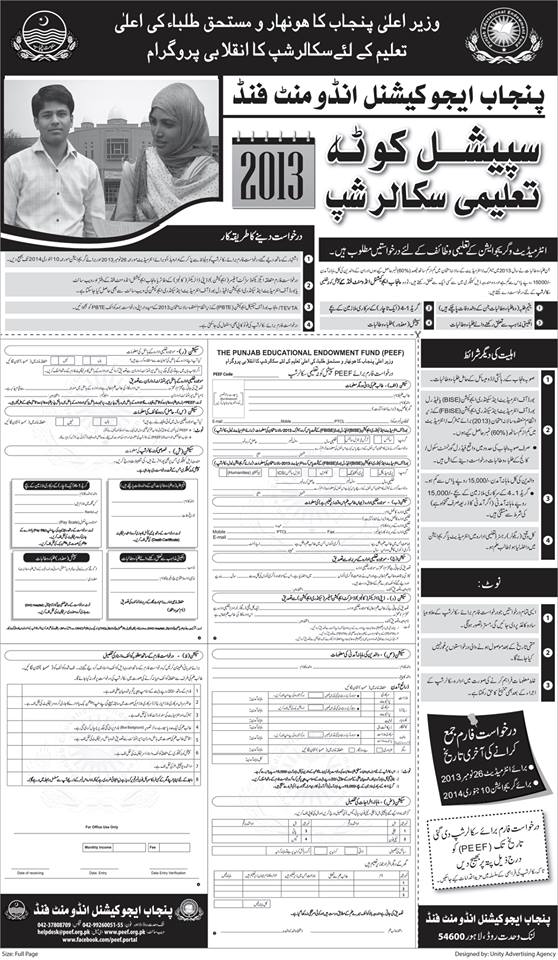 Those students who are orphans, Government servant children in BPS 1-4, Children belonging to minorities religions and special children are eligible to get their PEEF (Punjab Educational Endowment Fund) Scholarships 2013. The scholarship quota is allocated on the basis of previous year's total enrollment at Inter and graduation level degree programs.
Subject wise Allocation:
Once the quota / number of scholarships is determined; this quota is further divided / allocated for Science & Arts subjects:
– 70% of the allocated scholarships are for science subjects
– 30% of the allocated scholarships are for Arts subjects
Costs:
Admission fee
Registration fee
Tuition fee
Examination Fee
Lab fee
Eligibility Criteria:
Those student who have Punjab Domicile
Candidate must have at least 60% marks in the exams of year 2013 or greater.
Passed the aforementioned examination from Government Institution, Private Affiliated Institution, As Private Candidate
Click here to download the PEEF(Punjab Educational Endowment Fund) Special Quota Scholarship, After filling this form submit to the officials and than after process you will be given your scholarship on merit basis.
PEEF Special Quota Scholarship Registration form
If you have any other query than write it down in the comment section below..