USAID Teacher Education Masters Scholarship Program 2015-2017 starts so download online Application Form to apply for this USAID Masters Scholarship from this page as this page will be the authentic source that could provide you the complete information which may be required for you if you are thinking of applying. Through this Scholarship the teachers of all the Government sector Universities of Pakistan and private Universities that are in collaboration with the USAID could take advantage of this scholarship and get the training form the American Universities. The United States Agency for International development (USAID) will select candidates totally on the merit basis to all the nationals of Pakistan to pursue masters degrees in the field of education from the Universities of the United States of America and the classes for this Scholarship will start from the June 2015. This program is just initiated to provide the training to the teachers so that they could provide the quality education to the students in the Pakistan later on coming back to the Pakistani universities and other educational institutes.
The areas of the study in which the teachers will get the Masters Scholarship will be Teacher Education; Literacy Education; Education Measurement and Assessment; Educational Administration and Policy; Special and Inclusive Education; Early Childhood Education; Developing Reading Culture; Behavior and Applied Analysis; Educational leadership and management; Educational Financing; Curriculum Development Teaching of Reading; and all other related areas of study so if you are also among those candidates who are eligible enough to apply for this Scholarship then the last date to apply is 4th June, 2014 as all the applications that would received after that date will not be entertain in any case.
USAID Teacher Education Masters Scholarship Program 2015-2017
Scholarship Benefits:
GRE/TOEFL: preparatory classes for the selected candidates and payment of exam fees

Orientation Programs: prior to departure from Pakistan and upon arrival in the U.S. to receive information on life and study in
US and other topics.; compulsory before commencing formal academic studies

English Language: intensive pre-academic study in the U.S.

International Travel: one round-trip ticket for candidate to travel between Pakistan and the US

Mandatory Tuition and Fees: instruction related fees paid directly to universities

Monthly Maintenance Allowance: contribution towards accommodation expenses

Settling-in Allowance: one-time support for accommodation  related costs  incurred at the inception of academic program

Book Allowance: distributed for each academic term

Computer Allowance: one-time allowance
Health and Accident Insurance: provided to cover the basic medical costs
Application Form:
You can download the application for USAID Teacher Education Masters Scholarship Program 2015 from this page easily as just click on the link below to download form
CLICK HERE TO DOWNLOAD APPLICATION FORM
Important Dates to Remember:
Date

Activity

9 May 2014
Announcement of the Scholarship
4 June 2014
Preliminary Application Deadline
23-25 June 2014
Candidates selected for full application contacted
8 July 2014
Full Application deadline
24-25 July 2014
Semi-finalists contacted for interview
6-18 August 2014
Interviews
19 August 2014
Finalists and alternates informed of their status
20 August-30 Sept 2014
GRE & TOFEL preparation of finalists and

alternates

1-10 October 2014
GRE & TOEFL
7 November 2014
Receive test scores
14 November 2014
Scholarship recipients announced
Finalists confirm acceptance of scholarship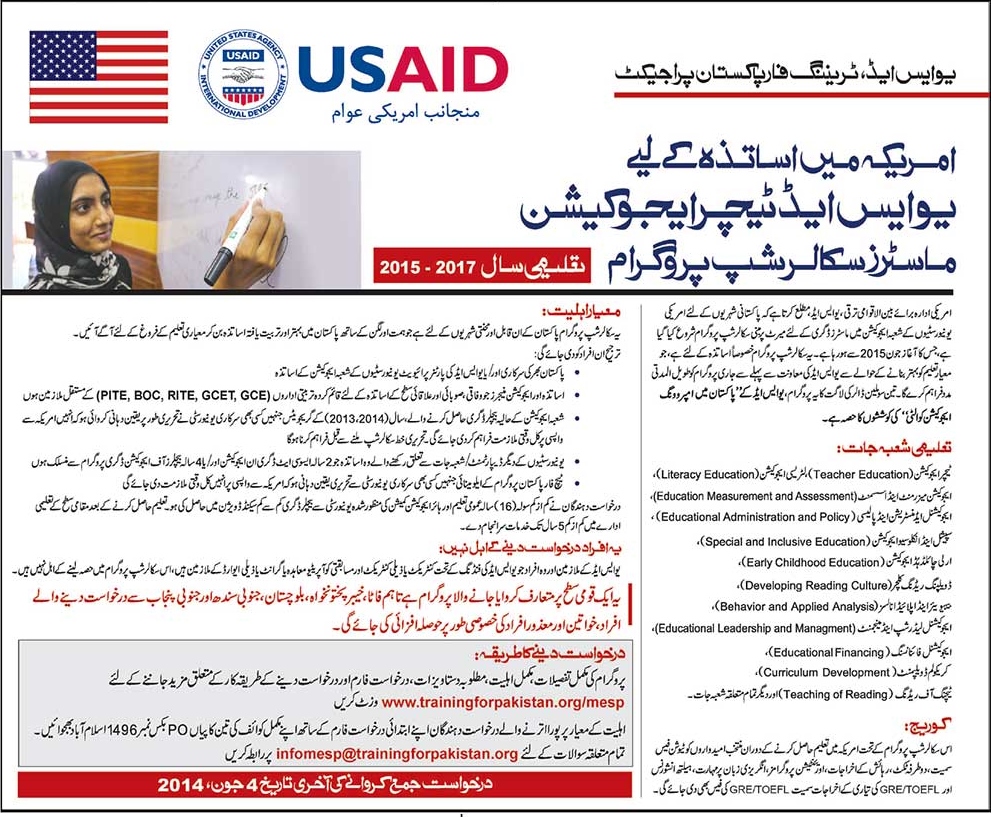 Candidates who are not eligible:
Candidates under bond with any institution/authority/governmental department under another scholarship program will not be considered.
Individuals with dual nationality or U.S. residency will not be considered or those who are married or  engaged  to be married  to  a person  who  holds, or  who  is eligible to  hold,  citizenship  or permanent residence of U.S.
Those who have received any international scholarships in the last five (5) years.