Admissions 2014 in 8th Class in Army Burn Hall College for Boys Abbottabad is opened so all those students who want to take admission in this Army College must have to submit their application form to the admission office or by mail to the address which is available at the end of this article according to the given schedule. was established by the Mill Hill Fathers at Srinagar in 1943. After the Pakistan come in to being in 1947, the Missionaries moved to Pakistan, and with the support of the Government of Khyber Pakhtunkhwa, they founded a new school, under the same name, in Abbottabad hotel. In 1956, another branch of school was created near Mansehra Road, which later known as the Senior Burn Hall.
In January 1977 it was transferred to the Pakistani Army institute and the Senior Burn Hall was renamed as Army Burn Hall College for Boys. Army Chief of Staff is the patron of the college, and administrative operations are hold by the Board of Governors with the commander of 10 Corps and chief of Pakistan Military Academy is the deputy chairman. For many years the Army Burn Hall College for Boys was taken into account the establishment of feeding in the Armed Forces particular in the Pakistani army. Army Burn Hall College for Boys occupies a unique place among the elite educational institutes in the country.
Admission in Army Burn Hall College for Boys Abbottabad 2014
Admission Form:
Admission form for the8th class can be taken from the Burn Hall College Abbottabad itself in against the payment of Rs. 1100/- and those who want to take admission form along with the prospectus through mail service can get it by sending demand draft of Rs.1200/- in favor of principal Burn Hall College for Boys, Abbottabad. Prospectus is also available on all the army Selections and Recruitment centres of Lahore, Multan, Karachi and Quetta.
CLICK HERE TO DOWNLOAD ADMISSION FORM
Those who download the admission form online should have to submit the Demand Draft of Rs. 2000/- (Rs.1000/- prospectus Fee and Rs. 1000/- Registration Fee) when they are going to submit the admission form back to the Army Selection and Recruitment Centres.
Classes and Eligibility:
| | | |
| --- | --- | --- |
| Classes | Age on 1st March, 2014 | Remarks |
| 7th passed students | 13 to 14 Years | Boarder /  Day Scholars |
Last Date to Submit Admission Form:
| | | |
| --- | --- | --- |
| Sr.No | Fee | Last Date |
| 1 | Rs.1000/- Normal Registration Fee | 3rd February, 2014 |
| 2 | Rs.500/- With Late Fee |  14th February, 2014 |
| 3 | Rs. 1000/- With Late Fee | 21st February, 2014 |
Written Test Schedule:
| | | | | |
| --- | --- | --- | --- | --- |
| Classes | Subjects | Duration | Test Date | Venue |
| 8th Class | English, General Science, Maths | 1 Hour for each Subject | 25th February, 2014 | Only Abbottabad centre |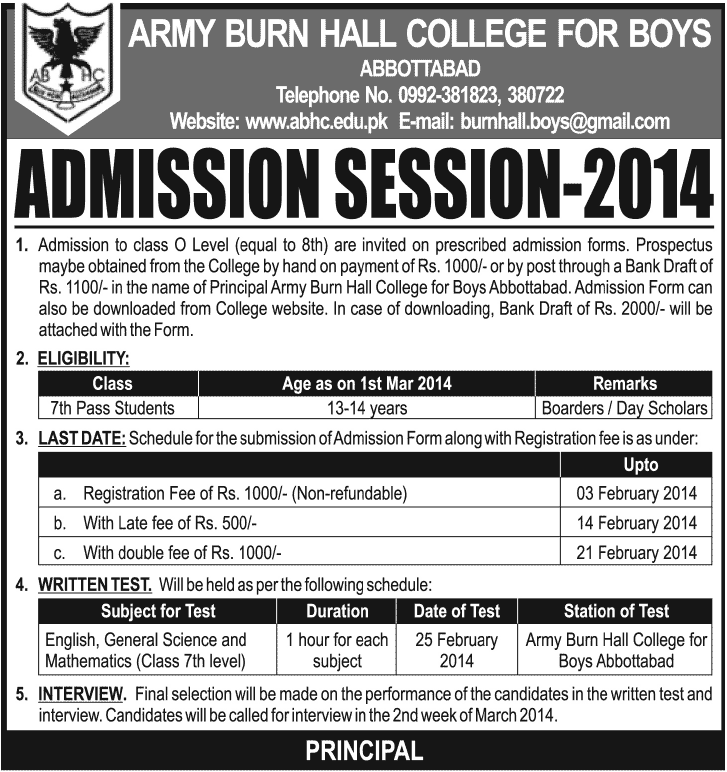 Contact:
Principal: Brigadier Mukhtar Ahmed
Army Burn Hall College for Boys Abbottabad
Phone: 0992-9310129, 0992-9310131
In order to get more information stay with us…