The page is going to specify the information about the University of Sargodha UOS DPT, AHS, Pharm D Admissions 2019 Last Date. The University of Sargodha is a big name among the Universities in Pakistan. The degree of the University of Sargodha is recognized by HEC. The admissions for 2019 are open now. The admission schedule is going to take the realistic approach which means you will be informed about the University of Sargodha admission notice 2019. The first faculty of medical and health sciences for the DPT doctor of physical therapy through the 5 years degree and annual system based. The college of pharmacy Pharm. D doctor of pharmacy means a 5-year degree and semester system based. Everything is shared and labeled here on this page. The following Sargodha university admission advertisement 2019 latest about the DPT, AHS, Pharm D. So here you can easily apply for the admissions online. It is advised for students to follow the page if you want to apply online. So read the entire post and see the applying procedure on this page.
University of Sargodha UOS DPT, AHS, Pharm D Admissions 2019 Last Date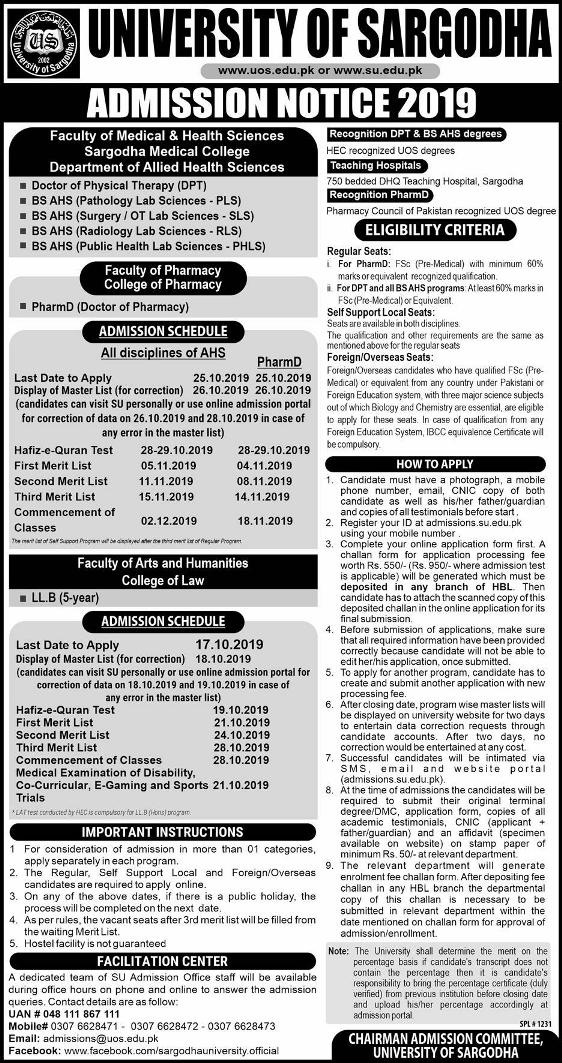 Admission Schedule for University of Sargodha
Events
Department of Allied Health Sciences
Pharm-D
College of Law
(LL.B 05 years)
Last Date to Apply
25 October 2019
25 October 2019
17 October 2019
Master List (For Correction)
26 October 2019
26 October 2019
18 October 2019
Hafiz-e-Quran Test
28 to 29 October 2019
28 to 29 October 2019
19 October 2019
1st Merit List
05 November 2019
04 November 2019
21 October 2019
2nd Merit List
11 November 2019
08 November 2019
24 October 2019
3rd Merit List
15 November 2019
14 November 2019
28 October 2019
Commencement of Classes
02 December 2019
18 November 2019
28 October 2019
UOS Admission 2019 Eligibility Criteria
University of Sargodha Admissions 2019 are open and the eligibility criteria for the admissions is given below:
Candidates with a minimum of 60% marks in FSc Pre-Medical are eligible to apply for all the medical departments.
Foreign/Overseas candidates are also eligible to apply for the admissions if they have qualified their FSc (Pre-Medical) or equivalent from a foreign college with major subjects Biology and Chemistry.
IBCC equivalence certificate is essential for the candidates who have completed the previous studies from foreign educational system.
Applying Procedure for UOS Admissions 2019
Candidates can apply online for the admissions 2019 by visiting admissions.su.edu.pk.
Register yourself with your mobile number and password and fill all the requirements and documents needed.
Generate a fee processing challan of Rs.500/-(Rs.900/- where admission test is applicable) and deposit it at any branch of HBL.
Submit the application form along with all the required documents before the last date.
Incomplete and late admission forms will not be entertained.
Apply separately for more than one category.
For more information regarding application process visit uos.ed.pk.
University of Sargodha UOS Admissions 2019 Last Date
After you are registered to apply for the Pharm D then you should complete the online application form and submit according to the focused aspect for the recent opening of the admission. After the admissions, Merit Lists will be displayed. It means that the selection of students will be on a merit basis. The Merit will be made on the basis of SSC, HSSC results. So if someone will not have his name in the 1st merit list then he will have to wait for next merit lists. If some seats will remain after the 3rd Merit list, then it will be announced on the waiting list which will be declared by the officials at that time. So, apply for the admissions and then wait for the merit lists.
Contact Information
Mobile: 0307-6628471
EMAIL: admissions@uos.edu.pk