Bahria University BU offers short courses admissions 2023 in Islamabad, Lahore, and Karachi Campus and interested professionals and graduates have to apply for online registration within the given schedule through the notification published in Jang newspaper on 15th January 2023. These courses are only for highly professional software developers or those who are attending their final years of computer software engineering programs. These short courses should very help full for new graduates and for those professionals who are intending to beat the market with new upcoming revolutions in applications and software developments. Here in this post, we are presenting you a complete brief about each course, the fee, duration of that course, and the name and contact number of the professor or teacher who is going to hold the responsibility to teach these short courses at Bahria University Islamabad Campus and Bahria University Karachi Campus. So it is to be suggested and advised that you must read this entire post carefully and make your online registration within the given registration. It is also informed that if any required received after the deadline for applying for each course differently will be rejected and will not be entertained in any case. So have a look below for more details about Bahria University short courses.
Bahria University BU Short Courses Admissions 2023
Bahria University offers different short courses to the students as well names of all courses are given. On the other hand, online registration has been started and
Bahria University Lahore Short Courses
| | | |
| --- | --- | --- |
| S.No | Course Name | Registration Fee |
| 1 | Communication and Presentation Skills | 10000/- |
| 2 | Quantitative Research Methods: From Idea Generation to Analysis | 10000/- |
| 3 | Entrepreneurship using Amazon Services | 20000/- |
| 4 | Training Workshop on Rorschach Test: Administration, Scoring, and Interpretation | 4000/- |
| 3 | UI/UX Freelancing using Upwork and Fiverr | 5000/- |
| 4 | IELTS | 10000/- |
| 5 | Project Management Professional- PMP® Training Bootcamp | 50000/- |
| 6 | Latex for Research Writing | 2000/- |
| 7 | Advanced Excell Techniques in Research | 4000/- |
| 8 | Digital Marketing-Winning the Digital Race | 18000/- |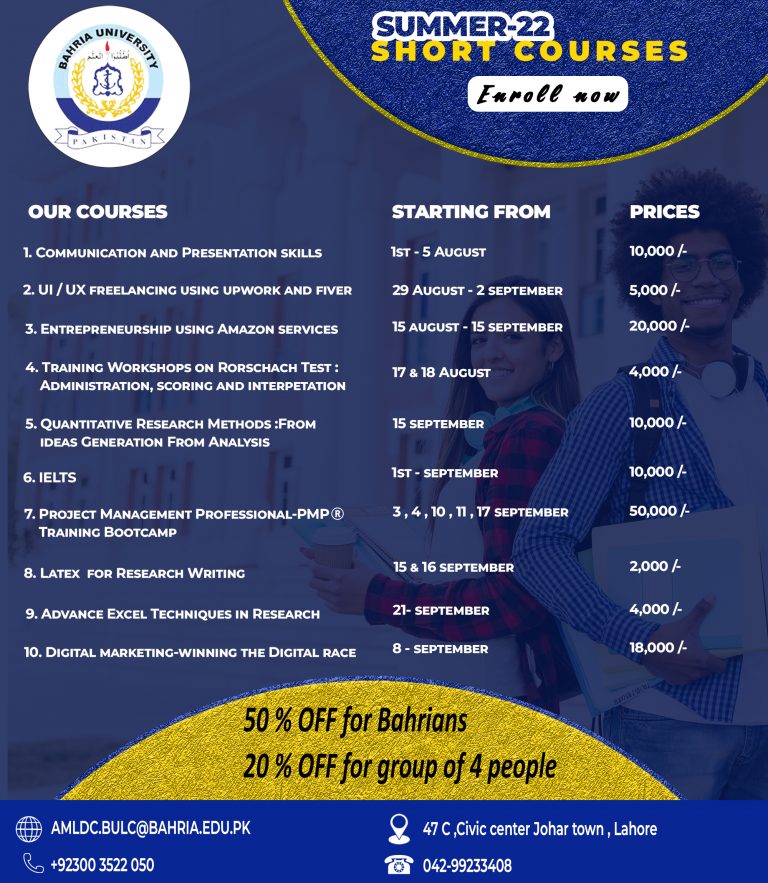 So this is all about Bahria University BU Islamabad, Karachi short courses admissions 2023 online registration schedule is given here along with a link for online registration. Hope you are all now fully informed about Bahria University BU short courses admissions 2023 but in case you have any query in your mind about this admission you can leave your comments in the following comment box and will be replying you as soon as possible BU Islamabad, Karachi Campus short courses admissions 2023.