KIPS Entry Test Preparation 2019 ECAT, MDCAT, NUST, NUMS, GIKI, FAST, UET, PU, NTS registration is open so if you want to be a doctor or engineer from the top universities of the Pakistan then you have to attend these classes. As many years ago a seed of the KIPS Academy came in the Lahore city with just the providing the education consultancy for the matric and Inter class students but with the time and trust level of the students as well as parents this seed start growing and now it becomes a full tree that has many other branches and one of them is KIPS Entry Test Classes 2019. We are not suggesting you to join the KIPS academy orally here are some stats of this academy for the different entry test held in year 2019.
9 out of Top 10 positions in MDCAT
7 out of Top 10 positions in ECAT
8 out of Top 10 positions in NUST
9 out of Top 10 positions in FAST
7 out of Top 10 positions in NTS
The largest number of qualifier in Medical and Engineering
KIPS Entry Test Preparation 2019
So if you are thinking of joining the academy for the confirm good marks in the above listed entry tests then you must have to choose the KIPS the sign of quality education now you must be thinking of why KIPS then we also have the answer of this question too as
KIPS is the largest entry test preparatory network, Across Pakistan
Highly experienced entry test teachers
Standardized & result oriented Methodology
evaluation, practice and preparation in he same spell
composite session for maximum career options
KIPS entry test series, Skill builder and Supplements
Reliable transport and Hostels
Courses which are offered in the KIPS Entry Test Preparation 2019 are MDCAT, ECAT, FAST, NUST, GIKI, NTS, AGHA KHAN, Punjab University, LMAT/LCAT.
KIPS Entry Test Admission Form 2019

To download the application form the registration in the new session of the KIPS Entry Test Admission Form 2019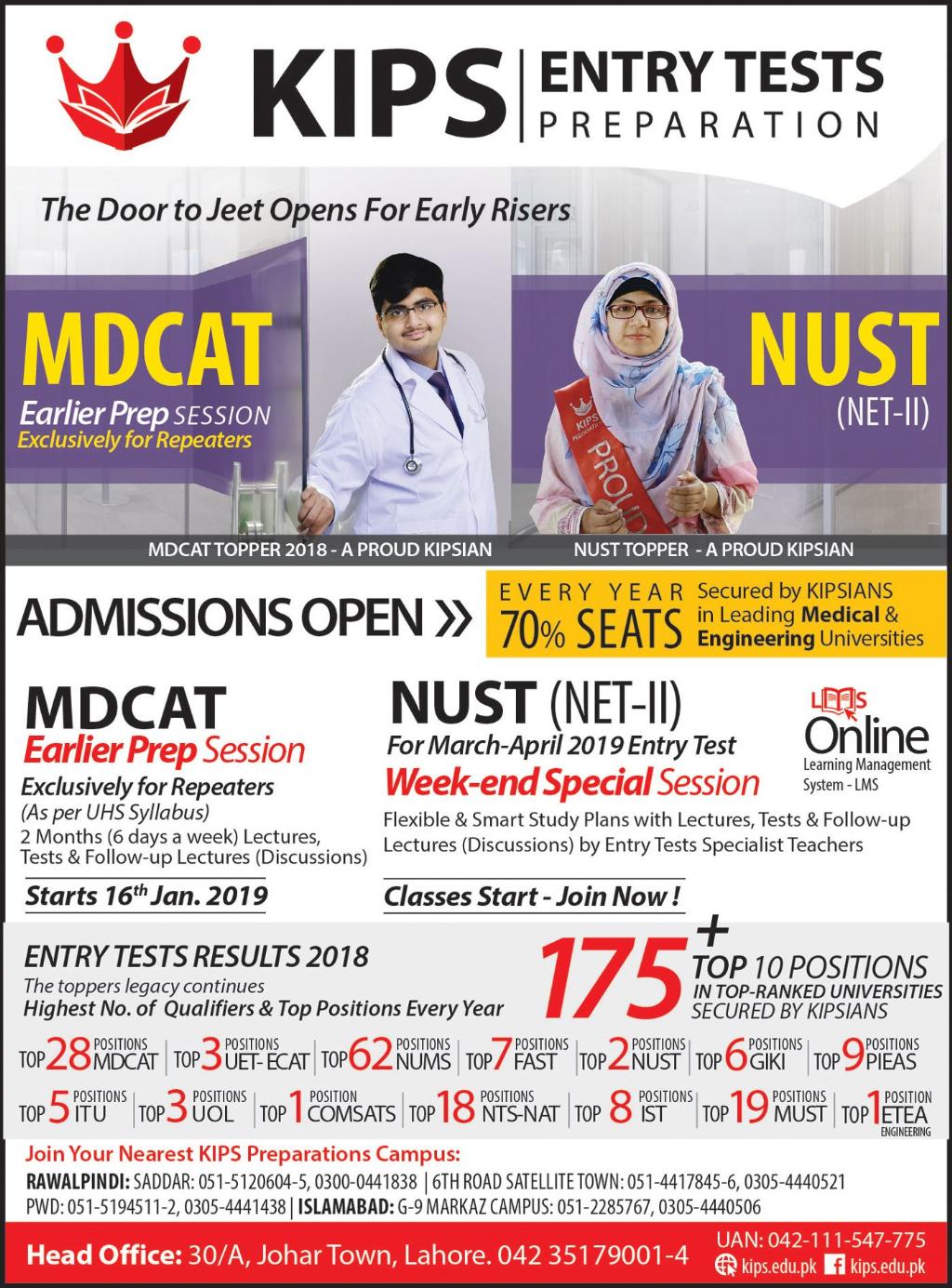 KIPS Entry Test Preparation 2019 in the above given test CLICK HERE
For More Information:
Johar town: 042-35179001-4
Gulberg: 042-35713739, 042-35713739
Iqbal Town: 042-37494881-3
Chauburji: 042-37599928, 042-37599928
Mughalpura: 042-36148340, 042-36148340
Gujranwala: 055-3250078-9, 055-3250078-9
Faisalabad: 041-8554155-6, 041-8554155-6