The official notification regarding Virtual University merit list 2020 has announced and those candidates who have applied for admission they ould check the merit list on that date who have announced by the management as well as all merit list schedule is mention in below, as well as virtual university merit list fall session, will available as soon while candidates are trying for admission in the programs like BS M.Sc B.Ed. So when the 1st and 2nd merit list will declare then we will mention on this page. So few days are left in the declaration of the merit list then admission enrollment will confirm. Further, info about the Virtual University merit list for fall is mention is below.
Virtual University Merit List 2020
Virtual university Merit list has declared the date because this year the University will declare the 2 merit list while 1st merit list will release on 21 October as well as the 2nd merit list of the virtual universities will declare on 27 October. On the other hand expected date of commencement, classers will start from November 02, 2020.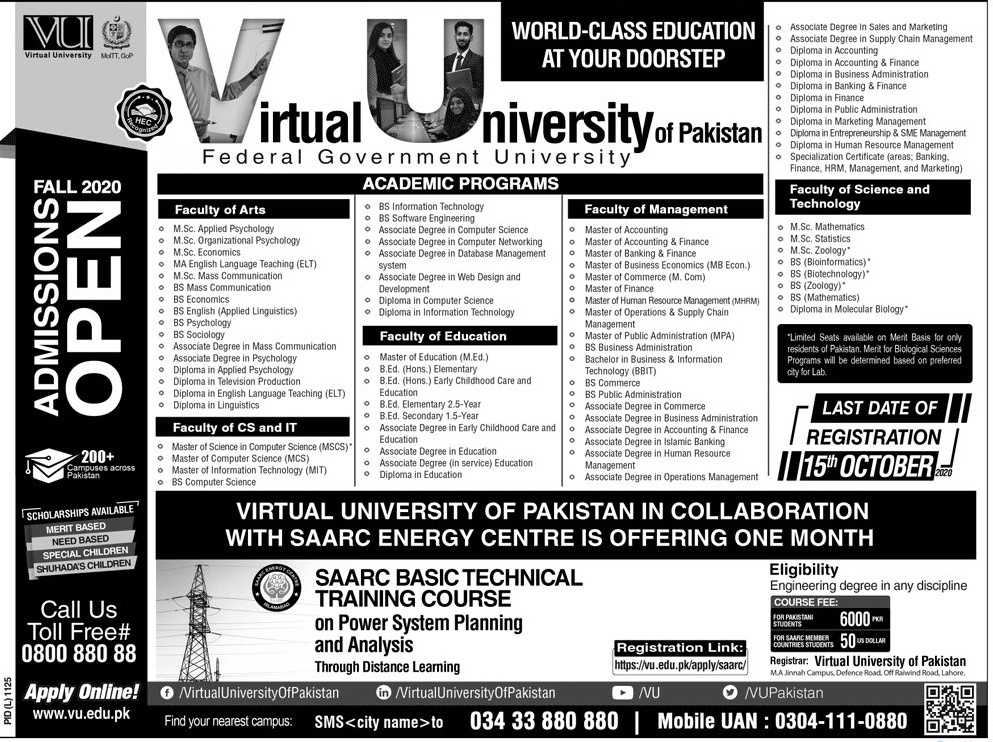 Virtual University 1st Merit List 2020
1st Merit List
Candidates are very diether about the merit list because everyone wants to get admission in this institute but without a merit list, university management will not allow the candidates. So, firstly merit list will announce for those candidates who meet the criteria they will make a part of this institute. so 1st merit list will declare on 21 October 2020 and you can see the 1st merit list from this page.
Virtual University 2nd Merit List 2020
2nd Merit List
After the declaration of the 2nd merit list, 2020 will release on 27 October 2020 and those candidates can check from this who cannot meet the 1st merit list criteria. As well as when the merit list will release they will declare the fee dues date.
Virtual University 3rd Merit List 2020
3rd Merit List
After the declaration of the 1st and 2nd merit list now this university has declared the 3rd merit list for those candidates who have did not meet the criteria of the 1st and 2nd merit list. So the 3rd merit list is now available and candidates can check easily. Most important if your name will not come in the 3rd merit list then you will out of this race.
The virtual university is one of the famous in Lahore that is providing education online because some students cannot come on campuses so they can join the virtual university and follow the foreign countries education system. So all the exams and assignments submitted through different portals and all classes do on time so the majority of the students who are doing jobs they can prefer this institute. Moreover, all information about Virtual University 1st and 2nd Merit List 2020 is described in complete detail.