IBA Sukkur SAT Test Sample Papers can be download online here from this page in all the format that is English, Urdu and Sindhi Medium so that is why if you are appearing in that standardized achievement test then do have a look on these sample paper to clear the test and to get really good marks in that. This SAT test from all the government and private schools students is the initiative of Reform Support unit education and literacy department government of Sindh, This project is the best way to measure that either the quality of the education provided to the students in that schools are enough or not. This test is taken from the students of the class 5th and 8th. The World bank is also financing this good cause and helping government of Sindh to exercise this practice every year. So for this checking the IBA Sukkur got the contract to arrange the test from 5th and 8th class in the month of January and February 2015 this year and provide an accurate result sheet regarding the quality of the education. So well for the helping materials of the students officials has already announce the Sample paper which are available down on this page, have a look.
IBA Sukkur SAT Sample Paper English, Urdu, Sindhi Medium Download Online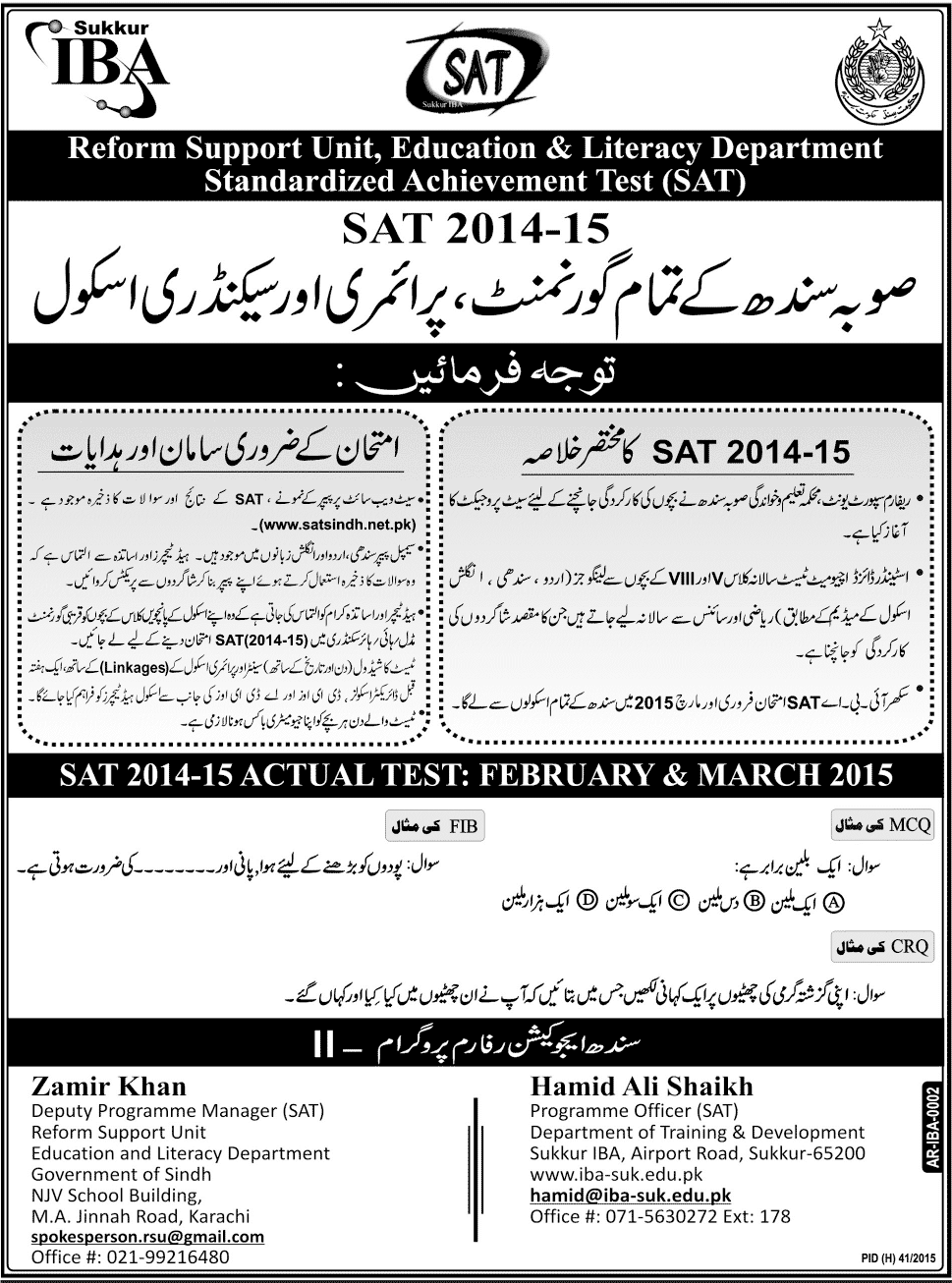 The Complete SAT Test is conducted from the subject of the Languages that are Sindhi, Urdu and English as it depends on the medium of school you are currently studying including Math and Science subjects. The complete test is consist of MCQ's Questions and what you have to do is just correct the correct answer which you think that is right. The Test will be taken from the syllabus of the 5th and 8th class as no question will be out of the syllabus.
SAT Test Sample Papers For Sindhi Medium
SAT Test Sample Papers for Urdu Medium
SAT Test Sample Papers for English Medium
This SAT Test is arranged by the BA Sukkur is really a perfect step taken by the government of Sindh because through this you could be able to analyze the quality of education that is being delivered to the students in the Public and Government Sector of your province. Well this test is compulsory for each student that is in the 8th class or 5th class so parents make one thing sure that on the test date your children should be present in the examination hall as this is for their own benefits.