Prime Minister Pakistan Imran Khan has announced the Internship Program so that is why you can get PM Youth Internship Program 2022 Apply Online Registration along with the eligibility criteria and all other information you wanted to know about this Scheme from this page. The purpose of this Prime Minister Youth Training Scheme under which selected candidates can do internships in well-known organizations is to provide benefits to the Fresh as well as the Unemployed educated person. So that is why if you have completed your 16 years of Education or have done Matric with Diploma from any government recognized college then you would be able to apply for this PM Youth Internship Program 2022. The training program of the selected candidates under this scheme will be one year (12 months) and on each month each internee will be able to get Rs 30000/- stipend from the government against their working. This Internship Program will select candidates from the Punjab, Sindh, KPK, Balochistan, FATA, ICT, AJK. The total number of candidates who will get benefits from this program will be 30000.
PM Youth Internship Program 2022
Click Here
Prime Minister Imran Khan has announced an internship program and those people who have completed a BA degree will apply. In addition, PM has just announced in a previous speech but the government is now working on this project. On the other hand, the Prime minister said that government will give 30000 thousand rupees monthly to the people who will do internships.
PM Youth Internship Program Last Date
PM Youth Internship program 2022 last date yet not announced. On the other hand, for PM Youth Internship Program 2022 Apply Online Registration has started and you have to register yourself Via online so just click on the link below and fill out the application form as provided to you and then your application would be submitted at the end of the process.
Prime Minister Internship Program 2022 Online Registration
Prime Minister Youth Internship programs have been announced for all graduate students or those people who have done their BA  now they can apply before the last date that will be announced later. On the other hand, this is a golden opportunity for those people who have graduated but are now unemployed. Moreover, the government will pay 30000 thousand monthly stipends in terms of internships. So candidates just open www.pmyts.nip.gov.pk and then fill out the online application form.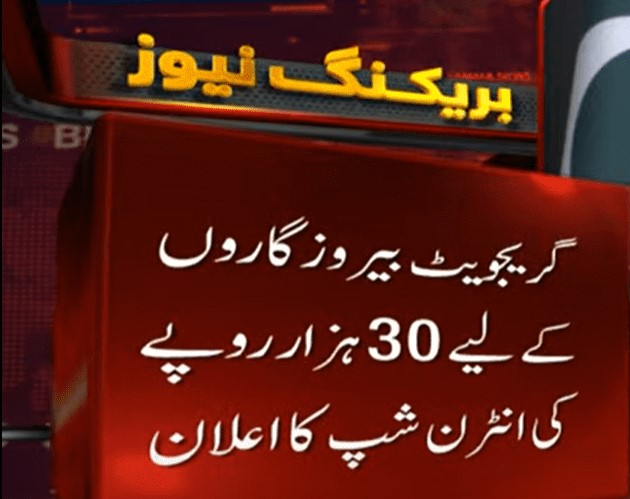 A lot of people seeking a job but unfortunately a job is not available. But now PM has announced a graduate internship program for these people who have been unemployed after completing graduation. On the other hand, all candidates apply without time waste because they can close the application as soon.
PM Internship Program Eligibility Criteria:
Those candidates who have completed thier BA from any HEC Recognized University Or College.
Those candidates who have done Matric and have Diploma for Associate Engineering of 3 years.
The age of the applying candidates must not be more than 25 years.
Candidates should be the national of Pakistan
No Gender Discrimination here in this Internship Scheme so that is why both male and female candidates are appreciated to apply
candidates should not have availed of any Training Program under the Government Youth Training Program before this
Candidates should not be employed in any Government or Private Organization in Pakistan
Students should have completed their educational career as a result awaiting candidates are not eligible to apply.
Monthly Stipend for PM Youth Internship Program 2022:
All those candidates who will be selected in the PM Internship Program will be able to get Rs. 30000/- each month
Under the PM Youth Internship Program 2022, all the candidates are able to work with the leading Private as well as government organizations as this will allow them to enter into the organization and learn about the strategies, Know how to work in a group, and other capabilities that will be very useful for each of them in their next practical life.