It is the page for FFC Management Trainee Jobs 2019. The following information for the specific graduates is available after completing their engineer degrees. The chemists and engineers at fresh note is available with high leadership potential to join our plants as management trainees. The mechanical, chemical, electrical, electronics and chemists with the analytical inorganic and industrial background required as MTO. The academic record should be attach with the NTS test through the NTS fertilizer name which can easily found on the website. Every year the MTO program at Fauji fertilizer company create various approaches including January, February and March 2019. The appearing in all tests is not mandatory which means the interested candidates  can avail all chances at once. For registration of test named under  the NTS fertilizer.
Fauji Fertilizer Company FFC Management Trainee Jobs 2019
The January, February and march 2019. Appearing in all tests may enhance the chances to get this job. There is only one way to get register  which mean registration through NTS website. If you stood first in NTS test conducted with the cooperation then please visit FFC career portal with complete detail. For example scores, CGPA and academic career approach including SSC, HSSC, graduation and test score.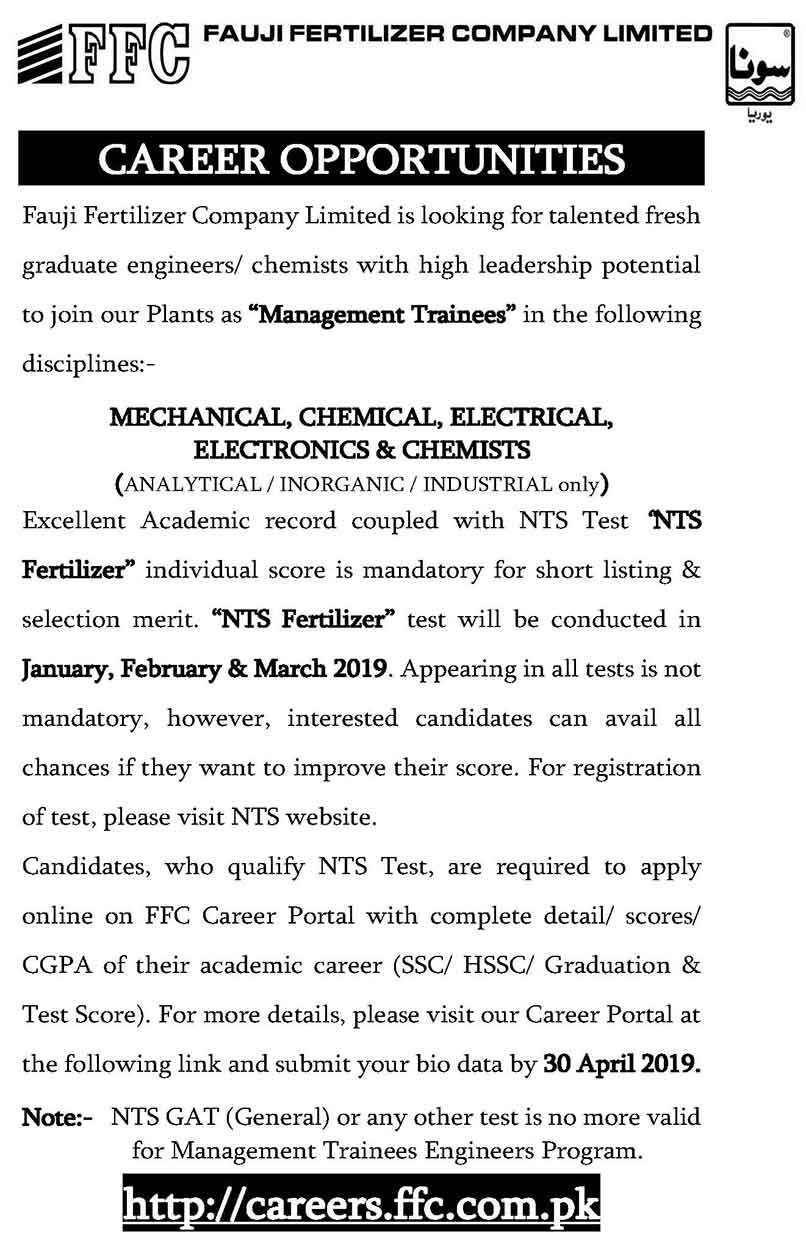 FFC MTO Program 2019
There  are five different types of management trainees available including mechanical management trainee, chemical management trainee, electrical management trainee, electronics management trainee and chemists management trainee. It covers the analytical, inorganic and industrial purpose only.
Fauji Fertilizer Company Limited
Management Trainees Programs 2019
 To Download Advertisement :

 To Download Schedule :

 For Online Registration :

 To Download Job Details :
(Management Trainee Production)

 To Download Job Details :
(Management Trainee Maintenance (Electrical))

 To Download Job Details :
(Management Trainee Maintenance (Instrumentation))

 To Download Job Details :
(Management Trainee Technical Services (Laboratory))

 To Download Job Details :
(Management Trainee Maintenance)

 Last Date For Application Submission:

 Wednesday, 19th December, 2018

 Test Date:

 Sunday, 13th January, 2019
Careers.ffc.com.pk Online Apply 2019
The excellent academic record and the progress in NTS fertilizer individual score are mandatory approach for the short listing. If you want to be shortlist for the current opening then you must have to consider different paradigms of jobs. NTS fertilizer test with the January, Feb and March 2019.
Check Also: Pak Suzuki Management Trainee Program 2019
Fauji Fertilizer Jobs 2019
FFC is the national enterprise any one can apply and get the detailed aspect with the global inspiration. The growth opportunities and maximizing return is always considerable with social and ethical approach. FFC doing best for the population nationwide. MTO jobs are available so that they can increase their team with the required potential. The above narrative is all about the FFC Management Trainee Jobs 2019.