The Page Join Pak Navy As Doctor Through M Cadet Scheme 2018-2019 Online Registration has announced. Pakistan navy is one of the largest as well as the best naval armed forces in the world.  Pak Navy was established after the independence of Pakistan for the sake of defense of Pakistan from its enemies in 1947.There is currently 30,700 active navy officers are serving the country as well as the nation. Pak navy announce jobs many times in a year. It also has announced job for doctors for current year 2018-2019. This is one of the higher posts in Pak Navy. The basic purpose of this post is to provide medical facility to the naval officer as well as to civilians in the hour of need. Everyone who wants to join Pak navy as a doctor can apply before deadline and can serve their country as well as their nation. After reading this article you will come to know about the Join Pak Navy as a Doctor through M Cadet Scheme 2018-2019, their online registration and procedure, which is listed below in this article.
Join Pak Navy As Doctor Through M Cadet Scheme 2018
Pak Navy As M Cadet Scheme Eligibility Criteria:

Applicant should not more than 26th years of age on 1st July 209
All unmarried male and female citizen of Pakistan are eligible to apply for this post
Male should be more than 5.4 feet in height and female should be more than 5 feet
Only those applicants are eligible who are in 4th or 6th year of MBBS from a well recognized govt, college
All fake applications will be neglect by the management.
Remember that there is only one way for the pak navy online registration 2018 through www.joinpaknavy.gov.pk online registration 2018 only.
Join Pak Navy As Medical Cadet 2018 Application Procedure
All those students who want to join Pak navy can register themselves from the official site of Pak Navy. After registrations, students will call for the entry test. It is mandatory to bring postal order of 300 rupees on the day of entry test.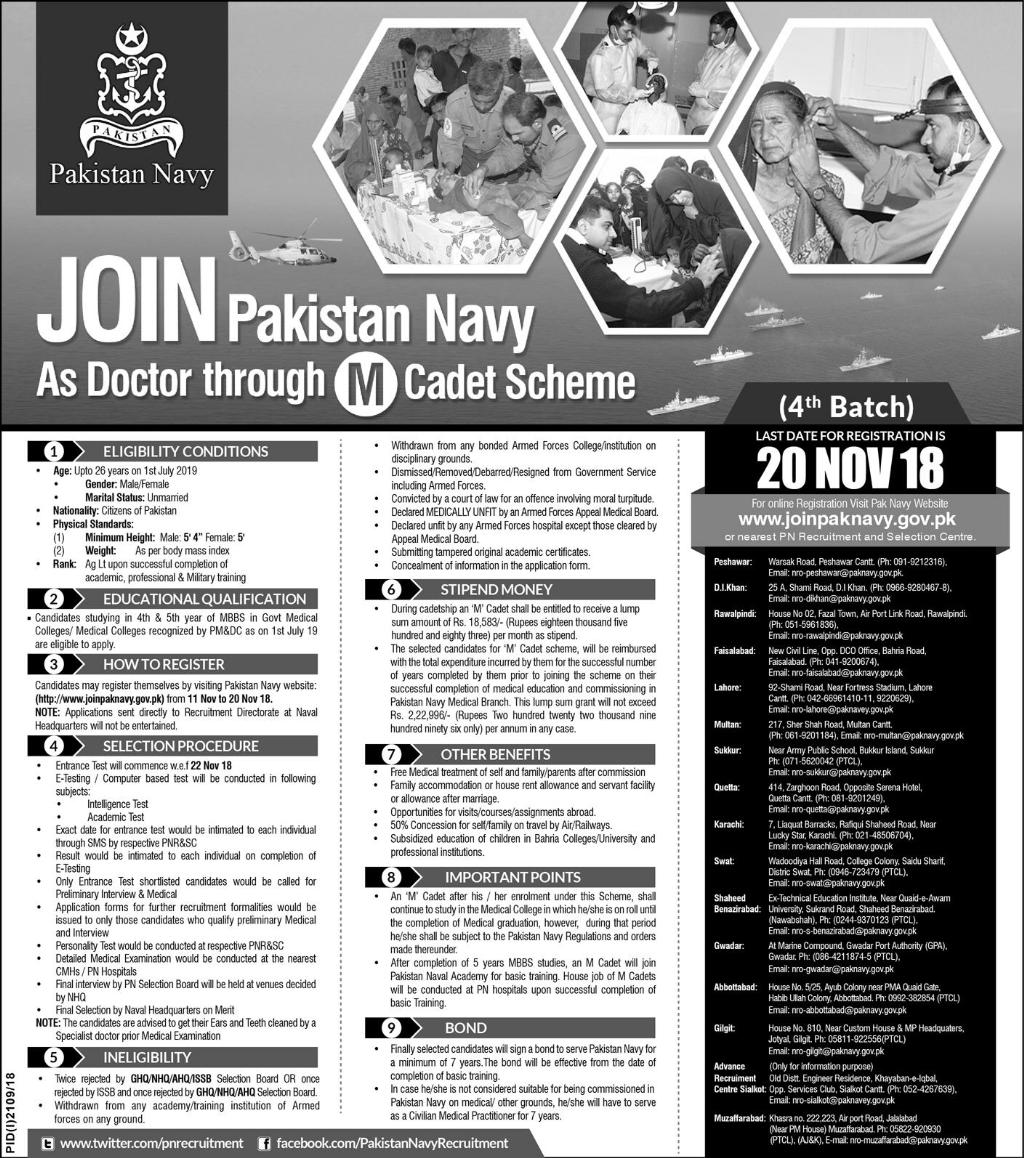 After completing entry test student will call for the further exams like intelligence test and others. Final selections will be after all the test and interviews.
Join Pak Navy As M Cadet 2018 Scheme Schedule
Last Date for registration                   20 Nov 2018

Entry Test Date                                   22nd November 2018
Entry Test Result                                Expected in December, 2018
Pakistan Navy Online Registration Form
M Cadet In Pakistan Navy 2018
This is the best chance for all those candidates who want to Join Pak Navy As Doctor Through M Cadet Scheme 2018-2019. Only few candidates will be selected on merit bases. It is advised to every job seeker students that they should get their teeth and ears clean for the medical test. Only those applicants will be called for the medical who will complete their NTS exam. For more information please stay tuned with us.