If you are looking for PMA Long Course 152 Online Registration Date then here you can find it. The selection for recruitment in the army is started so that is why here on this page we will provide you complete guidance so that if you are also interested to join Pak Army then you do not have to face any kind of hurdle regarding the Rules and Regulations. It is the best opportunity that will change your life and can make every beautiful Vision and Mission of your Life that will be facilitating Humans beings through becoming a part of the Pakistan army. The Whole Eligibility Criteria along with Dates and Selection Methods is here in the below-given paragraph that urges you to join the Pak Army so that is why there is no need to go anywhere else just have a look complete on this page till the end of this page.
PMA Long Course 152 Online Registration Date
Apply Online
For knowledge of the entrusted who want to join the army, they can apply because PMA Long Course 152 Online Registration Date is available. So online registration will start as soon. So some days are left. For online registration, you can browse joinpakarmy.gov.pk and apply.
| | |
| --- | --- |
| PMA Long Course Start Date | October 2023 |
| PMA Long Course Last Date | November 2023 |
 PMA Schedule and Selection Criteria
Latest PMA Long Course Advertisement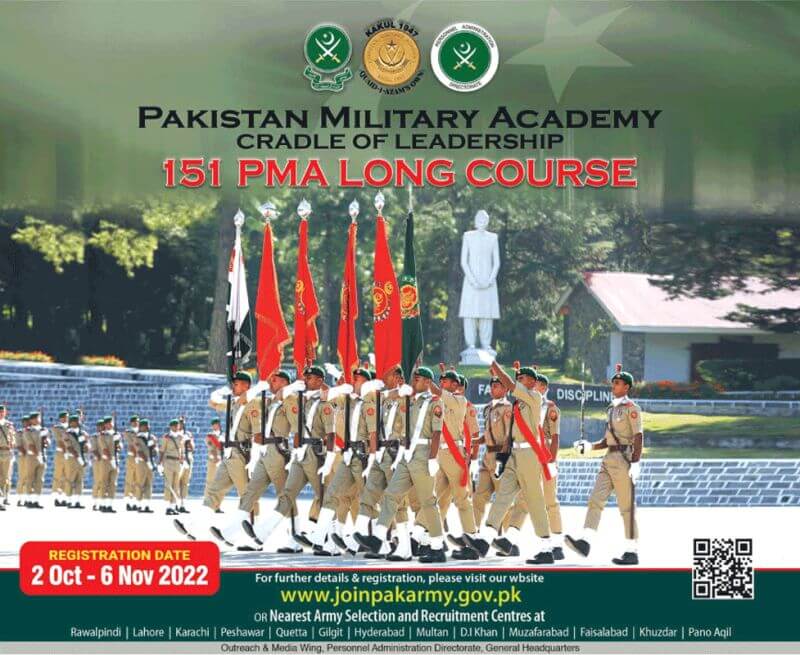 Join WhatsApp Group for the latest update about
PMA Long Course
PMA Long Course 152 Last Date to Apply
The "last date of the PMA Registration is November 2023″ which has been announced by the official and interested candidates can apply before the last date which is November. After this date, no application will proceed by the management.
Starting Date: October
Last Date: November 2023

PMA Long Course 152 Eligibility Criteria
The eligibility criteria for the PMA Long course are going to be mentioned below as well before apply must check the criteria of the selection and then submit the application form.
PMA Long Course Age Limit
Interested candidates seeking Age relaxation in the PMA Long course because the age criteria for PMA long course is "17 Years to 22 Years" while they are giving the just 3 month age. The "maximum age for PMA Long Course is 22 Years".
The age must be between 17 to 22 years for the candidates with Intermediate or equivalent education.
The age must be between 17 to 23 years for Graduate (2-years) candidates and PN/PAF Personnel.
The age limit is 17 to 24 years for Graduate (4-years) programs.
The age limit is between 17 to 25 years for those, serving as Army Soldiers.
Marital Status and Gender:
Unmarried candidates are eligible.
Married candidates serving personnel of the Armed Force for over 20 years are also allowed.
All male candidates are eligible.
Nationality:
All Pakistani citizens and domicile holders of AJK and Gilgit are allowed. Those with dual nationality have to surrender their nationality other than Pakistani.
PMA Long Course Physical Requirements
Height: 5'4" or 162.5 cm
Weight: As per the body mass index
PMA Long Course Education Requirements
Candidates with a minimum of 60% marks are eligible.
Those candidates with at least 60% marks in BA/BSc, BA/BSc (Hons.), or BBA/BPA having a 50% score in FA/FSc are also eligible.
Those, who are serving Army Soldiers with at least 50% marks in Inter are also eligible.
The candidates with a 60% mark in Inter Part 1 and now going to appear or appeared in Part-2 exams can also apply by submitting the hope certificate to the head of the educational institute.
There is a relaxation in marks for the citizens of specific areas of the country.
Ineligibility for PMA LC 152
Those who are rejected or screened out two times by ISSB.
The candidates were dismissed from any Government Service.
The applicants were convicted in court for any heinous offense.
Those declared unfit by Medical Board.
Those withdrawn from any armed force for discipline cases.
PMA Long Course Registration Form
First of all, visit www.joinpakarmy.gov.pk. The candidates can also register themselves at the nearest recruitment center. After this, you have to register for it, and then, you will be given a date and time for the preliminary test. The candidate must report at the time. Fill out the form without any false information and attach the required documents with it.
After this, the candidates have to report to the nearest AS & RC for registration and the allotment of roll no.
Then, the registration and preliminary test will be conducted as per the schedule.
Preliminary Selection:
Firstly, a written test will be conducted on subjects including Maths, English, Pak Studies, Islamiat, and General Knowledge. The successful candidates will be called for Interviews and medical tests.
A physical test will be taken in the following way:
->1.6 km run in 8.5 minutes.
->Pushups: 15 repetitions in 2 minutes
->Sit Ups: 15 repetitions in 2 minutes
->Chin Ups: 3 repetitions in 2 minutes
->Ditch Crossing: 7'4" x 7'4" with a depth of 4′
The successful candidates in this test will be called for interviews.
Training Period:
The passed candidates on these tests will be trained at PMA for 2 years.
PMA Long Course Requirements:
The following are the documents required at AS & RC.
Original certificate/mark sheet for Matric and FSc or equivalence education. Equivalence certificate by IBCC is compulsory for O-level, and A-Level students.
A computerized ID card for 18+ years candidates and B-form for lover age candidates along with the Guardian's computerized ID card.
A set of photocopies of the above-mentioned documents.
6 colored photos of the candidate duly attested (front and back) by the Principal/Class 1 Gazetted Officer.
For repeater candidates, original and three copies of the "Not Recommended" letter by ISSB is necessary.
So, this was all about PMA Long Course 152 registration. All the students who want to be a part of the Pak Army can apply for it. It is a very golden chance for those who want to join it. Hopefully, you are confident with this post. If you have any questions, then visit the comment box and ask.
FAQ:
What is the last date of the PMA Long Course 2022?
Students seeking the last date of the PMA Long course which is May 2021. On the other hand, this is the last date of registration.
How many marks are required for the PMA long course?
For PMA Course, 60% Marks are necessary to enter in PMA long Course.
How can I get admission to PMA long course?
For the information of the students, the link has mentioned above the content as well just click on the above link and then do the registration.
What is PMA 152 long course?
If you want to join the army as a commission officer then join PMA and enroll in the army.
Can a girl join PMA?
Yes, definitely girls can join PMA Long course 152 but unmarried.
What are the fees of PMA?
People who are going to apply to PMA and now students are seeking the fee of PMA Long Course. So, all the information is available on the official page.
What is the salary of a Captain in the Pak Army?
Those people who are applying to Army now look at the salaries. For the information of the people, those people who enroll through PMA Long Course is taking a starting salary of 70 Thousand rupees.