Khyber Pakhtunkhwa Public Service Commission KPPSC is an independent agency, which recruits higher civil servants under the supervision of Khyber Pakhtunkhwa government and announce the KPPSC Veterinary Officer Jobs 2017 Apply Online Form, Last Date. It was initially formed before the independence of Islamic Republic of Pakistan by British government in 1935. After independence of Pakistan it was also adopted by the Pakistani government too and later it was divided into provisional and federal public commissions in 1973. KPPSC announces different public jobs many times in a year. It has also announced jobs for veterinary officers in 2017 by government of Khyber Pakhtunkhwa. KPPSC has announced these jobs to improve the veterinary department in different public departments. Only those brilliant candidates can apply who belongs to Khyber Pakhtunkhwa province or FATA. After reading this article you will come to know about the KPPSC veterinary officer's jobs 2017, online form and last date, which is written below for your help.
KPPSC Veterinary Officer Jobs 2017 Apply Online Form, Last Date
KPPSC Veterinary Officers Jobs Eligibility Criteria:
Applicants, who have passed their Doctor of Veterinary Medicine (DVM) or equivalence degree program from any well recognized institutes, are encouraged for these jobs in Public sector.  Applicant should e between 22 years to 35 years of age at the time of closing date. But there is relaxation in age limit for disables and government employs. There is no discrimination of genders, everyone can apply either a male or female. Applicants will purify through written test of following subject or general knowledge or psychological GAT test.
KPPSC Veterinary Officers Jobs 2017 Last Date:
Last date to apply for veterinary officers jobs is 27th January 2017.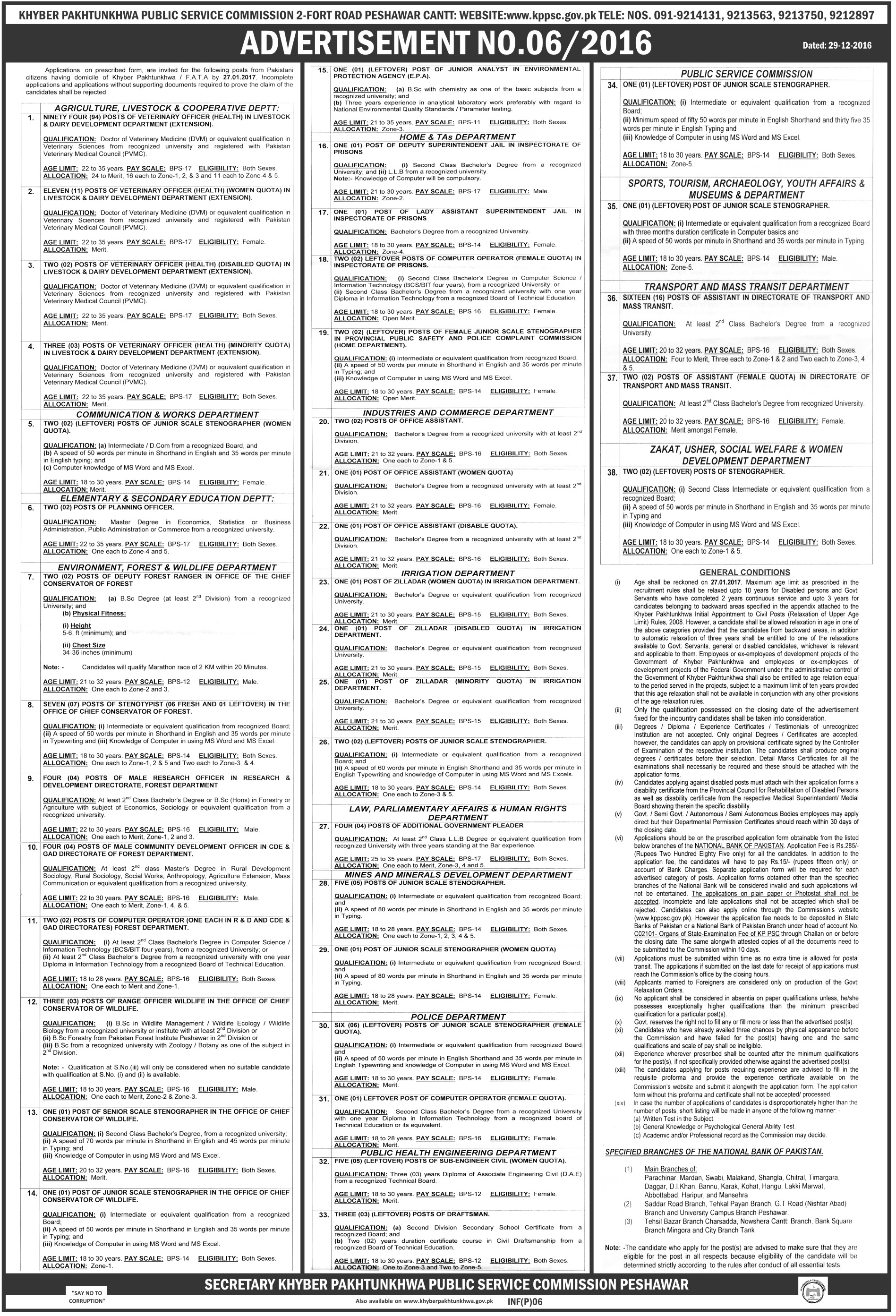 KPPSC Veterinary Officers Jobs Online Form Process:
Applicants can apply for these jobs by visiting the www.kpppsc.gov.pk. From this site you can download your application form online. Only correctly filled applications will encourage for these jobs by the KPPSC. In case of wrong educational certificates or late arrival applications will not consider for the job allotments.
This is the best time to join Public service commission as a Veterinary officer as a grade 17 officer in Khyber Pakhtunkhwa.  There are total 94 vacancies from which 24 will be allotted on merit basis and rest of these according to the regional zone distribution criteria.