You can Join Pakistan Navy SSC 2019 B Online Registration joinpaknavy.gov.pk as the complete process with the eligibility criteria, entrance test and Result of that test is available here so all those candidates who want to join PAK Navy can register themselves till 09th June, 2019. Registration for the SSC 2019 B Course has started from 09th April, 2019 and there are many applications received yet so to choose the best among all this a written entrance test would be taken from all the candidates and that written test would be in the month of December and after that the result of this test will decide that who are the candidates who are eligible enough to go further to the ISSB because if only you are able to clear the entrance test then you will be considered as the eligible candidates so it is requested to all the candidates that do prepare for the test at your level best because this will be your biggest life opportunity that you can get through preparation of the test once you clear the test then nobody can stop you to join the armed force of Pakistan that is Pak Navy.  Join Pak Armed forces is a dream of every Pakistani so now this is the time to make your dream come true. Further details of the Join Pak Navy through Short Service Commission 2019 B are as follow.
Pakistan Navy SSC 2019 B Online Registration joinpaknavy.gov.pk
Rank after the Selection:
Upon Successful completion of training, Rank of acting lieutenant to medical, marine Engineering and Ordnance Branches and Acting Sub Lieutenant to all other branches officers shall be awarded Through Pakistan Navy SSC 2019 B candidate have a choice to join many branches of Pak Navy including
Operations Branch Marines SSG N & Surface
Marine Engineering Branch
Weapon Engineering Branch
Supply Branch
Law branch
Education branch
Education Branch Psychologist
Special branch IT
Special branch Public Relation
Special branch Platform design house PDH
Medical branch GDMOs GDDOs
Medical branch Specialists
Special branch Naval Configuration management authority NCMA
Construction branch
Registration Process:
All those candidates who are willing to join Pakistan Navy can register them self for the Short Service Commission Course-A can register them self from here on this page so click on the given link below that will direct you the page where you have to tell that against which post you are applying. registration for the Pakistan Navy SSC 2019 B has started from 31st March Till 9th June, 2019
CLICK HERE TO REGISTER
All those applications that will be sent directly to the Navy recruitment directorate at Naval Headquarters will not be entertained in any case.
Pakistan Navy SSC 2019 B Advertisement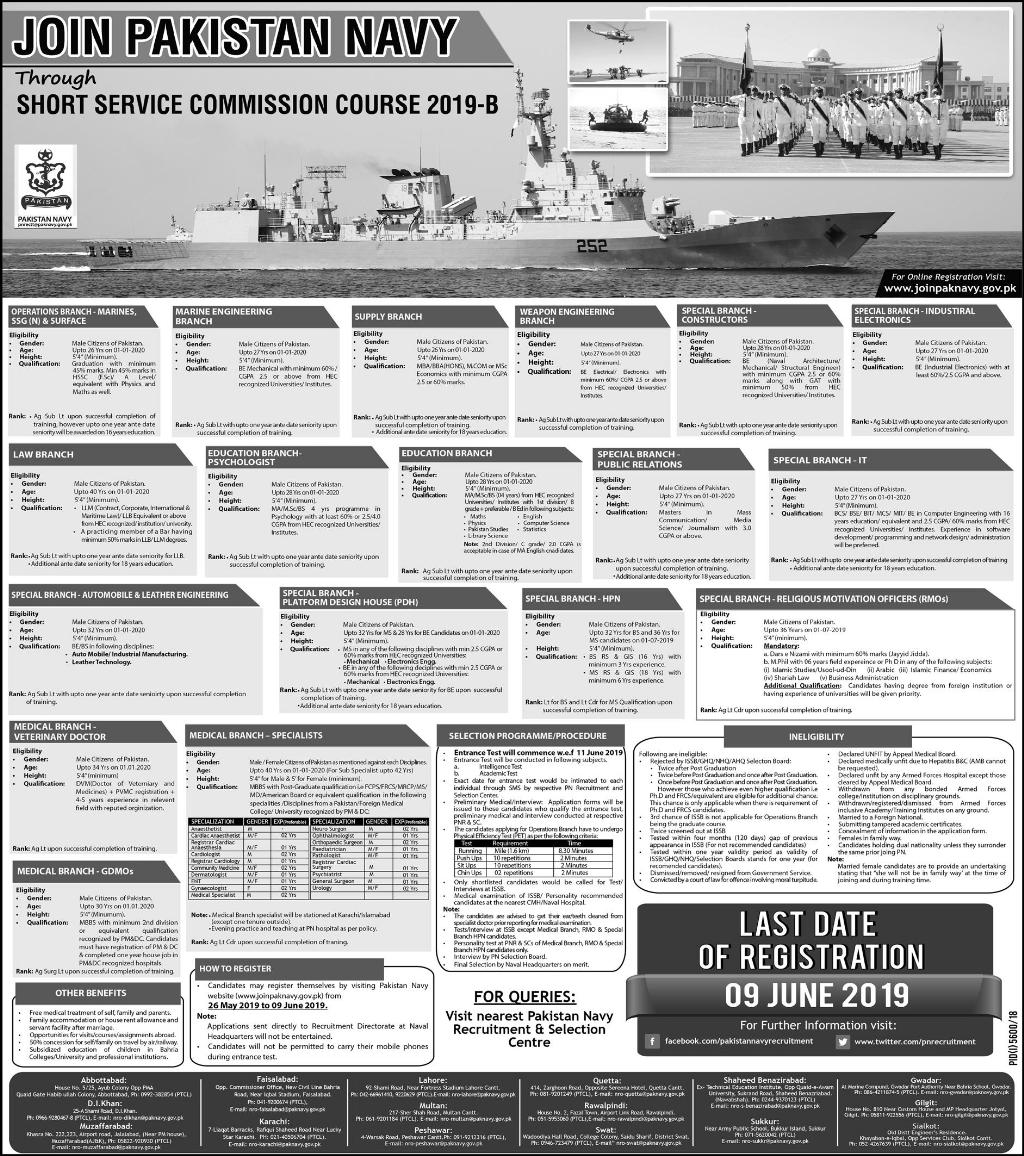 Entrance Test Result and Interview:
Entrance test would be taken on 11th June, 2019 and then entrance test result will be declared on 2019 and the candidates who will successfully clear the Written test will then called for the interview session. So apply today for Pakistan Navy SSC 2019 B Online Registration joinpaknavy.gov.pk.