People's Primary Healthcare Initiative PPHI Sindh Jobs 2019 Apply Online Advertisement www.pphisindh.org announced for all those candidates who completed the eligibility Criteria and wanted to join this organization. PPHI is a public Private Partnership which starts its operation under the Sindh Rural Support Organization SRSO. PPHI is register as not profit Company in year 2014 and the purpose of this PPHI Department is to revitalize the health Services delivery to the rural areas of the whole Sindh. This organization is funded by the Government of Sindh and that is why they are managing almost 1140 primary healthcare facilities all over the Sindh.The main focus on the People's Primary Healthcare Initiative PPHI Sindh is to improve the healthcare service and make it easily accessible to each and every one even in the rural areas of Sindh.
PPHI Sindh Jobs 2019 Apply Online Advertisement www.pphisindh.org
Well the discussion here is about the PPHI Sindh Jobs 2019 and we have moved to the introduction. To Continue their health Service to the Rural Areas the PPHI Sindh need some more persons so that is why like every year the officials of the organization has announce few vacancies. The complete Eligibility Criteria along with all the other required information is discussed here so have a look down.
www.pphisindh.org Jobs 2019
District Manager
Internal Auditor
Public Health Specialist
Anesthetist
Ophthalmologist
MNCH Coordinator
General Surgeon
Sonologist (Female)
Gynecologist
Skin Specialist / Dermatologist
Pediatrician
Medical Officer (Female)
Medical Officer (Male)
Medical Technologist
Staff Nurse (Female)
Staff Nurse (Male)
IYCF Counsellor
Midwife
Lady Health Visitor
Dispenser
Technician Health
Technician Lab
Nutrition Assistant
Outreach Supervisor (Female)
Driver
Attendant
Sanitary Worker
Salary of the Medical Officer Male would be 101,000/- with the allowances on the other hand salary of the Medical Officer Female is 111,000/-
PPHI Sindh Jobs 2019 Apply Online:
So candidates if you are interested in the Jobs announced by the PPHI Sindh then you need to do one thing and that is click on the link below. When you click on the link then you will be move towards an application form which you need to fill with the correct and accurate information and then you have to submit the application form of PPHI Sindh Jobs 2019 there.
PPHI Sindh Jobs Advertisement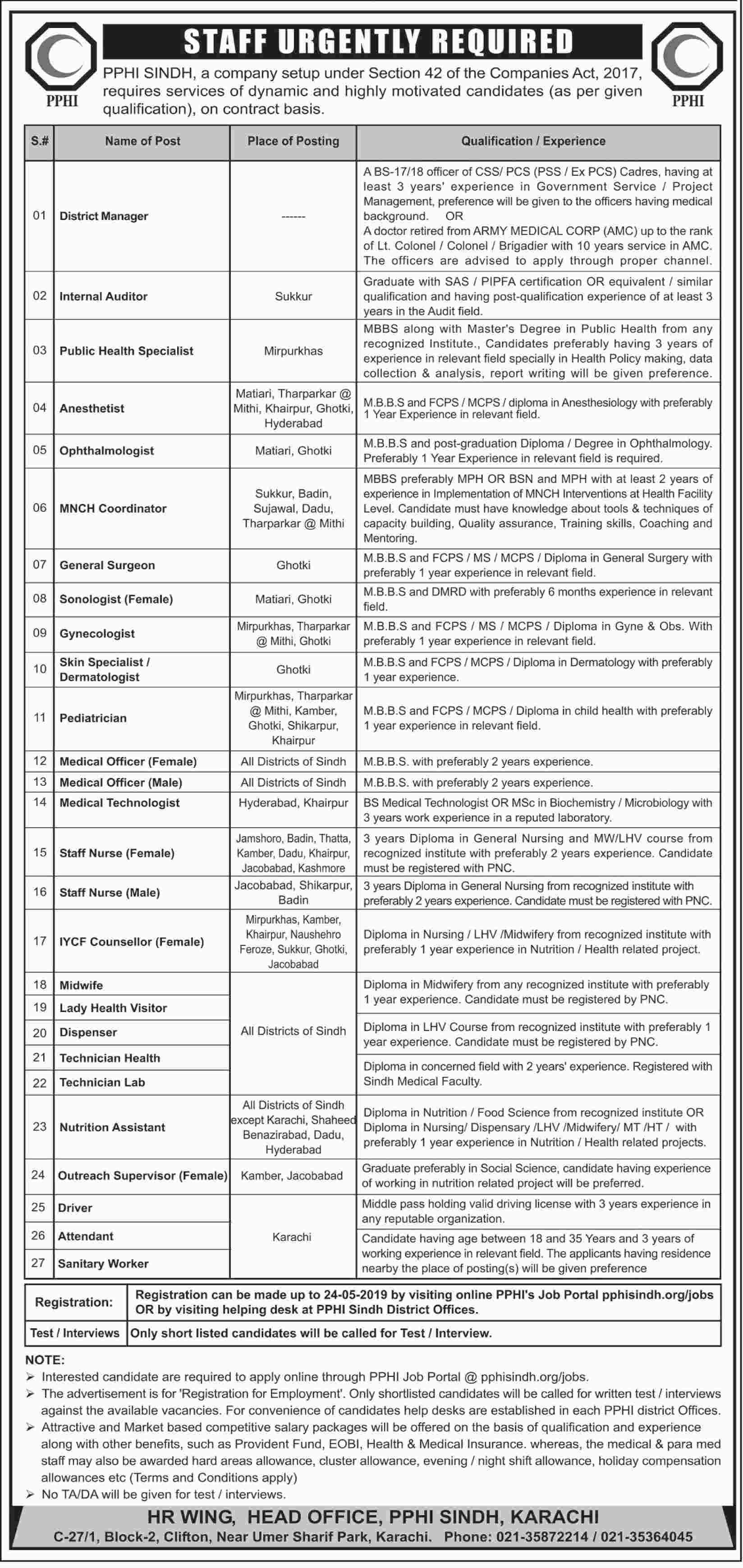 All the candidates can apply for the PPHI Sindh Jobs 2019 Apply Online Advertisement www.pphisindh.org will the test date as it is clearly mentioned in the advertisement. All those application form that are received late or incomplete in any sense will not be entertain in any case.