Admissions
Kinnaird College for Women Admissions Fall 2014
Kinnaird College for Women Admissions Fall 2014
Kinnaird College for Women Admissions Fall 2014 for different undergraduate and Post graduate programs is open now so all those students who wants to be a part of the Kinnaird College must have to Hurry as the application forms are available from the 2nd July to 8th July, 2014. Kinnaird College is the oldest and most illustrious women's college of Pakistan. It has achieved its independent status after years of successful struggle. It is conducting classes leading to a Masters Degree in English Literature, Applied Linguistics, Mass Communications, French, English Language Teaching, Environmental Sciences, Science Education, Statistics and Computer Sciences. But M.S in Accounting and Finance and M. Phil in English Literature has been introduced last year. Various other programs will be started this fall.
Kinnaird College for Women Admissions Fall 2014

Undergraduate Programs: The following 4-years programs offered leading to…
BA / BS (Hons)
BBA / BFA / BCS Degrees
Faculty of Arts & Humanities:
English Literature
Fine Arts
Urdu
English Language & Linguistics
Faculty of Social Science:
Economics
International Relations
Geography
Political Science
Psychology
Faculty of Professional Studies:
Accounting & Finance
Business Administration
Media Studies
Faculty of Natural, Formal & Applied Science:
Biochemistry
Botany
Biotechnology
Chemistry
Zoology
Computer Science
Statics
Mathematics
Physics
Environmental Science
Food Science & Human Nutrition
Postgraduate Programs: For candidates with 16 years of education
M.Phil in Accounting & Finance
M.Phil in Applied & Linguistics
M.Phil in English Literature
M.Phil in Environmental Science
M.Phil in International Relations
M.Phil in Media Studies
M.Phil in Statistics
M.Phil in Applied Psychology
M.Phil in Computer Science
M.Phil in Food Science & Human Nutrition
MBA / M. Phil in business Administration (Post 16)
MBA / M. Phil in Business Administration (Post 14)
Masters in English
Masters in English Literature
Masters in Applied Linguistics
Masters in Education Leadership & Management
Admission Procedure & Deadlines:
Admission Hand Books are available at the following branches of Askari Bank, Lahore during banking hours from 2th July to 8th July 2014.
Note: For Aptitude Tests and Interviews schedule, kindly see the guideline inside the handbook package or visit www.kinnaird.edu.pk.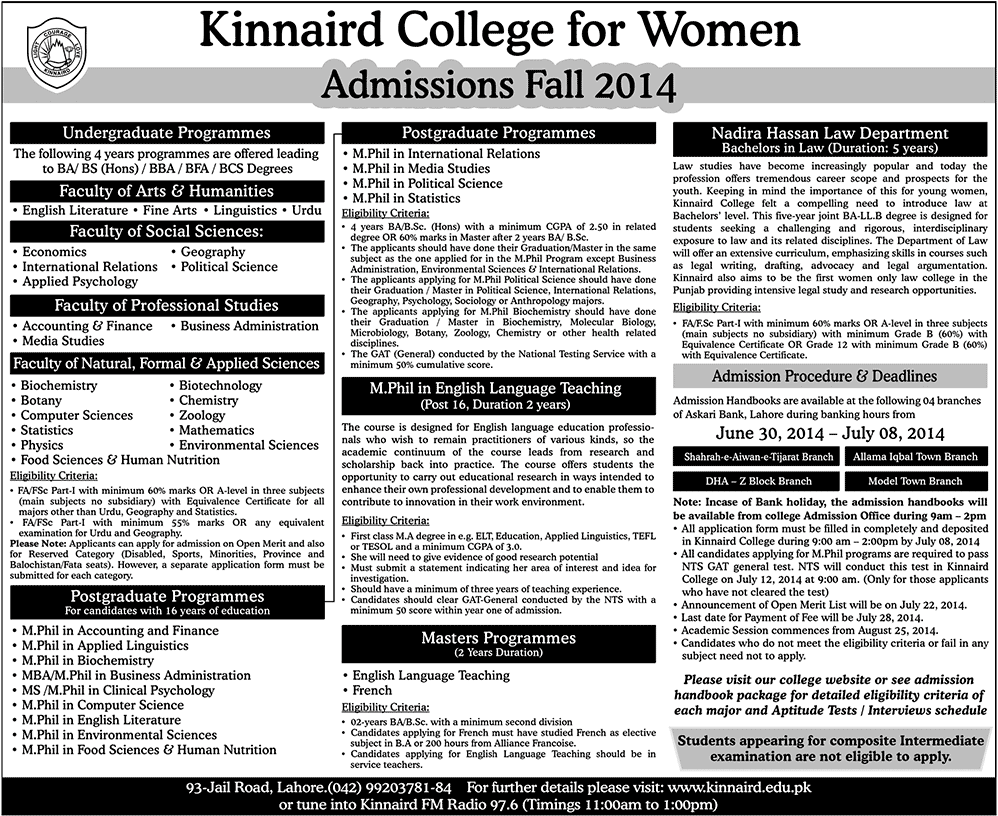 .
Click Here to Download Kinnaird College for Women Prospectus
FOR ONLINE FORM SUBMISSION CLICK HERE
Admission Procedure:
All applications forms must be filled in and deposited in Kinnaird College, From 9:00 an to 2:00 pm by July 08, 2014
All candidates are required to take NTS GAT (General) for M.Phil, NAT-II for Masters and Nat-I for bachelor Programes.
These tests will be conducted in Kinnaird college on July, 12 at 09:00 am only for those candidates who have not cleared the test
Announcement of open merit list will be on July 22nd, 2014
Last date for payment of fee will be July 29th, 2014
Academic session commences on August 26, 2014.
Contact Information:
Kinnaird College for Women
93- Jail Road, Lahore
Tel: +92 42 920 3781 – 4
Fax: +92 42 920 3788
eMail: info@kinnaird.edu.pk
kcw.main@gmail.com
Kinnaird College for Women Admissions Fall 2014

,