Spring Admissions 2018 are open in Allama Iqbal open University for Bachelor, masters and postgraduate programs.  AIOU Islamabad Spring Admission 2018 in AIOU has been announced in many bachelor and master and Postgraduate programs and according to the officials the spring semester admission will be starts from February, 2018. Those students who wants to take admission in these programs mentioned below can collect their application form and submit it back to the AIOU official before 30 March, 2018. Prospectus of matric, inter, BA, B.com. Opem Tech Programs, Certificate Courses and short term educational programs are available in Just Rs. 50/-, CT and ATTC in Rs.100/-, FSC and French Online in Rs. 300/-, M.com, MBA and all other post graduate programs in Rs. 500/- only.
Last date for the submission of admission form is 30th March, 2018 and after the last date (W.e.f 05th March, 2018) admission will be subject to payment of late fee charges matric Rs. 200, intermediate and BA Rs. 400/- and post graduate programs Rs. 1000/-.
how to Obtain and Submit admission forms:
admission forms and prospectus for all programs offered in spring 2018 can be obtained from the sale points at main campus Islamabad, regional Campuses and coordinating offices within the country. Admission form along with the required fee can be submitted at the nation wide branches of Habib Bank limited, First women Bank, Bank Alfalah, Allied bank and designated branches of National Bank of Pakistan and Muslim Commercial Bank. The detail of that branches are available in the prospectus as well as in the regional offices
AIOU Regional Offices Address, Phone Number

HOW TO APPLY FOR AIOU DEGREE, DOWNLOAD APPLICATION FORM
Allama Iqbal Open University Islamabad Spring Admission 2018
Admission are open in
M.Sc
M.com
BS Programmes
Common wealth of Learning MBA/MPA
M.A.
M.Ed
Post graduate Diploma
Bachelor programs
Teacher Training Programs
Higher Secondary School Certificates
Secondary School certificates
Dar-e-Nizami
Certificates Courses
Technical Courses
Open Tec Courses
Short term Educations programmes
The historic role of Allama Iqbal open University in Pakistan's educational development is a matchless and splendid example of serving the nation. providing primary to higher education across the country. Specifically on far flung rural areas. AIOU is provided of its contribution to the economic and social growth of Pakistan. To bring educational revolution in the country, Allama iqbal open university is utilizing modern technology and all the possible resources for its programmes.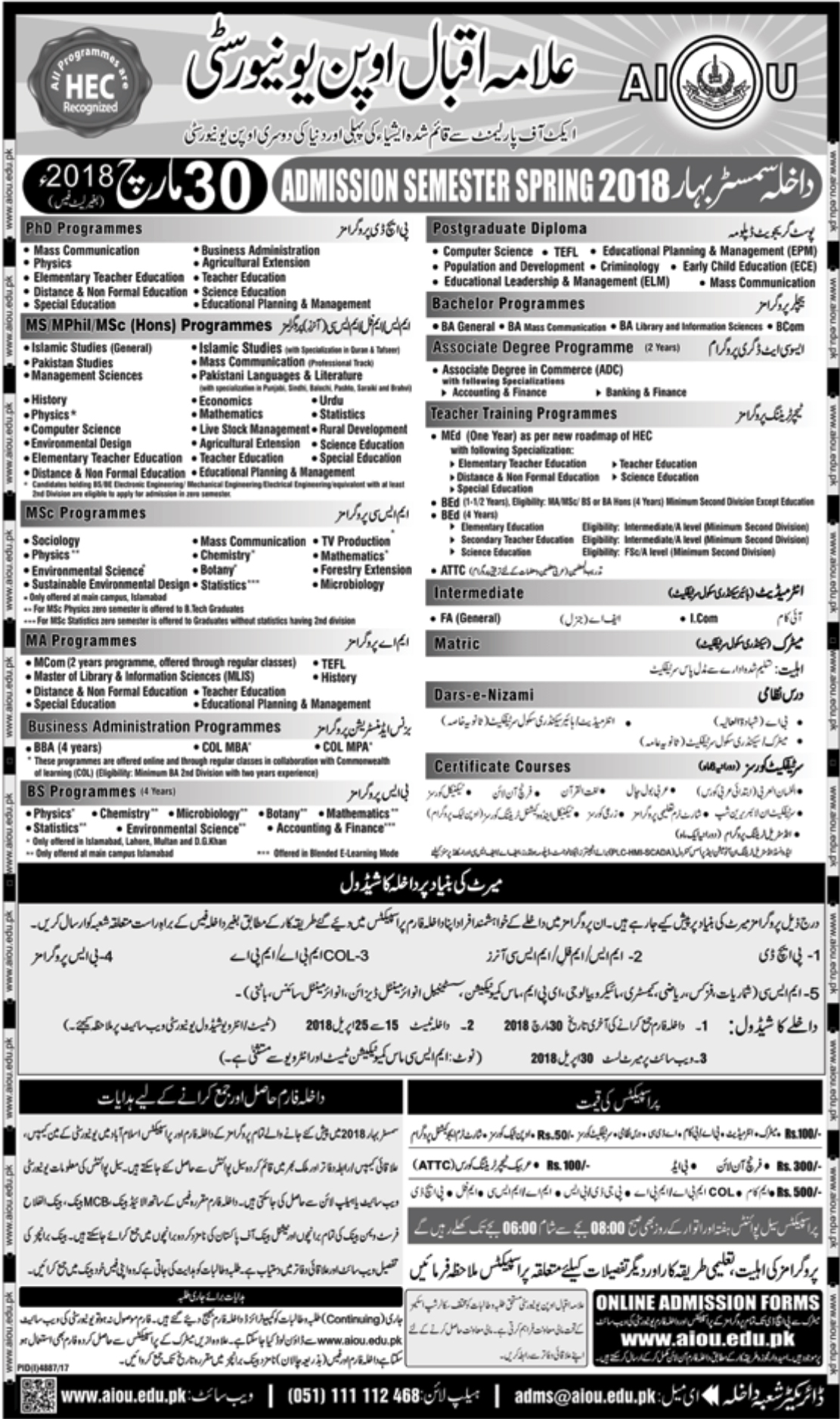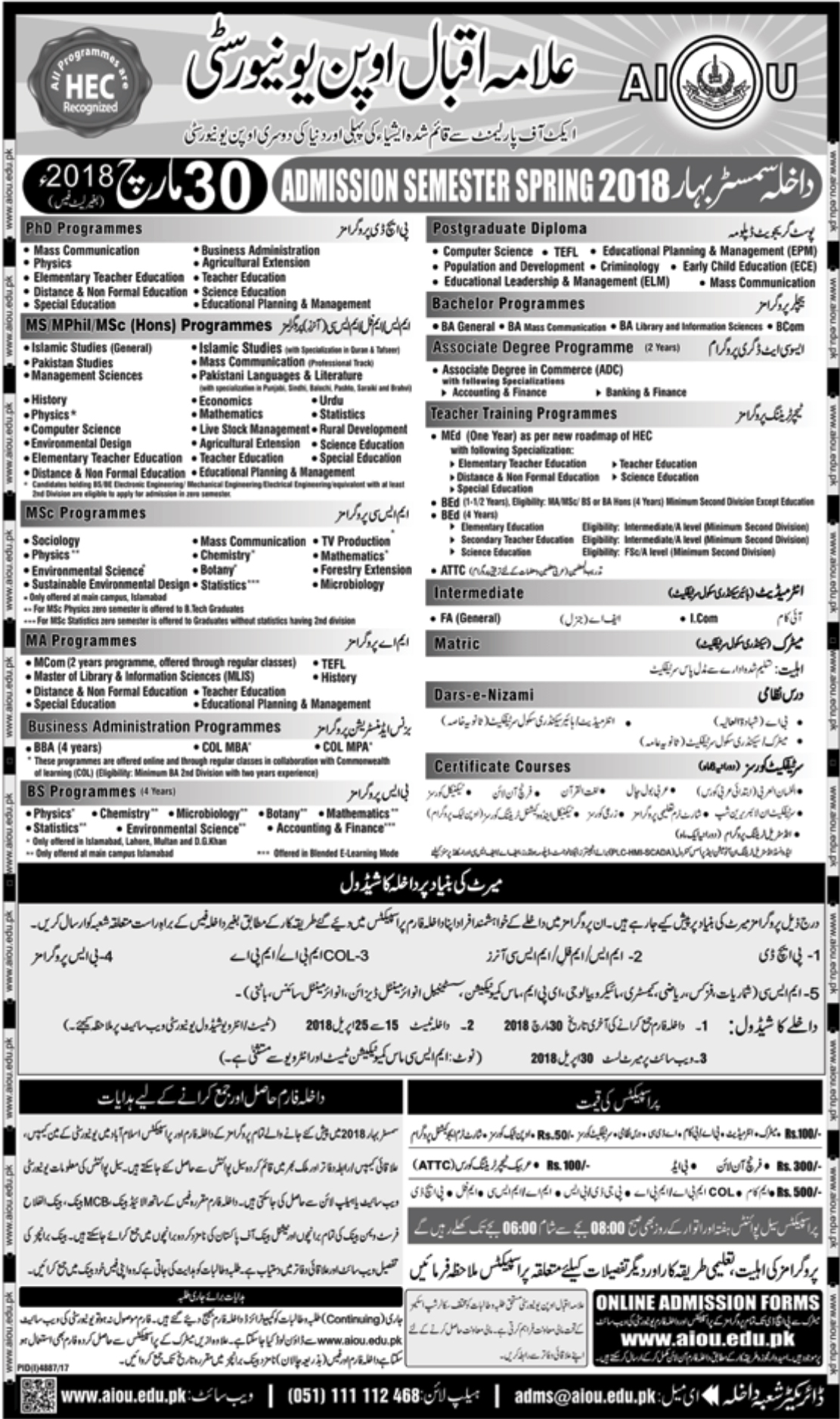 For More information contact:
Directorate of Overseas & e-learning, ICT Building, Room # G-19,20 sector H-8 Islamabad Pakistan
Phone Number: +92-51-9250175+92-51-9250175, 9057165
Fax Number: +92-51-9250090
Admission Department (051-9057151051-9057151)
Secondary programs (051-9057431051-9057431)
Higher Secondary programs (051-9057432051-9057432)