Allama Iqbal Open University Islamabad Admissions Autumn 2019 for Bachelor, masters and postgraduate programs. The historic role of Allama Iqbal Open University in Pakistan's educational development is a matchless and splendid example of serving the nation. providing primary to higher education across the country. Specifically on far-flung rural areas. AIOU is provided for its contribution to the economic and social growth of Pakistan. To bring the educational revolution in the country, Allama Iqbal open university is utilizing modern technology and all the possible resources for its programs.  AIOU Islamabad Admission Autumn 2019 in AIOU has been announced in many bachelor and master and Postgraduate programs. Those students who want to take admission in these programs mentioned below can collect their application form and submit it back to the AIOU official before 15 October 2019.
Allama Iqbal Open University Islamabad Admissions Autumn 2019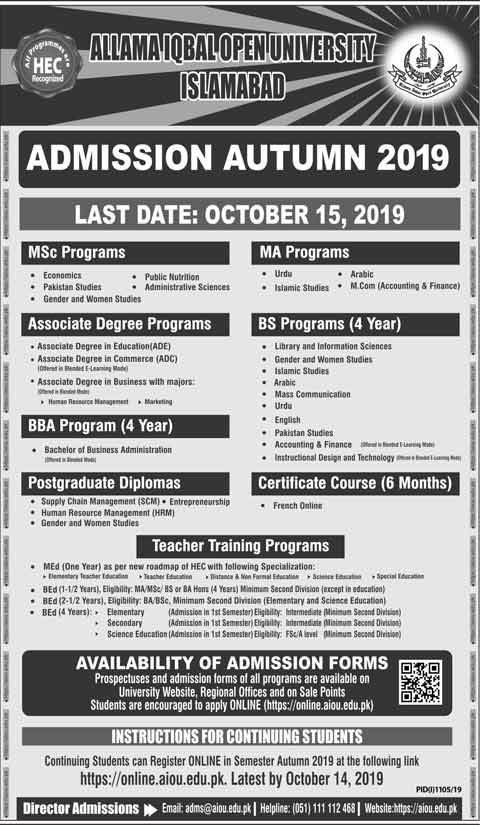 Programs offered by AIOU
MSc Programmes
BS Programmes
BBA Programmes
Postgraduate Diplomas
MA Programmes
Certificate course
AIOU Admission process:
Admission forms and prospectus for all programs offered in spring 2019 can be obtained from the sale points at main campus Islamabad, regional Campuses and coordinating offices within the country.
Candidates can download the admission form and prospectus on the official site of AIOU.
For admission, forms visit www.online.aiou.edu.pk.(continuing students can also register till 14 October 2019).
Candidates have to submit their application forms fully filled before the last date.
Last Date to Apply:
The last date to apply for AIOU is 15 October 2019.
For More information contact:
Email:   support@aiou.edu.pk