Allama Iqbal Open University AIOU Admissions 2023 opened and the last date to apply online for FA to Matric Class is 21st February 2023. As well AIOU Admission's last date for BA Program is 15 February 2023 besides the last date to apply online for MBA/M.S/M.Phil/Ph.D is 15 February 2023. Further, people can apply online because they have introduced the portal and all candidates will submit admission before the last date. Further, AIOU management does not issue admission at the same time while they design proper schedules for the whole, and on different dates, they issue the admission. Further, details about Allama Iqbal Open University AIOU Admission 2023 are given below.
Allama Iqbal Open University AIOU Admissions 2023
| Last Date to Apply for Matric | Last Date to Apply for BS Programs |
| --- | --- |
| 21st February 2023 | 15th February 2023 |
The historic role of Allama Iqbal Open University in Pakistan's educational development is a matchless and splendid example of serving the nation by providing primary to higher education across the country. Specifically in far-flung rural areas. AIOU is provided for its contribution to the economic and social growth of Pakistan. To bring the educational revolution to the country, AIOU is utilizing modern technology and all the possible resources for its programs.
How to Apply Online?
First Open the official webpage of AIOU for Admission.
Click on the Admission Option top bar.
Choose a Course or Degree
Give Complete info about Personal and Academic Details
Attach all documents
Then submit online
Which Documentation is Required?
Matric Result
Intermediate Result
Original CNIC
Photograph
Which Programs now open Admission?
PhD Programmes
Education
Arabic
Shariah
Quran and Tafseer
Library and Information Sciences
Pakistan Studies
Mathematics
Physics
Statistics
BS 4 Years Programmes (FSc Based)
Agricultural Technology
Biochemistry
Botany
Chemistry
Environmental Sciences
Mathematics
Microbiology
Physics
Statistics
BS 2.5 Years Programmes (BSc Based)
Chemistry
Physics
Mathematics
MPhil / MS Programmes
MPhil Education
MPhil Education Leadership and Management
MPhil Arabic
MPhi Quran and Tafseer
MS Shariah
MS Commerce
MPhil Economics
MPhil History
MPhil Iqbal Studies
MPhil Mass Communication
MPhil Pakistani Languages and Literature
MPhil Urdu
MPhil Computer Sciences
MPhil Physics
Post Graduate Diploma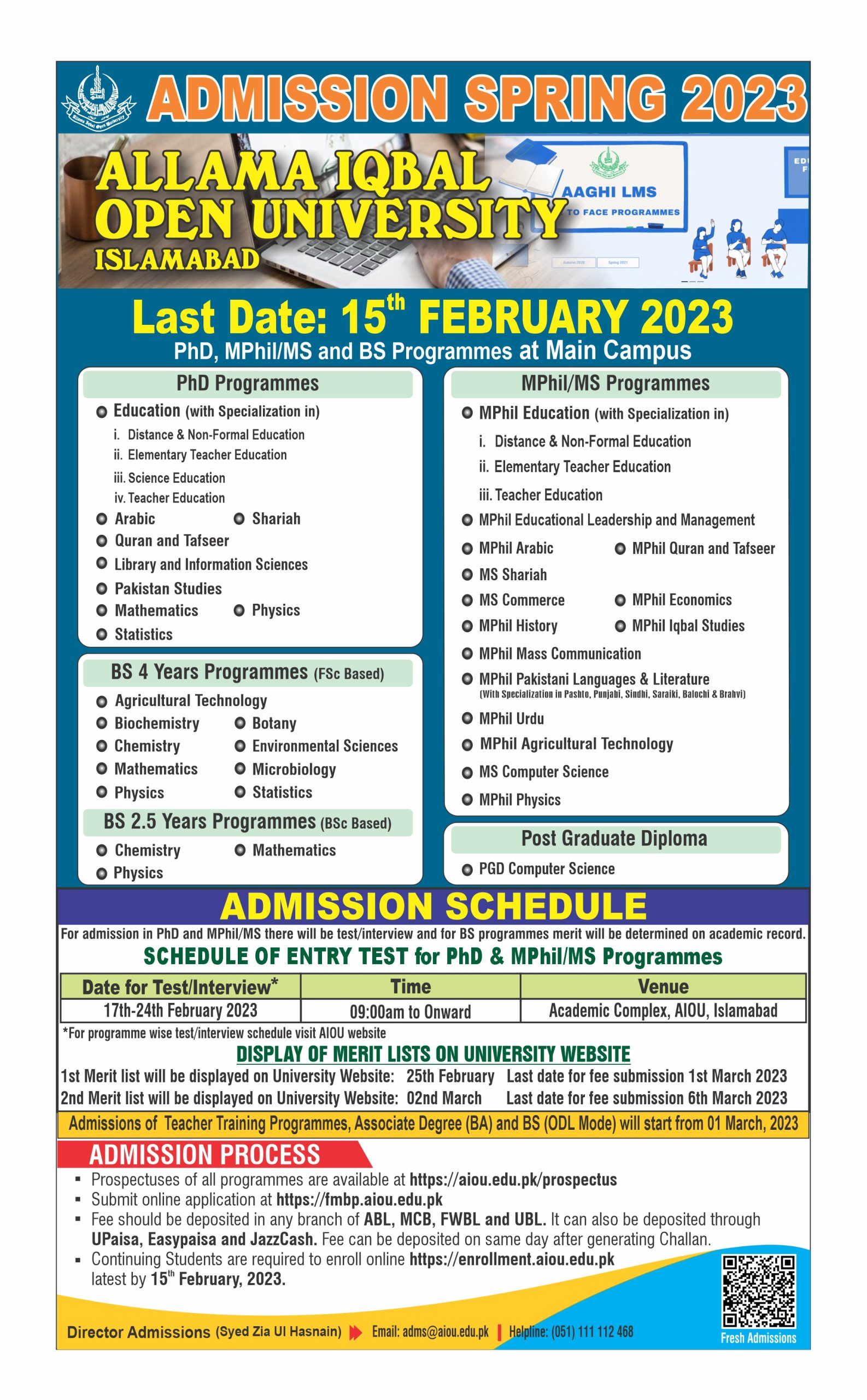 Allama Iqbal Open University Fee Structure 2023
People do not know Allama Iqbal Open University AIOU Admissions 2023 fee structure. Now they can check the fee structure after a click on the link. On the other hand, AIOU offers multiple programs to the students, and the majority of the students do not know the fee structure because in every session they change the criteria of the fee.
AIOU Eligibility Criteria
The eligibility criteria for each program are different depending on the program.
For BS programs, those who have passed Intermediate are allowed to apply.
Similarly, for Masters's and Ph.D. programs, Bachelor's and Master's passes are allowed.
You can check the complete eligibility criteria from the official web of AIOU.
AIOU Admission Form
To apply for admission CLICK HERE.
After this, click on the option you are applying for.
Then, the admission form will be on the screen. Fill out the form.
The fee can be deposited at any branch of ABL account no.0010000336340801, MCB-TM 0096 A/C 0586704541007031, FWBL 0036010745610001, UBL-MCA No.262489296.
Now complete the form and submit it by providing all the info.
Incomplete or late applications will not be processed.
Recent AIOU Admission 2023 announced by the. If you want distance learning, then this institute is the best option. There are several programs that it is offering. You can apply it very easily to it. As the complete procedure is given in the complete post. So, this was all about Allama Iqbal Open University AIOU Admissions 2023. Hopefully, you are confident with the post and will apply accordingly. Stay tuned with us for more educational updates.