Those students who have passed or in 7th class can apply for Cadet College Jhelum Admission 2020 8th Class Form Prospectus Entry Test Result can check. Admissions are open in Cadet College Jhelum for 8th class. This educational institute are opens admission one time a year under three different schools, Junior School, Prep School and Senior School. Under junior school, it opens admission for 6th and 7th class, under prep school, it opens admission in 8th class and under senior school, it opens admission in 9th, 10th and 1st year admission. Cadet College Jhelum 8th Class Admission 2020 is currently opened under Prep school. Students have to pass pre admission written test/ entry test and interview in order to get admission. This college is standing in the list of best cadet colleges in Pakistan. Students will also be able to check entry test result. In this article you will learn about the Cadet College Jhelum 8th class admission 2020.
Admission 2020 Open In Cadet College Jhelum
Notice: Applications are invited for admission in only 8th class from all interested students. Last date for submission of application is 5th October, 2019 with Single fee and 19th October 2019 with Double Fee. Written test and interviews will be held on 27th October, 2019 (Sunday). Students can easily download the admission form by the official page of Cadet College Jhelum as (www.militarycollege.edu.pk). You must be submit it through online system. After fulfilling complete online form so print out the challan form. This print out form will be submitted to HBL with registration fee given in this advertisement mention below.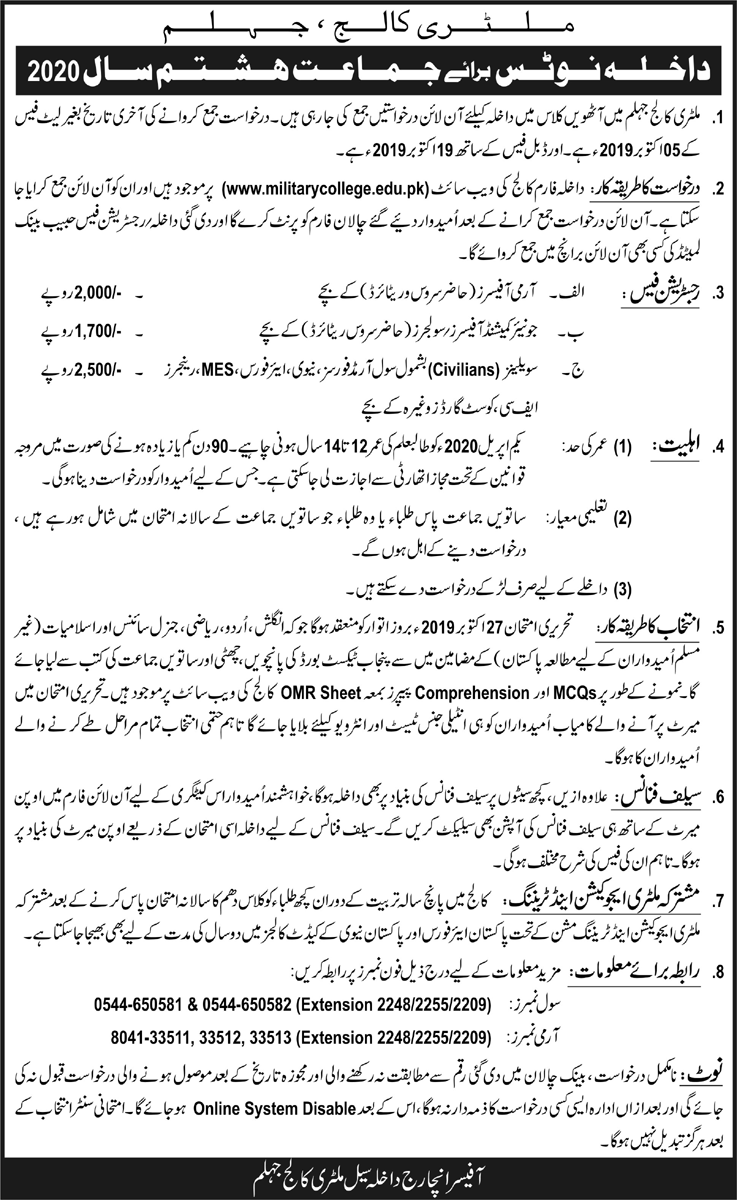 Cadet College Jhelum Admission Eligibility Criteria 2020
Students who are in 7

th

grade or have passed 7

th

class are allowed to take admission
Admission will be provided after an entry test which will be from the syllabus of 7th class
Entry test comprises upon English, Maths, Urdu, Islamiyat and general science
Medical test is also compulsory to get admission in Cadet College Jhelum
Interview will also be organized for the selected students who will pass out written test of this college
Student must be 12 to 14 years or above at 1st April 2020
Only boys students can get admission for 8th class Cadet College Jhelum
Only those students called for interview or intelligence test who appeared in written test.
8th Class Cadet College Jhelum Schedule For Admission:
| | |
| --- | --- |
| Last Date to submit admission form with Single Fee: | 05th October 2019 |
| Last Date to submit admission form With Double Fee: | 19th October 2019 |
| Written Test will be conducted: | 27th October 2019 at Sunday |
Entry Test Cadet College Jhelum Admission Form 8 Class Result:
Cadet College Jhelum Entry Test Result will be declared by the college in the start of January 2020. Students will be allowed to check their result from this page or from the www.ccj.edu.pk application form is acceptable for Cadet College Jhelum Admissions. The above given advertisement is the concise narrative going to makes the appropriate way. Jehlum is the region which ensured that how admission is acceptable. All classes open the admissions on the open merit. The selection criteria of college remain intact with the Syllabus. If you are focused with the syllabus then it is very easy for the written test and interview stages.