So if you are searching to find out all the information about National College of Arts NCA Lahore Entry Test, Interview Schedule 2019 then you are on the right way as this fastest growing educational web page is updated this time for the admission in NCA in different programs for four years and five years programs. Candidates who have clear their last year examination in the relevant field which they are going to choose now, as if a candidates wants to get admission in Fine Art or Architecture or any else then he should have to clear the Intermediate with the respective subject. National College of Arts is one of the oldest colleges in Lahore Pakistan which is offering the best quality Art education to the young comers according to the needs of the modern age. Every year the NCA is producing the best quality graduates who are performing a vital role in their relevant fields. If you also want to get admission in this well reputed organization then you have to get admission by following procedure. Have a look down.
NCA Lahore Entry Test 2019
NCA Admission Procedure
National College of Arts NCA is offering admissions for the Nationals of Lahore and Rawalpindi so every willing candidate have to first of all obtain the prospectus along with the admission form from the office of Director of administration. Admission forms can also be downloading from the college official website but if you face any problem in this mater you also can download from this page. Any prospectus downloaded has to attach the bank draft of Rs. 500/- in favor of NCA.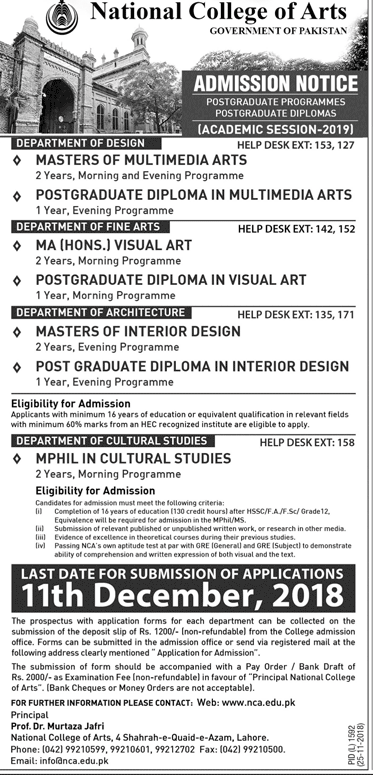 According to Self Finance the applicant has to pay Rs.3, 25,000/- for four years program and Rs. 4, 09, 500 for five years program of bank draft in the favor of Principal of NCA College.
Last Date To Apply Was 11 December 2018
NCA Eligibility Criteria
Candidates have to qualify Intermediate examination with minimum 45% marks i.e. 2nd Division.
Candidates having foreign educations have to attach the certificate issued by IBCC Islamabad.
There is no Age imitation.
Result Waiting candidates are also eligible for taking admission in NCA but they have to provide the Attested Slip of Entry test.

National College of Arts NCA is now offering admissions for the session of 2019 for all those candidates who are going to cater their future with Art and have qualified their last year examination from any recognized organization.
NCA Lahore Entry Test 2019

Candidates who lay on the eligibility criteria points they have to call for Interview by the Administration authority of NCA. The Interview is based on the short questions about your selected subject. This Interview is going to be held by on Friday till 4 PM at Educational and vocational authority, Street number 19, Block number 6, Near NIPA choragi, Gulshan Iqbal Karachi.
NCA Interview
Application on Self Sponsored or self Finance will be submitted by July, 2019 at 4th Shahra-e-Quaid-e-Azam, Lahore.