If you are looking for Cadet College Chakwal Admissions 2020 Online Application Form, Fee Structure then you are on the right page. The admissions are open for Class 6th to 9th. Eligible students can explore all admission related things here. You are all are informed that your admission form should be reached at the admission office before the last date. Chakwal military school, college is providing special training for ISSB test preparation that is mandatory for all candidates to join Pakistan, Navy or Air Force. So if you also want your child to see on a well ranked and well-reputed post then must admission your child to this college. This cadet college is standing in the list of Best Cadet Colleges in Pakistan. Moreover, you are also informed that you read this post attentively and complete form properly and timely. Besides this military colleges also restricted some age eligibility and each student has to be in that age limit, fixed for a class. So students from all four provinces of Pakistan even from outside of Pakistan are invited to get all the admission related news on this page.
Cadet College Chakwal Admissions 2020 Online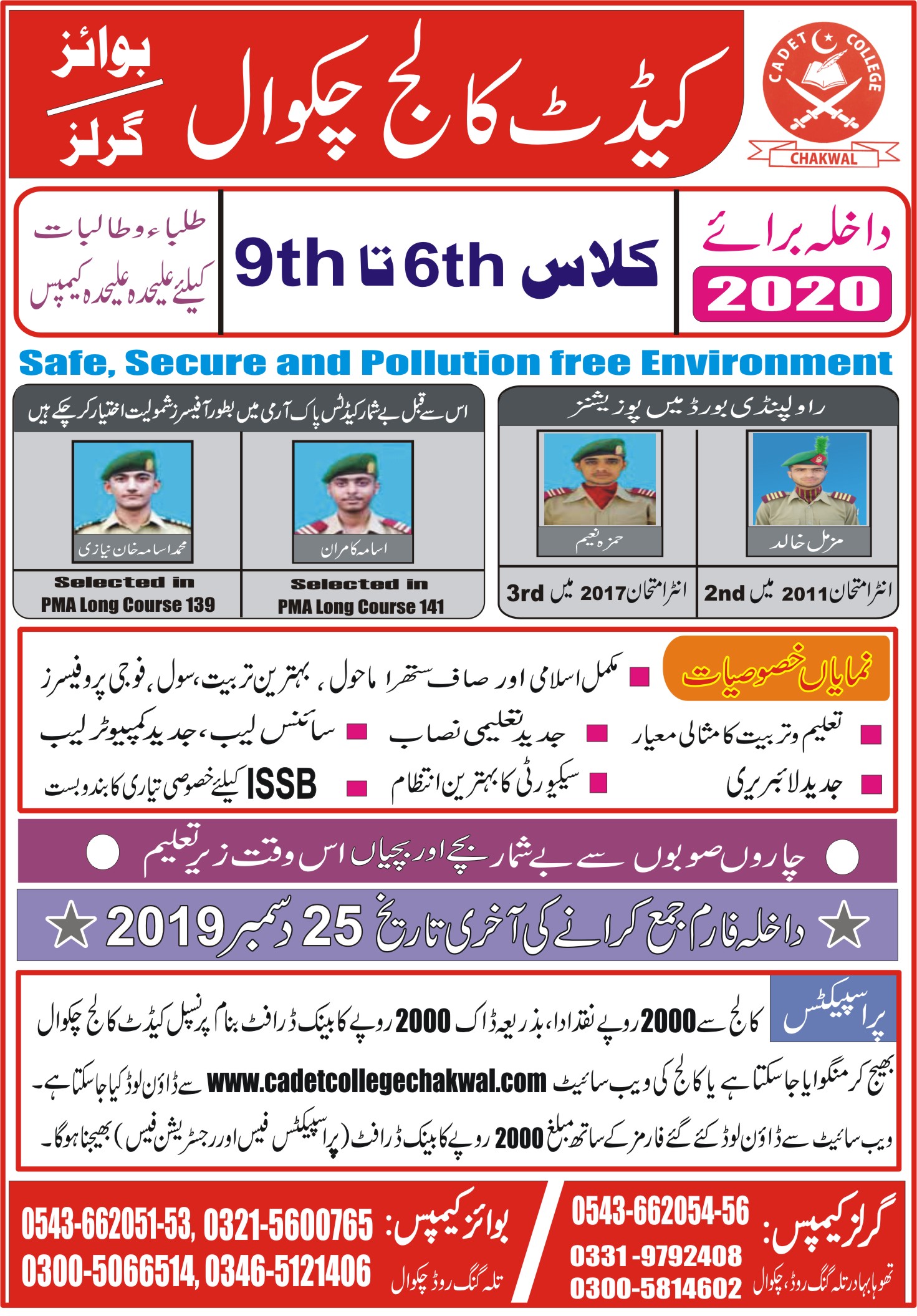 Eligibility Criteria for Admission
All the candidates taking admission in Class 6th to 9th must have passed the preceding Class.
All the candidates must be citizens of Pakistan.
Cadet College Chakwal Admission Procedure
The prospectus can be taken from the college for Rs. 2000 or by sending a demand draft in favor of Principal Cadet College, Chakwal.
It can also be downloaded from the college site www.cadetcollegechakwal.com. Send a demand draft of Rs. 2000 with the downloaded form.
The last date to submit applications is 25th December 2020.
Entry Test for Admissions
After the admissions, a written test will be conducted from the candidates on 26th January 2020 at 8.00 am. It is compulsory for the candidates to pass the test for the admission. Shortlisted candidates will be called for interviews and medical. The final selection will be made on merit.
Cadet College Chakwal Fee Structure

Cadet College Chakwal Admissions 2020 Online
So, the admissions are open now and all the candidates are allowed to apply if they have passed the preceding class. It is the best opportunity to get enrolled in this institute. It is the best one in the Chakwal region. The college provides a neat and clean environment with an Islamic environment. The students have the chance to study under the best teachers. It also gives special training for ISSB. So this was all about Cadet College Chakwal Admissions 2020 Online. Hopefully, you are confident with this post and will apply accordingly. If you have any confusion, then visit the comment box and ask.