Right into this post we will be putting together the detailed discussion over the Gift Group of Colleges Admission 2019 Form FSc ICS ICOM FA Online. These admissions have been announced just couple of days back and now it's time for the students to take admission in this college center.  As we take the name of Girls Group of College, they have named themselves to be one of the leading college centers located in Pakistan. They have spread their chains of colleges in almost all the big cities of Pakistan. They add up their access of the best educational services in the provision of the highly qualified faculty who have instilled in young students to make their future career path stronger and successful.
Gift Group of Colleges Admission 2019 Form FSc ICS ICOM FA Online
Gift Group of Colleges is all here for you to be the part of this college institution by taking admission in the intermediate admission process 2019. If your matriculation result is all out and have been thinking about studying into some excellent chain of college, then choosing Gift Group of Colleges would be out first recommendation.
What to know About 1st Year Admissions Process of Gift Group of Colleges?
Straight away into the admission process by the Gift Group of Colleges has been all put together for the categories of FA, FSC, ICS and I.Com programs. Along with your application form, you should attach these documents with your form as well:
You should be already having the attested 2 copies of secondary school certificate
You should also provide 2 copies of applicants B-Form plus with 2 copies of father CNIC copy
Be sure that you have also submitted with the 2 copies of character certificate and also the 2 passport fresh size photographs should be pasted on the application form.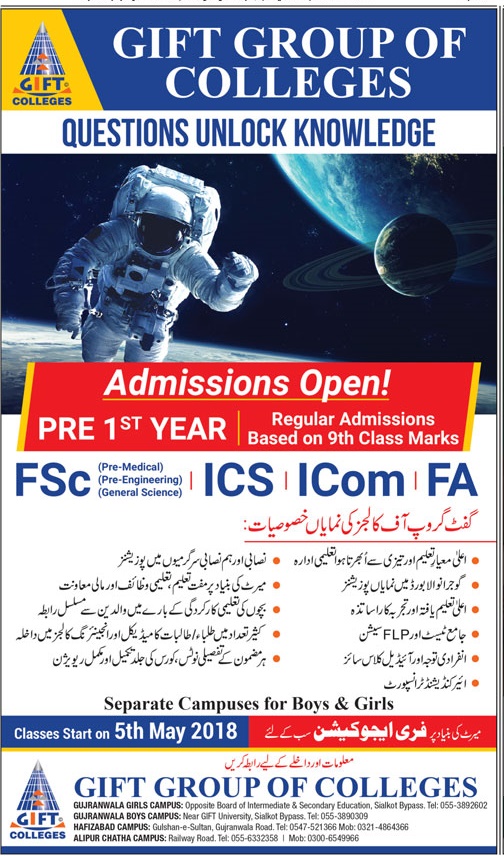 GiftCollege Admission 2019 Eligibility Criteria:

If you want to take admission in this college institution then you should have the coverage of the 60% of the score in their matriculation examination.
Extra Information About Gift College Admission

It is very much important for all the applicants to learn that they should be submitting the application form on time otherwise it will be cancelled. Last date of the form submission has not been printed in the advertisement. But you should be submitting it within the time duration of seven days. You should carefully be attaching all the documents as it is demanded in the advertisement. Selection of the applications in 1st year admission will be done on the basis of merit criteria.
So apply for it now before the closing date of the Gift Group of Colleges Admission 2019 Form FSc ICS ICOM FA Online submission comes to an end! All the Best!