Institute of Cost and Management Accountants of Pakistan Admissions 2011
Institute of Cost and Management Accountants of Pakistan Spring Admissions 2011
Institute of Cost and Management Accountants of Pakistan
Institute of Cost and Management Accountants of Pakistan (ICMAP)
Institute of Cost and Management Accountants of Pakistan Spring Admissions 2011 has been announced to be intake by the Institute of Cost and Management Accountants of Pakistan Spring Admissions 2011 and ICAMP Pakistan announces the admissions of CAM and ACMA which is 2 year of Certificate of Accounting and Management and admissions in ACMA which is Associate Cost and Management Accountants in Institute of Cost and Management Accountants of Pakistan (ICMAP) Karachi,Lahore and Islamabad this news give by ilm.com.pk and Institute of Cost and Management Accountants of Pakistan (ICMAP)
Institute of Cost and Management Accountants of Pakistan (ICMAP), the sole provider of education in management accountancy in Pakistan, has announced of admissions in Certificate in Accounting and Management (CAM) and CMA programs.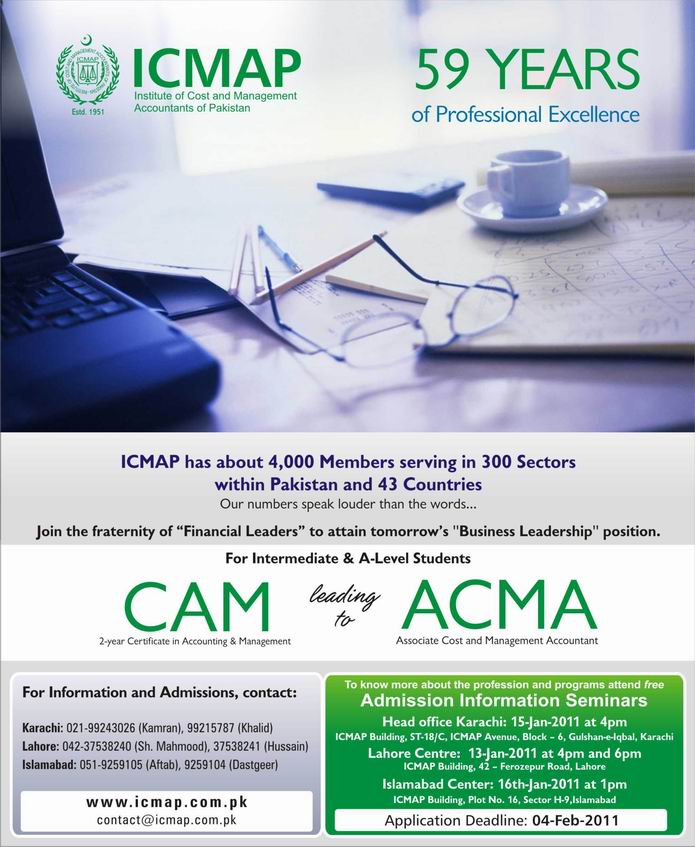 LAST DATE TO APPLY AND AVAIL THIS OPPORTUNITY IS 04 February 2011
Certificate in Accounting and Management program is offered to the students of Intermediate / A Level, while CMA program is offered to Graduation and Master's students. CAM program's MCQs based examinations are held quarterly and CMA program's descriptive examinations are held half-yearly.
View more details of the ICMAP Karachi Admission 2011 and many other universities and the admissions 2011
Institute of Cost and Management Accountants of Pakistan Admissions 2011