Detail about Military College Jhelum Admission 8th Class 2020 Form Eligibility Last Date is available on this page. This is the correct webpage providing you all information relating to admission and all other information about educations so according to the Military College Jhelum officials the admissions are open for the child of Army officers (on duty or retired) or civilians, Army Junior commission officers (on duty or retired) can buy the admission forms in the price of Rs. 1700/- Bank Draft. So if you want to be an army officer and want to devote yourself for Pakistan you have to get admission in this school so you can learn all the basics about Military educations which are necessary for further educations in Army. The school is looking for those students who have zeal in their blood to be a part of Pakistani Army and are well mannered. The school will's preference those students who are in touch to Pak. Army through their families. So if you are among these and want to get admission in this reputed organization you have to complete the procedure of admission without wasting your time before the last date of submission of application form i.e. 05th October, 2019.
Military College Jhelum Admission 8th Class 2020 Form Eligibility Last Date
Military College Jhelum Admission 8th class 2019 Form, Eligibility schedule is available through this page according to the school officers. The School was established in March in 1922 and after three years it starts functioning in 1925. It was organized as a residential school for sons of Muslims. It was renamed as Military College Jhelum in 1956. And from that time it is paying its duties to educate and groom the cadets mentally, physically and morally with a view to nurturing their requisite leadership qualities for induction into the Pakistan Military Academy. The Military College Jhelum in an English medium institute, which start their classes from 8 to 12 for approximately 550 candidates. The College is spread over 170 acres of area and have a sufficient area for lawns and playground. So you have to be a part of this college so that can entertain by all the facilities.
Download CCJ Admission Form
Eligibility
It is recommended by the officials that student must have clear 7th class exams, but if a student studying in 7th or 8th class is acceptable for admission.
Eligibility of age is from 12 to 14 years old. From this age limit if a student is 3 months above or less can also b accepted.
All these eligibility limits will be applicable till 1st April 2020.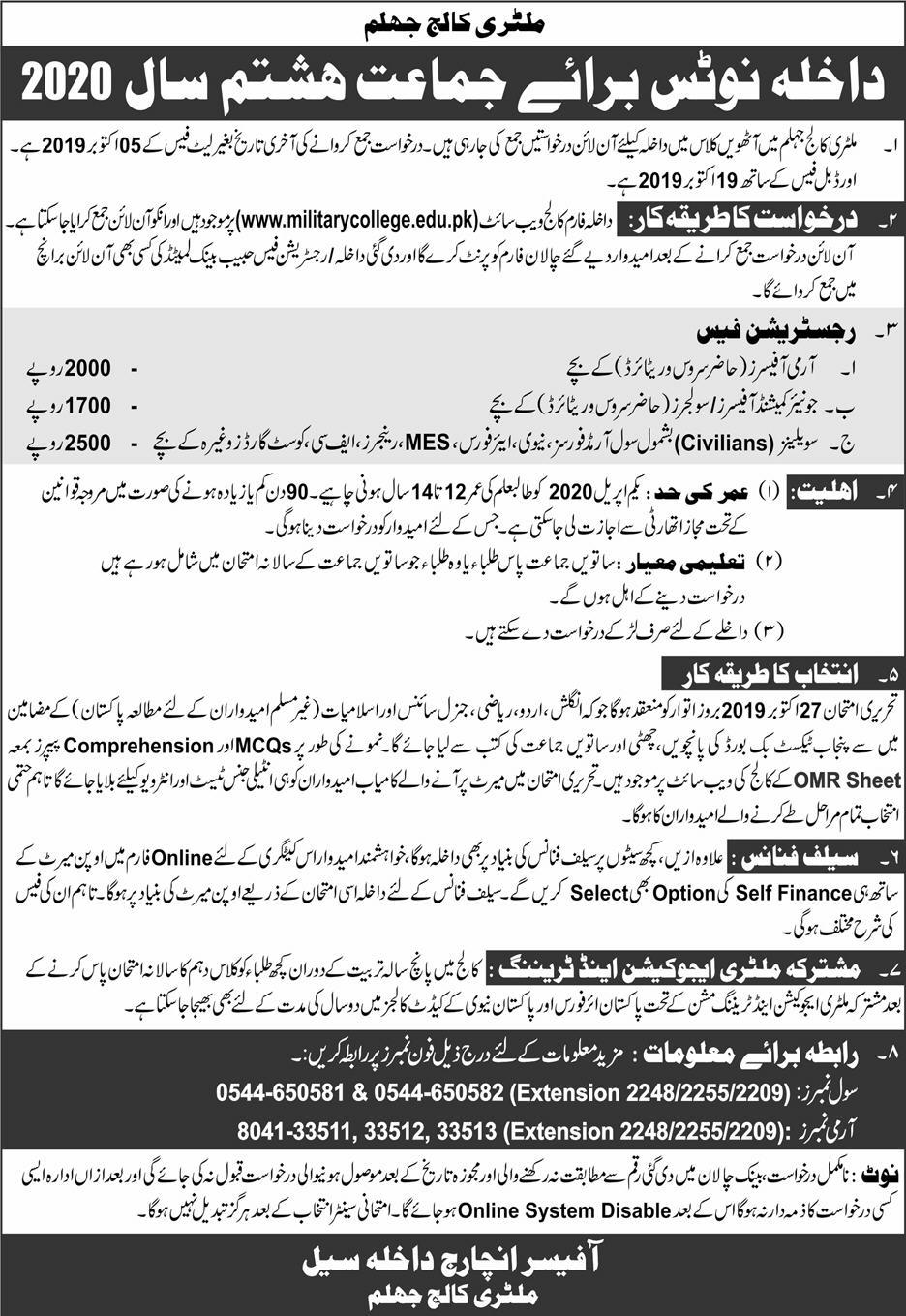 After the selection by Military College Jhelum Admission 8th Class 2020 Form process, the candidates will call by officials for written test on 27th October 2019. Further information about admission if officials declare after this will update on this page frequently so keep in touch with this page.