Institute admission is now open under the perspective of Shifa College Of Medical Technology Admission 2018. Students who have passed their intermediate with at least 50% marks are allowed to apply. It is the department of Shifa Tameer e millat University. It is recognized by the Higher education commission and Also with Pakistan Medical and Dental Council. It opens admission two times a year, once in spring admission session and second in fall admission session. Admissions are open for spring admission program in various undergraduate programs in medicine. It takes entry test exam from students and it is mandatory to pass. Shifa Medical College entry test Sample Paper is mention here. This college is also offering different scholarships to its students on need and merit basis. For medical training it is linked with Shifa International Hospital. In this article you will learn about the Shifa College of Medical Technology Admission and stmu admission 2018 that are important as well.
Shifa College Of Medical Technology Admission 2018
The Shifa Tameer-e-Millat University and Shifa International Hospitals Ltd has the current opening for the admissions in Shifa College of Medical Technology. It has limited seats which are available in every program. The Clinical training in Shifa International hospitals Ltd has the following programs like bachelor of sciences in medical technology which is 4 years degree programs. The 50 no of seats are available on self finance basis. The associate of science in medical technology is the 2.5 years degree program with 40 no of seats available with no tuition fee.
There are total 11 clinical domain available under this diploma. Further. Diploma in medical technology offered in 3 domains including surgical technology, Renal dialysis and Urology. The monthly stipend of 5000 to eligible candidates is available which means the eligibility criteria defined in the current official advertisement. Last Date To Apply is 24 Dec 2018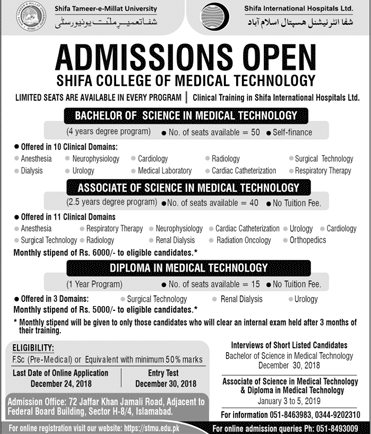 The below given is program offered in future. 
Offered Programs:
This medical college is currently offering 4 year bachelor program and 2.5 year Associate Degree program in following domains.
Associate Degree programs:
Anesthesia
Cardiology
Cardiac Catheterization
Surgical Technology
Neurophysiology
Radiation Oncology
Respiratory Therapy
Renal Dialysis
Urology
Bachelor Programs:
Anesthesia
Cardiology
Cardiac Catheterization
Dialysis
Medical Laboratory
Surgical Technology
Neurophysiology
Radiology
Respiratory Therapy
Urology
STMU Admission 2018
Criteria:
Candidates who have at least 50% marks in FSC pre medical are allowed to take admission
Those students who have done A levels with major in Biology are also allowed to take admission
There will be pre-admission test which is be organized by the institute
After passing pre admission test, candidate have to attend interview
Admissions will only granted after entry test and interview
Schedule:
Last date to apply for the admission is November 2018
Entry Test will be on December 2018
Interview will be on December 2018
Admission Procedure:
Shifa College Of Medical Technology Admission are open for bachelor and associate degree programs. Students are allowed to do online registration at admission.stmu.edu.pk. There you have to do online registration. Candidate is also allowed to obtain prospectus from the campus of this medical college. Those candidates who will not submit their application before November will not consider eligible.