It is to inform all the parents that Unique Junior And High School Lahore Admission 2022 are open now from Preschool to matric.  In order to provide the best educational services to the students, Unique School has once again inward with its fresh announced admissions 2022. Talking the name Unique School, it is known as being one of the well-known projects of the school system that is set up in Pakistan. This school chain system was established in the year 2009. This school has been set up with almost 7 schools for boys and 2 schools for girls. The school administration is run on an act uniquely established for these schools as they have been offering excellent education under highly qualified staff members and faculty where students come out with the best scoring grades. They have set up their chain of branches in so many other cities of Pakistan as well.
Unique Junior And High School Lahore Admission 2022
It is to be mentioned that Unique School has announced its admissions for the preschool to matric classes. If you want to apply, then it is important for you to take the admission form and prospectus from the admission office of the school system. No specific eligibility criteria have been set out for the students. Applicants who have to submit their application form for their entry test will be taken. The entry test of the applicants will be based on the subjects of Urdu, English, as well as mathematics, and General Knowledge questions. Those questions will be asked about what the students have studied previously in their classes.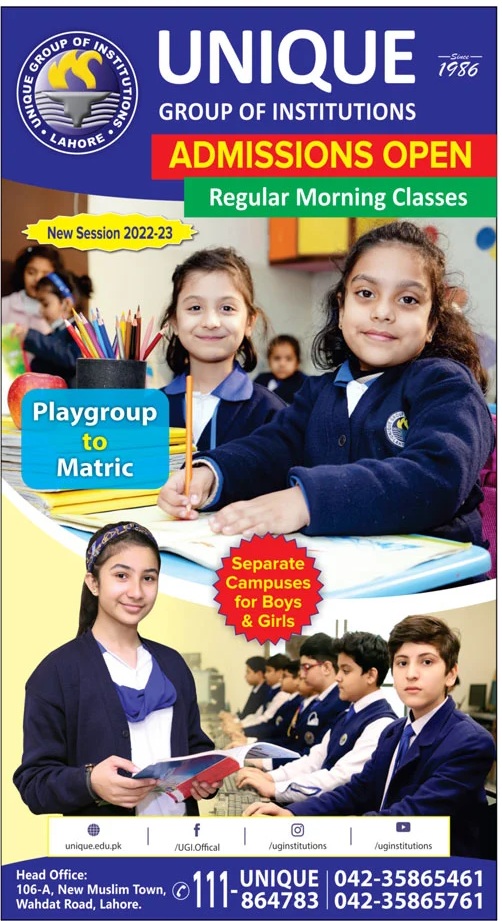 Unique School Lahore Fee Structure 2022
You can gather the Unique School Lahore Fee Structure 2022 from the admission office. Most important, the fee structure is totally the same in all branches of Unique School. Further, if they share the fee structure online then we will share it on this page and people would gather.
Admission Procedure
If you want to apply for admission, then you can readily take the admission form and prospectus from the main admission office. You have to return it back as the form submission by the last date as announced by the school management. No application form will be put into the submission that would be submitted as incomplete or without the complete attachment of the documents. The students are not allowed to take any sort of inside information related to the entry test. No applicant will be given admission on the basis of the reference.
So, all the parents, If you want to give away your kid with the well-disciplined and best educational services, then without any second thought visit the main admission office of Unique School right now and get a hold of the admission form. Stay connected with us for more news from the educational system.