Al Khair University Admission 2018 for Fall Autumn Semester is open in various programs of MA, M.Phil, PhD and MS. Al Khair University is the HEC Recognized University and were established in year 1994 under the act XXVIII. This University was situated in the Azad jammu & Kashmir. The main purpose and aim of the Al Khair University is to supplement the Public sector Education and provide the equal education support and facilities to the students of the Azad Jammu & Kashmir. From the first day of the inception of this University Al Khair never compromises of the educational rules and regulation as the result the Students of the Azad jammy Kashmir best preference in choosing the University will be the Al Khair University. It is one of the best universities in Pakistan.
Application Form:
CLICK HERE TO DOWNLOAD
Fee Structure for All Classes:
CLICK HERE TO DOWNLOAD
How to Apply:
Prospectus along with the admission form are available at Bhimber and Camp office Islamabad. Admissions form can also be easily download from this page easily as you just have to click on the link given above and can also be obtained through post by sending demand draft of Rs. 650/- in favor of Al Khair University AJK Drawn on Islamabad or Bhimber Branches of any bank.
Presently the following four faculties are functioning.
Faculty of Management Sciences
Faculty of Computer Sciences
Faculty of Education
Faculty of Social Sciences
Al Khair University Bhimber AJK Admission 2018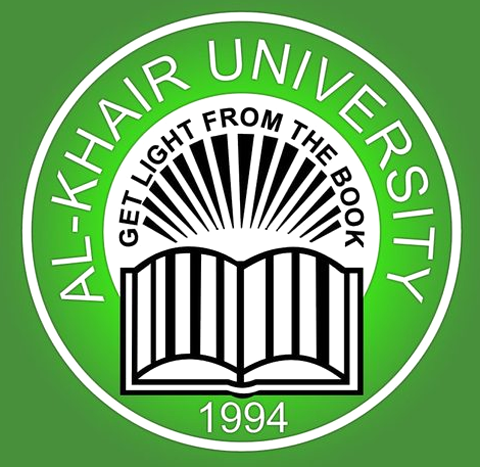 Morning evening Classes
Management Sciences:
PhD, MSm EMBA, MBA, MCom, BBA, B.COm
Computer Science:
PhD, MS, MCS, MIT, BS, ADCS, PGD
MA:
Urdu, Pakistan Studies, Islamic Studies, Education
M,Phil/PhD:
Urdu & Pakistani Languages, Pakistan Studies & History, Islamic Studies, Education
Last Date for Admission:
February, 2018
Program Coordinators:
Urdu & Pakistan Languages: 0300-5565811
Pakistan Studies & History: 0320-9503433
Management Science: 0346-5888988
Islamic Studies: 0323-5525399
Education: 0300-5121150
Computer Sciences: 0315-9103777
For More Information Contact:
Main campus
Haji Muhammad Yousaf Road
Bhimber (AJ&K) 05828-201611
Usman Waheed: 0345-6496206