Undergraduate, Postgradaute Programmes Admission Fall 2017-2018 in Bahauddin Zakariya University (BZU) Multan is now open in different faculties including Faculty of Science, Faculty of Agricultural Science & Technology, Faculty of Islamic Studies & languages, Faculty of Arts & Social Sciences, Faculty of Pharmacy, Faculty of Veterinary Science, Faculty of Commerce, Law and Business Administration and Management Sciences. Since from the inception of this University 1975 BZU is delivering a quality education in Multan with affordable fee structure that is the reason that this University stands in the top universities of the Pakistan and every year this is a wish of every students to take admission in the Universities. Bahauddin Zakariya University Multan open its admissions once in a year and as the intermediate level result is going to be announce on that 07th September, 2017 so the admission in Undergraduate programs are now open in Multan campus as well as in Lahore Campus. Admission in the BZU will be allocated totally on the merit basis so only those student who will get passed from the BZU entry test will able to get admission in the University as this thing will be decide by the BZU Entry Test result 2016 which you can get from this page as soon as the official will declare the result.
Bahauddin Zakariya University Multan BZU Admission 2017-2018 Form
Admissions are open in many programs in Undergraduate program and the details are as follow
Faculty of Science:
BS 4 Years in
Physics
Chemistry
Biochemistry
Mathematics
Statistics
Botany
Zoology
Biotechnology
Environmental Science
BS (CS)
BS (IT)
BS (TS)
Faculty of Agriculture Science & Technology:
Faculty of Islamic Studies and Languages:
BS ( 4 years) in
Urdu
English
Islamic Studies
Faculty of Arts & Social Sciences:
BS Anthropology
BPA
Social Work
BS Library Science
Economics
International Relations
Education
B.Ed
Pakistan Studies
psychology
Philosophy
Sociology
Communication Studies
Gender Studies
History
BFA
B.Des
Faculty of Pharmacy:
Faculty of Commerce, Law and Business Administration:
BBA
BS (accounting & finance)
BS Commerce
BA LLB
Admission Entry Test:
Admission entry test in these all programs will be held on September, 2017 as this admission test is conducted by the National testing Service (NTS) so candidates have to register in the Entry Test and the last date to register is 07th September, 2017. All those students who are awaiting result can also apply for the NTS Admission test on a hope certificate issued by the last attendant college or institution.
BZU Multan NAT/GAT Test Result Date 2017
BZU Prospectus:
All the willing students along with the registration in the NTS have to collect the prospectus of the BZU which will available on the branches of Habib Bank and United Bank listed here in against the payment of Rs. 500/- from 7th September, 2017. branches are
HBL /UBL University Campus Branch Multan
HBL Board of Intermediate and Secondary Education branch Near Goal Bagh, Gulgasht Colony, Multan
University Sub Campus D G Khan
University Sub Campus Sahiwal
BZU Bahadur Sub campus Layyah
or you can also take prospectus via sending demand draft of Rs. 550/- in favor of the Treasurer Bahauddin Zakariya University Multan.
Last date to Submit the Admission Form:
Last Date Submit the Admission form of the Bahauddin Zakariya University Multan is 07th September, 2017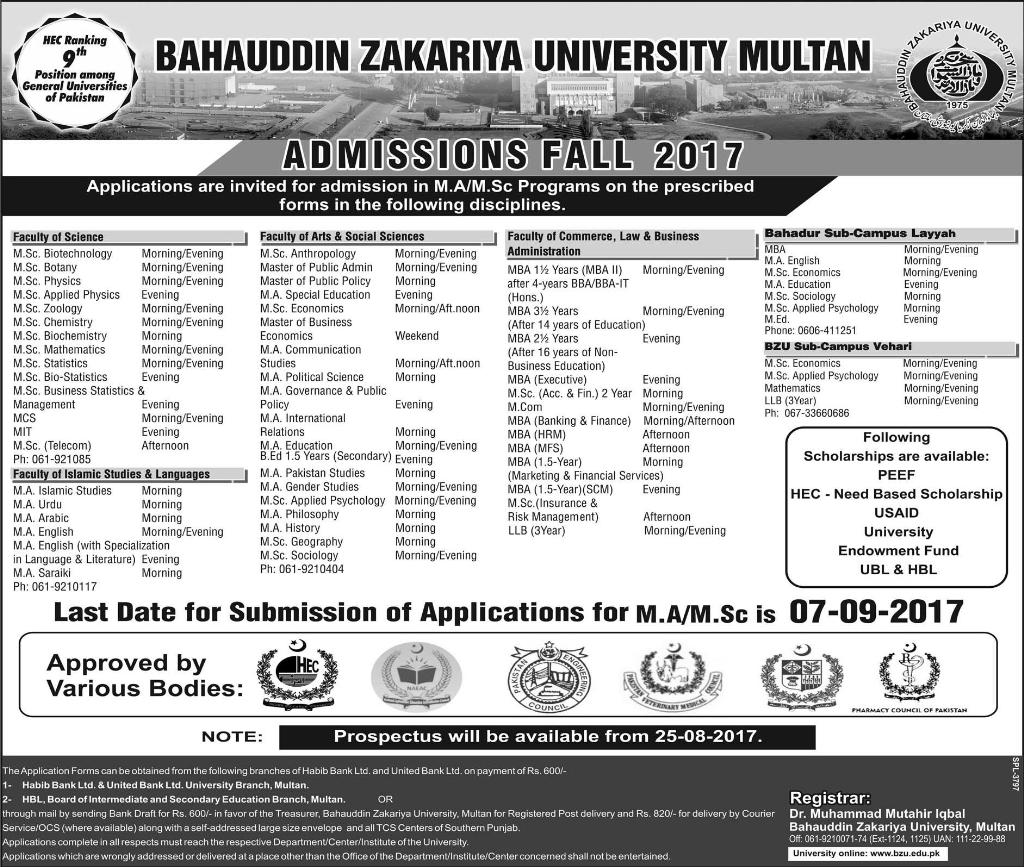 All the other details of the eligibility Criteria and documents you require to submit with the admission form is written in the prospectus in details so make sure that every required documents is attached while you are going to submit your admission form in Bahauddin Zakariya University BZU Multan.