Admissions are now open 2017 in Bahuddin Zakariya University Multan (BZU) for the Undergraduate programs for all those candidates who have qualify their last 12th Year of Educations from Board of Intermediate and secondary Education (BISE). The BZU is looking forward towards those candidates who are self motivated and confident about their studies. So you are suggested by this page to get admission in this reputed University. If you have clear you're Intermediate or equivalent examination under BISE and now you want to continue your further studies with a well prepared institute than this university is being the best University providing you the opportunity to be a part of this oldest University. As Bahuddin Zakariya University start functioning in 1975 from a rented building which was consists on only 8 relevant departments. From that time of its establishment the University team is paying its duties for its progress so now it has build 60 departments. The BZU is a general University providing educations in both Arts and Science subjects. The university has currently make progress as on a big scale as these are not able to express in this paragraph. So this well reputed organization is now offering admissions for all candidates from the Punjab province. Have a look down for this purpose.
BZU Multan Undergraduate Admissions 2017 Form, Last Date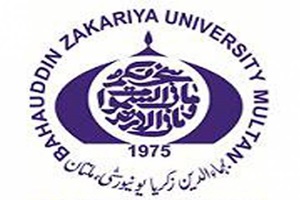 BZU Undergraduate programs
Bahuddin Zakariya University is offering admissions in the following undergraduate faculties for morning and Evening Classes.
Faculty of Science (BS HONS/ 4 year Programs)
Faculty of Agriculture Science and Technology (B. Sc HONS/ Morning, evening Programs.
Faculty of Islamic Studies and Language (BS HONS / Morning programs)
Faculty of Arts and Social Sciences (Morning / Evening programs)
Faculty of Veterinary Sciences (Morning / Evening)
Faculty of Commerce, Law and Business Administration
Faculty of Pharmacy (5-years Morning / Evening programs)
BZU Admission Process
To get admission in Bahuddin Zakariya University there is an authentic procedure restricted by the BZU officers that is to buy the prospectus along with admission form from the BZU admission office by paying Rs. 550/- in Cash. Other way to get this prospectus is by download online from the officials' site. After you have bought the admission form which is available from 18th August, 2017, the prospectus is available in the prescribed Branches of
Read it carefully and fill in dully and attachment of all required documents and submit it to the admission office or send through email with bank draft/ postal order of Rs. 600/-. Last date for submission of admission form is 29th September, 2018.