BUITEMS Admission Fall 2019 Engineering, Management Science Admission Form has been started now and in this post, we will be telling you that in which of the study programs, these BUITEMS admission fall 2019 have been opened up! These admissions have been opened for the BS programs in civil engineering, geological engineering, chemical engineering, petroleum engineering, gas engineering, telecommunication engineering, electrical engineering, software engineering, mechanical engineering and mining engineering. These BUITEMS admission fall 2019 have been too opened for BS programs in business administration, economics, public administration, mass communication, English, Education, chemistry, sociology, fine arts. They will too be giving merit scholarships and need based scholarships. Here in this post, for your help and guidance, we have been too sharing up the ad of these admissions, you can read too. You should do stay tuned with us on this webpage so that we can let you know too all the important news and updates about these BUITEMS admission 2019
BUITEMS Admission Fall 2019 Engineering, Management Science Admission Form
BUITEMS admission 2019  last date to apply: 16th July, 2019
Eligibility Details:
You have to take the admission form the admission office that is at the Takatu campus.
Processing fee for this application form is Rs. 2500
You have to deposit the fee at the HBL branch.
You have to attach your CNIC, marksheet and passport size pictures with the application form
You can too download the application from the site of BUITEMS.
You can too apply online.
If you are waiting for your result then you can too apply.
Test will be conducted by NTS.
BUITEMS Admission 2019 Advertisement: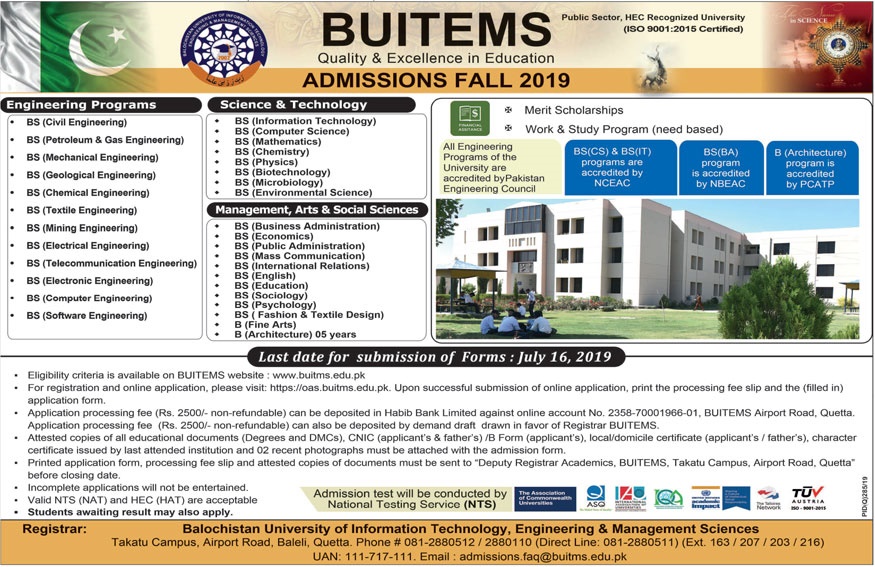 So, these are the complete details of this BUITEMS admission fall 2019. It is to be mentioned again that the test for these BUITEMS admission 2019 will be taken by the NTS, so far they have not make this announcement that when test will be taken, they have only make this declaration that the last date to apply for these admissions is 16th July 2019. Just try to submit the application form latest by on this mentioned date and then we will keep you posted that when test will be taken for these admissions 2019. This webpage is wishing all the best to the students or candidates that will be applying for these admissions, may they get admission in this institute. All the best!